Apple Tuna Sandwich
Gluten-Free |
Main Dishes |
Quick & Easy |
Low Fat |
WIC Friendly
This refreshing and satisfying meal requires no cooking and is loaded with big flavor and lots of crunch.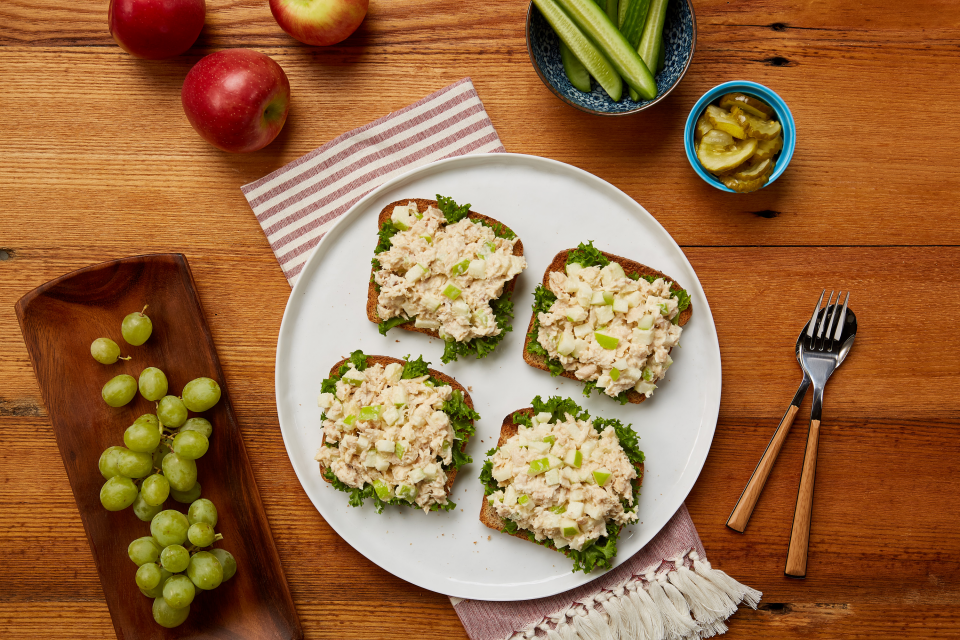 Serving size:
1/2 cup tuna/chicken mixture + 1 whole grain serving option
Prep time:
15 minutes
Total time:
15 minutes
Equipment:

Cutting board

Medium bowl

Can opener

Utensils:

Knife

Measuring cups and spoons

Spoon
1 apple
1 6.5 ounce can tuna or chicken, packed in water
1/2 cup non-fat vanilla yogurt
1 teaspoon mustard
1 teaspoon honey
4 whole grain bread slices, English muffins, tortillas, wraps, crackers, or lettuce leaves for serving
Instructions
1. Before you begin wash your hands, surfaces, utensils, and fruit.
2. Chop apple into small pieces.
3. Drain the water from the can of tuna or chicken.
4. Add tuna, apple, yogurt, mustard, and honey to a medium bowl and stir to combine.
5. Put 1/2 cup tuna mixture on your choice of whole grain bread or lettuce to make a sandwich or wrap.
Featured
Ingredients


What goes in Apple Tuna Sandwich?

Low-Fat Yogurt

Apples

Tuna
Whole Wheat English Muffin
Nutritional Information
(Per Serving)
See complete nutrition facts >>
Comments