Vegetable Fried Rice
Dairy-Free |
Main Dishes |
Quick & Easy |
No Added Sugars |
High in Fiber |
Vegetarian |
WIC Friendly |
Nut-Free
Follow the recipe or customize with your choice of veggies.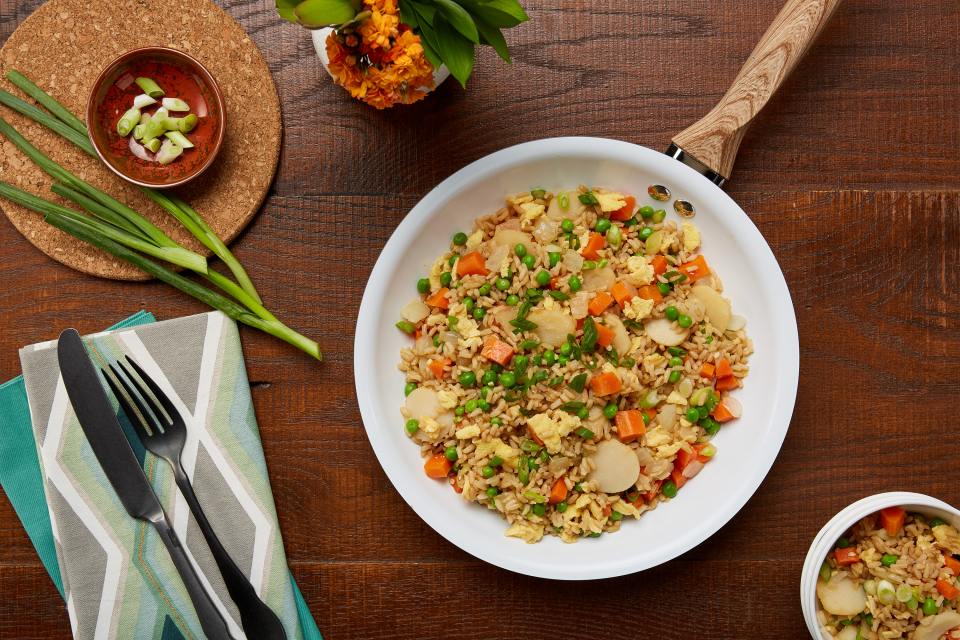 Temperature:
Medium heat, High heat
Serving size:
1 cup
Prep time:
15 minutes
Cook time:
15 minutes
Total time:
30 minutes
Equipment:

Cutting board

Large frying pan

Small plate or bowl to hold scrambled eggs

Utensils:

Knife

Measuring spoons and cups

Spatula
* Cost and availability of recipe ingredients may vary across different regions of Ohio. Cost per serving information should be used as a general guide when considering recipe cost.
2 tablespoons olive oil OR vegetable oil, divided
2 eggs, whisked
1 small white onion, diced
2 cups frozen peas and carrots
3 cloves garlic, minced OR 1 tablespoon garlic powder
4 cups brown rice, cooked and cooled
3 green onions, thinly sliced (optional)
3 1/2 tablespoons lite soy sauce
1 8 ounce can sliced water chestnuts, drained OR 1 14.5 ounce can baby corn, drained and rinsed
Instructions
Before you begin, wash your hands, surfaces, utensils, tops of cans, and produce.
Heat 1 tablespoon of oil in a large frying pan over medium-high heat. Add eggs, and cook until scrambled, stirring occasionally. Remove eggs, and transfer to a separate plate.
Add the remaining tablespoon of oil to the pan. Add onion, carrots, peas, and garlic powder (if using). Cook for 5 minutes, stirring occasionally or until the carrots have softened.
Increase heat to high. Add rice, green onions, and soy sauce, and stir until combined. Continue stirring for an additional 3 minutes. Add eggs and water chestnuts or baby corn. Stir to combine, then remove from heat.
Featured
Ingredients


What goes in Vegetable Fried Rice?

Garlic Powder

Chopped Onions

Eggs

Frozen Peas

Brown Rice
Nutritional Information
(Per Serving)
See complete nutrition facts >>
Comments