Avocado Chicken Salad
Gluten-Free |
Quick & Easy |
Salads |
Side Dishes |
No Added Sugars |
Egg-Free |
Nut-Free
Greek yogurt adds a flavorful tang to this satisfying chicken salad. Try it wrapped in fresh lettuce for a satisfying crunch.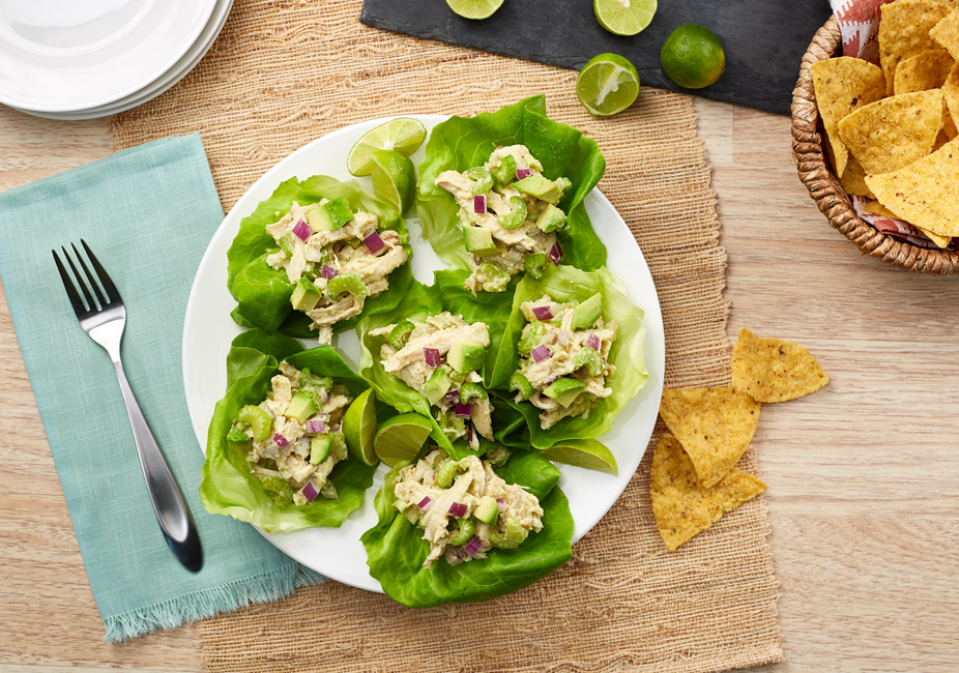 Temperature:
N/A
Serving size:
3/4 cup
Prep time:
20 minutes
Cook time:
N/A
Total time:
20 minutes
Equipment:

Medium bowl

Small bowl

Utensils:

Fork or Potato masher

Measuring cups and spoons

Mixing spoon
* Cost and availability of recipe ingredients may vary across different regions of Ohio. Cost per serving information should be used as a general guide when considering recipe cost.
1 ripe avocado, cubed, divided
2/3 cup plain Greek low-fat yogurt
1 tablespoon lime juice (about 1/2 lime), divided
1/8 teaspoon chili powder
2 chicken breasts, cooked and shredded OR 1 12 ounce can chicken breast in water
1 stalk celery, diced
2 tablespoons red onion, diced
1/4 teaspoon salt
1/4 teaspoon black pepper
Instructions
Before you begin, wash your hands, surfaces, produce, and utensils.
Add 1/2 of the avocado to small bowl, smash with fork until it forms an even mash. Add yogurt, 1/2 tablespoon lime juice, and chili powder. Mix to combine.
In a medium bowl, shred chicken using two forks.
Add remaining 1/2 of the avocado, celery, remaining lime juice, red onion, salt, and black pepper into the medium bowl. Add in yogurt mixture to medium bowl and stir to combine.
Tips
You can also use a potato masher or fork to smash your avocado!
You can also eat this salad with lettuce leaves or crackers.
Featured
Ingredients


What goes in Avocado Chicken Salad?

Celery

Red Onion

Avocado

Chicken Breast

Greek Yogurt
Nutritional Information
(Per Serving)
See complete nutrition facts >>
Comments