Squash and Orzo
Side Dishes |
Low Fat |
Vegetarian |
Egg-Free |
Nut-Free
Maple syrup, Parmesan, and spices make this winning combination of squash and orzo pasta a go-to side dish.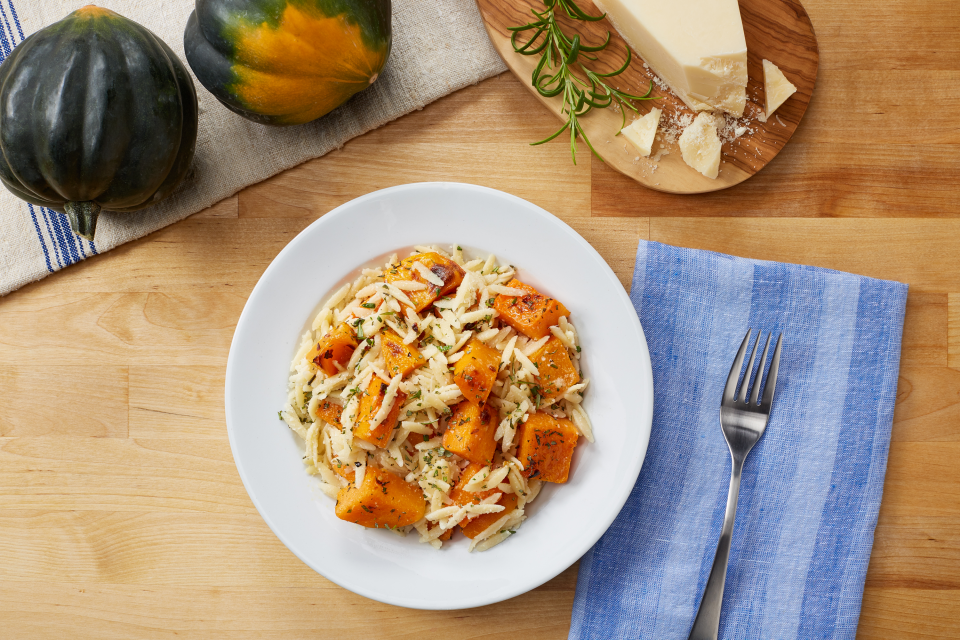 Temperature:
375 degrees
Serving size:
1 cup
Prep time:
15 minutes
Cook time:
45 minutes
Total time:
60 minutes
Equipment:

Cutting board

Aluminum foil

Baking sheet

Medium bowl

Utensils:

Spoon

Mixing spoon

Tongs

Measuring cups and spoons
* Cost and availability of recipe ingredients may vary across different regions of Ohio. Cost per serving information should be used as a general guide when considering recipe cost.
1 16 ounce bag frozen butternut squash
4 tablespoons maple syrup
1/2 teaspoon red pepper flakes
1/4 teaspoon cayenne pepper
1 1/2 cups orzo pasta OR other small pasta, cooked and cooled (about 3/4 cup uncooked orzo or pasta)
1 teaspoon salt
1 teaspoon black pepper
1 tablespoon dried rosemary
1 cup grated Parmesan cheese
Instructions
Before you begin wash your hands, surfaces, and utensils.
Preheat oven to 375 degrees.
Line the baking sheet with aluminum foil. Pile the frozen, cubed squash on baking sheet and drizzle maple syrup over the top. Sprinkle with red pepper flakes cayenne pepper, rosemary, salt, and black pepper. Use tongs or your hands to toss and combine.
Spread squash out in a single layer on the baking sheet and bake for 30 minutes, or until squash can be easily pierced with a fork.
After 30 minutes, remove squash from oven and toss together with the pasta and Parmesan cheese.
Tips
This recipe is a great way to use up any leftover pasta in your pantry. Try any small-shaped pasta such as elbow macaroni, ditalini, or penne.
You can also use fresh winter squash like butternut or acorn. Before baking, par-bake the squash in the microwave: pierce the squash and place on a microwave-safe dish in the microwave. Cook on high for 6 minutes and cool until it's safe to handle. Cut the squash in half lengthwise and scoop out the seeds. Use a vegetable peeler to remove the skin and cut the squash into 1-inch cubes.
Featured
Ingredients


What goes in Squash and Orzo?

Butternut Squash

Orzo Pasta

Rosemary
Nutritional Information
(Per Serving)
See complete nutrition facts >>
Comments