Squash and Orzo
Maple syrup, Parmesan, and spices make this winning combination of squash and orzo pasta a go-to side dish.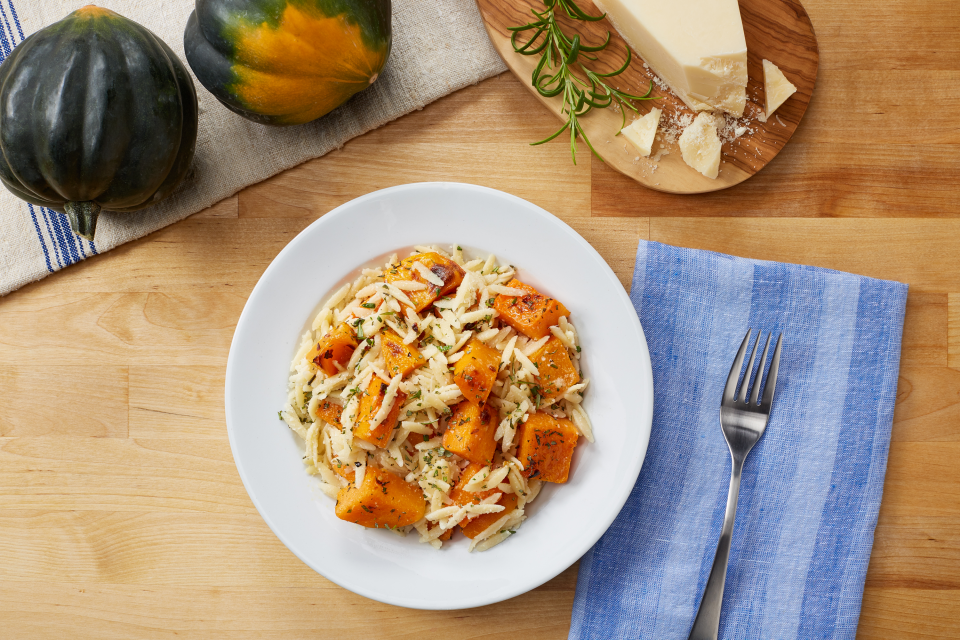 Temperature:
375 degrees
Serving size:
1 cup
Prep time:
15 minutes
Cook time:
45 minutes
Total time:
60 minutes
Equipment:

Microwave-safe dish large enough to hold the squash

Cutting board

Measuring spoons

Aluminum foil

Baking sheet

Medium pot

Colander

Medium bowl

Measuring cups

Utensils:

Knife

Spoon

Mixing spoon
Serving Suggestion:
Serve with baked chicken breast, turkey meatballs, cooked beans, or tofu to complete this meal.
1 large winter squash (such as butternut or acorn)
4 tablespoons maple syrup
½ teaspoon red pepper flakes
¼ teaspoon cayenne pepper
¾ cup orzo pasta
1 tablespoon butter
1 teaspoon salt
1 teaspoon ground black pepper
1 tablespoon rosemary (dried or fresh)
1 cup grated parmesan cheese
Instructions
Before you begin wash your hands, surfaces, utensils and vegetables.

Preheat oven to 375

°

F

Pierce squash and place on a microwave-safe dish in microwave. Cook on high 6 minutes or until soft. Let cool.

Cut squash in half and use a spoon to scoop out seeds. Peel the skin off the squash and cut into 1-inch cubes.

Line the baking sheet with aluminum foil.

Place cubed squash on baking sheet and add maple syrup, red pepper flakes, cayenne pepper, rosemary, salt, and pepper.

Mix and toss seasonings on squash and place in oven for 30-40 minutes.

While squash is baking, fill medium pot with water and bring to a boil.

Once boiling, pour in orzo pasta and cook according to box directions.

Once finished, drain pasta and pour in bowl.

Take squash out of the oven, add to orzo, and toss with butter until melted. Add parmesan and stir.
Tips
Orzo and squash reheat well without losing flavor or quality. You can cook the entire meal the night before and refrigerate until ready to serve the next day.
Ingredients


What goes in Squash and Orzo?

Butternut Squash

Orzo Pasta

Rosemary
Nutritional Information
(Per Serving)
See complete nutrition facts >>
Comments