Oven-Roasted Sweet Potato Wedges
Dairy-Free |
Gluten-Free |
Side Dishes |
Snacks |
No Added Sugars |
Vegan |
Vegetarian |
Egg-Free |
Nut-Free
These tasty, toasty "fries" are a powerhouse of vitamins.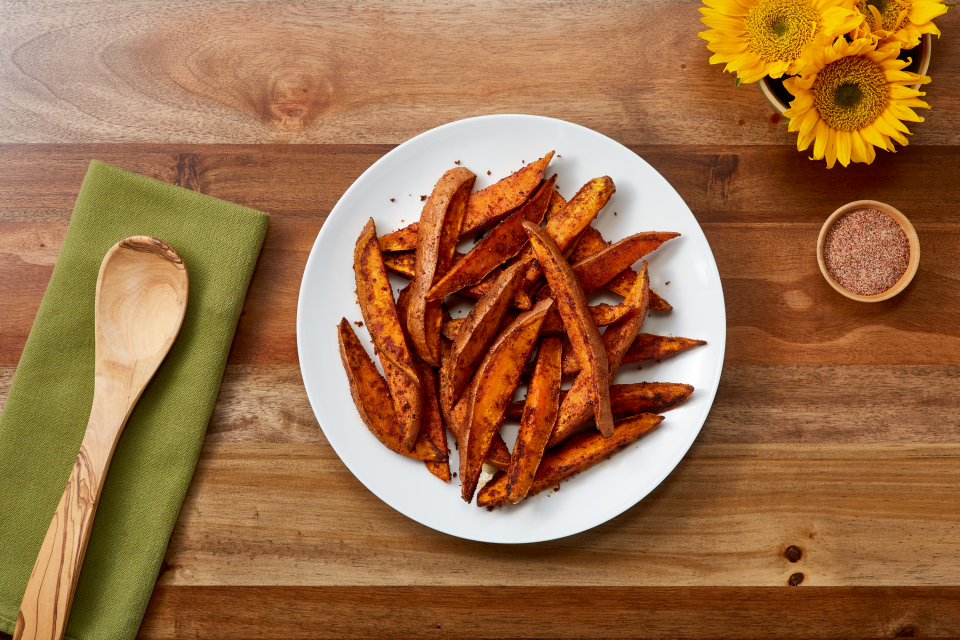 Temperature:
400 degrees
Serving size:
3/4 - 1 cup
Prep time:
15 minutes
Cook time:
30 minutes
Total time:
45 minutes
Equipment:

11x14-inch baking sheet

Cutting board

Large bowl

Utensils:

Knife

Spatula or fork

Measuring cups and spoons
* Cost and availability of recipe ingredients may vary across different regions of Ohio. Cost per serving information should be used as a general guide when considering recipe cost.
Non-stick spray
4 medium sweet potatoes
2 tablespoons olive oil OR vegetable oil
1/4 teaspoon salt (optional)
1/4 teaspoon black pepper
Spicy option: add spices to oil before tossing with potatoes
2 cloves garlic, minced OR 2 teaspoons garlic powder
1 1/2 teaspoon onion powder
1 teaspoon chili powder
1 teaspoon paprika
Instructions
Before you begin, wash your hands, surfaces, utensils, and vegetables.
Preheat oven to 400 degrees.
Spray an 11x14-inch baking sheet with non-stick spray.
Wash potatoes. Remove ends. Do not peel.
Cut each potato lengthwise into wedges of roughly equal size. Place into a large bowl.
Toss potato wedges with oil.
For the spicy option: add garlic powder, onion powder, chili powder, salt, and black pepper to oil before tossing to coat all sides.
Arrange wedges on pan in a single layer, without crowding.
Bake at 400 degrees for 15 minutes or until wedges begin to brown.
Remove from oven to turn each wedge. Return to oven for 15 minutes to brown.
Tips
For a different flavor, try this recipe with sweet-tasting spices, such as cinnamon, nutmeg, or pumpkin pie spice!
Featured
Ingredients


What goes in Oven-Roasted Sweet Potato Wedges?

Garlic Powder

Onion Powder

Paprika

Sweet Potatoes
Nutritional Information
(Per Serving)
See complete nutrition facts >>
Comments