Baked Apple for One
Breakfast |
Dairy-Free |
Desserts |
Gluten-Free |
Kid Approved |
Quick & Easy |
Low Sodium |
Low Fat |
High in Fiber |
Vegan |
Vegetarian |
Egg-Free |
Nut-Free
Satisfy your sweet tooth in a matter of minutes with single-serving "baked" apples made in the microwave.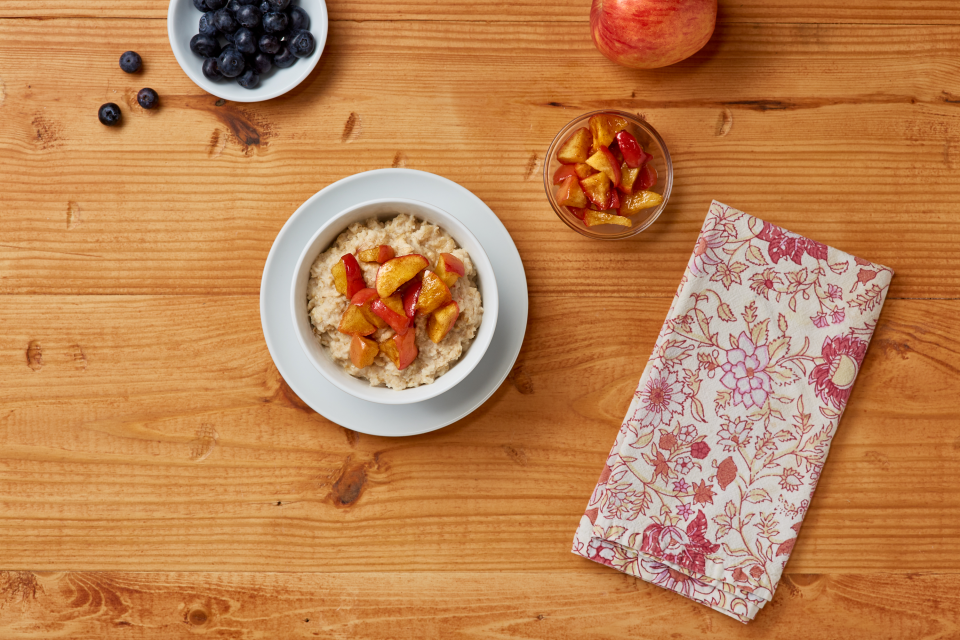 Temperature:
High
Serving size:
1 medium apple
Prep time:
3 minutes
Cook time:
3-4 minutes
Total time:
6-7 minutes
Equipment:

Cutting board

Microwave-safe bowl

Utensils:

Knife

Measuring spoons
* Cost and availability of recipe ingredients may vary across different regions of Ohio. Cost per serving information should be used as a general guide when considering recipe cost.
1 firm medium apple
1/2 teaspoon ground cinnamon
1/2 teaspoon brown sugar
1/2 teaspoon water
Instructions
Before you begin, wash your hands, surfaces, utensils, and fruit.
Chop apples into 1/2" cubes and place in a microwave-safe bowl or dish.
Toss apples with cinnamon and brown sugar to evenly coat. Drizzle with water.
Tightly cover bowl with plastic wrap. Microwave on high for 1 minute.
Remove from microwave and stir. Cover, return to microwave, and cook on high for 1 minute.
Remove from microwave and stir. Return to microwave and cook, uncovered, for 30-60 seconds, or until apples are soft and liquid has begun to form a glaze.
Remove from microwave and cool slightly before serving.
Tips
Want a different flavor? Try swapping fresh pears or peaches and adjust cooking time as necessary.
Microwave times may vary. After the first two 1-minute times, cook 30-60 seconds at a time until apples are tender. Then uncover and cook 30-60 seconds to glaze.
Top with chopped nuts or dried fruit for added flavor and texture.
This recipe can easily be multiplied to feed a crowd. Place all ingredients in a large baking dish and cover with foil. Bake at 350 F for about 30 minutes, or until apples are soft and can easily be pierced with a fork. Uncover and cook for an additional 5 minutes to thicken the liquid.
Featured
Ingredients


What goes in Baked Apple for One?

Apples

Cinnamon
Nutritional Information
(Per Serving)
See complete nutrition facts >>
Comments