Baked Apple for One
Breakfast |
Dairy-Free |
Desserts |
Kid Approved |
Quick & Easy |
Low Sodium |
Low Fat |
High in Fiber |
Vegan |
Vegetarian |
One-Two Serving
Satisfy your sweet tooth in a matter of minutes with single-serving "baked" apples made in the microwave.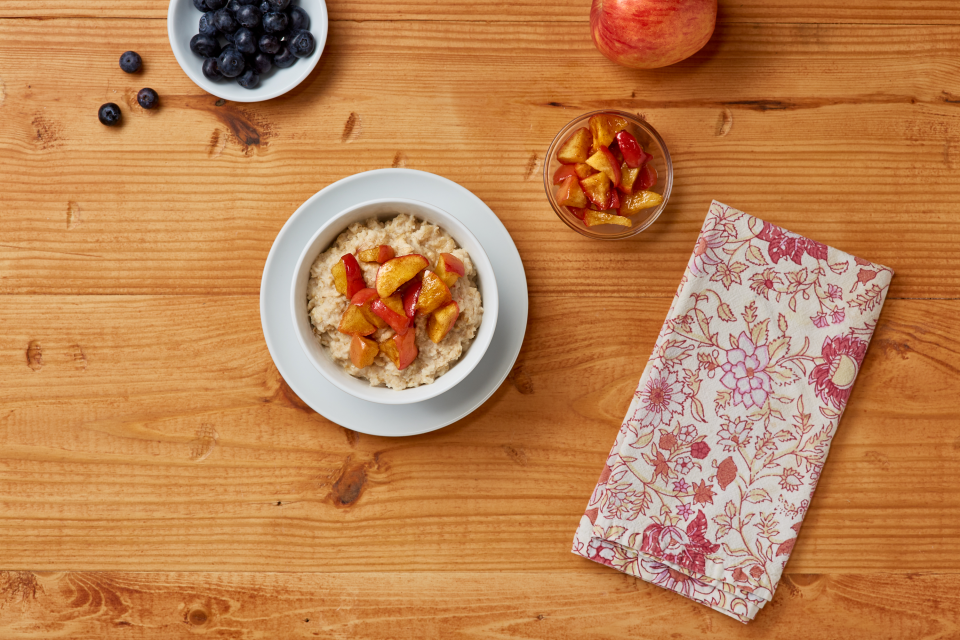 Temperature:
High
Serving size:
1 medium apple
Prep time:
3 minutes
Cook time:
3-4 minutes
Total time:
6-7 minutes
Equipment:

Cutting board

Measuring spoons

Microwave-safe bowl

Utensils:

Knife
Serving Suggestion:
Serve apples on their own with a glass of fat-free milk or a scoop of ice cream for breakfast or dessert.
Use as a topping for oatmeal, pancakes, or French toast.
Add to yogurt and top with nuts or granola for a fruit parfait.
1 medium, firm apple
1/2 teaspoon cinnamon
1/2 teaspoon brown sugar
1/2 teaspoon water
Instructions
Before you begin wash your hands, surfaces, utensils, and fruit.
Chop apples into 1/2" cubes and place in a microwave-safe bowl or dish.
Toss apples with cinnamon and brown sugar to evenly coat. Drizzle with water.
Tightly cover bowl with plastic wrap or wax paper. Microwave on high for 1 minute.
Remove from microwave and stir. Cover, return to microwave, and cook on high for 1 minute.
Remove from microwave and stir. Return to microwave and cook, uncovered, for 30-60 seconds, or until apples are soft and liquid has begun to form a glaze.
Remove from microwave and cool slightly before serving.
Tips
No apples on hand? Try swapping fresh pears or peaches and adjust cooking time as necessary.
Microwave times may vary. After the first two 1-minute times, cook 30-60 seconds at a time until apples are tender. Then uncover and cook 30-60 seconds to glaze.
Top with chopped nuts or dried fruit for added flavor and texture.
This recipe can easily be multiplied to feed a crowd. Place all ingredients in a large baking dish and cover with foil. Bake at 350 F for about 30 minutes, or until apples are soft and can easily be pierced with a fork. Uncover and cook for an additional 5 minutes to thicken the liquid.
Featured
Ingredients


What goes in Baked Apple for One?

Apples

Cinnamon
Nutritional Information
(Per Serving)
See complete nutrition facts >>
Comments