Loaded Bell Pepper Nachos
Gluten-Free |
Kid Approved |
Side Dishes |
Snacks |
No Added Sugars |
High in Fiber |
Vegetarian
Hearty bell pepper wedges are the "chip" every nacho lover needs – strong enough to scoop up all that cheesy goodness!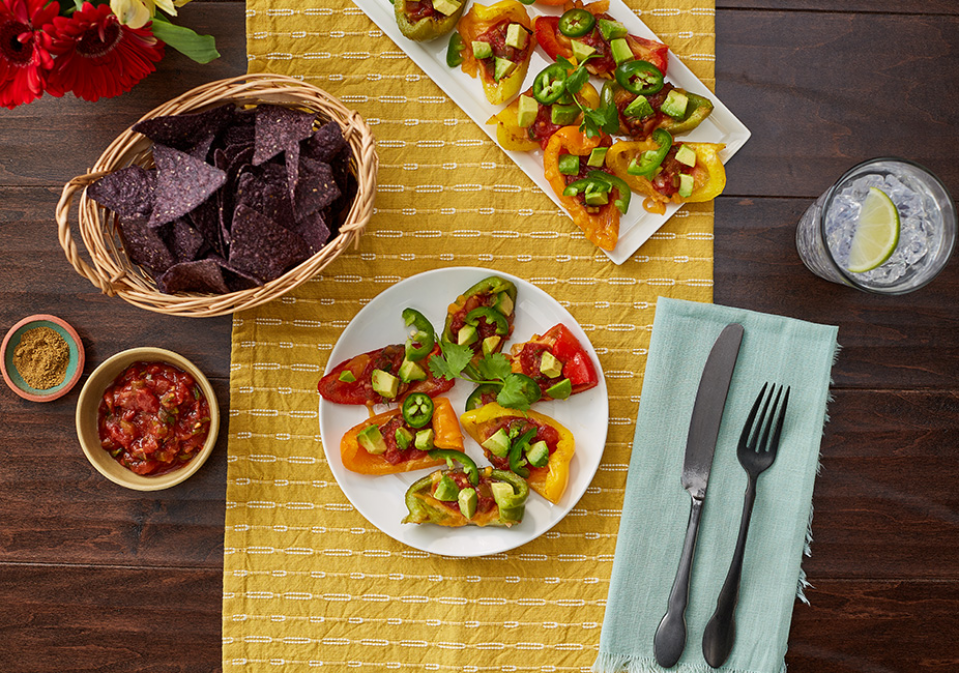 | | |
| --- | --- |
| Temperature: | 425 degrees |
| Serving size: | About 6 wedges |
| Prep time: | 15 minutes |
| Cook time: | 20 minutes |
| Total time: | 35 minutes |
| Equipment: | Baking Sheet, Measuring Cups and Spoons, Aluminum Foil |
| Utensils: | Spatula, Fork |
4 bell peppers, cut into wedges
2 tablespoons olive or vegetable oil
1/2 teaspoon ground cumin
1/2 teaspoon garlic powder
1 ½ cups shredded cheddar cheese
1 avocado, chopped
1 cup Pico de Gallo salsa OR 1 jar salsa
1/4 cup low-fat sour cream
1/2 tablespoon low-fat milk
A pinch of salt to season (optional)
A pinch of black pepper to season (optional)
1/2 cup pickled jalapeño slices (optional)
Instructions
Before you begin, wash your hands, surfaces, utensils, produce, and tops of cans.
Preheat oven to 425 degrees, and line rimmed baking sheet aluminum foil.
Place peppers on the baking sheet. Toss with oil, cumin, and garlic powder. Season generously with salt and pepper to taste.
Arrange the seasoned peppers on the baking sheet in a single layer, peel side up. Bake until peppers are crisp-tender, about 10 minutes.
While peppers are roasting in the oven, make the sour cream mixed topping. In a small bowl, use a fork to whisk sour cream and milk together. Set aside.
Remove peppers from the oven and top peppers with cheese. Return to oven and bake until cheese is bubbly, about 10 minutes.
After 10 minutes is over, take peppers out of oven and drizzle sour cream mixture over peppers.
Top with chopped avocado, salsa, and pickled jalapeños, if using.
Featured
Ingredients


What goes in Loaded Bell Pepper Nachos?

Garlic Powder

Jalapeno

Skim Milk

Avocado

Green Peppers
Nutritional Information
(Per Serving)
See complete nutrition facts >>
Comments