Banana Roll-Ups
Breakfast |
Dairy-Free |
Kid Approved |
Quick & Easy |
Snacks |
High in Fiber |
Vegan |
Vegetarian |
WIC Friendly |
Egg-Free
Putting banana and tortilla together may not seem obvious, but, in this dish, it just makes sense!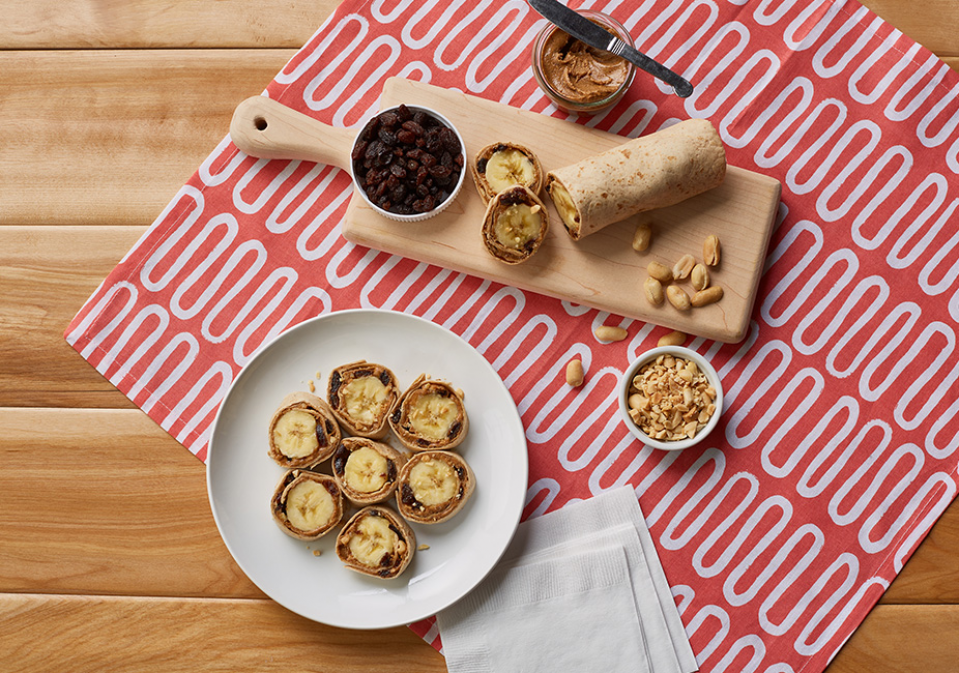 Temperature:
N/A
Serving size:
Entire recipe
Prep time:
5 minutes
Cook time:
N/A
Total time:
5 minutes
Equipment:

Cutting board

Utensils:

Knife

Measuring cups and spoons
* Cost and availability of recipe ingredients may vary across different regions of Ohio. Cost per serving information should be used as a general guide when considering recipe cost.
1 whole wheat tortilla
1 tablespoon peanut butter OR nut butter
1 sprinkle ground cinnamon
1 banana
1 tablespoon raisins
1 tablespoon unsalted nuts, chopped (optional)
Instructions
Before you begin, wash your hands, surfaces, and utensils.
Spread a layer of peanut butter across the tortilla, leaving an inch of space around the edge.
Sprinkle with raisins, nuts (if using), and cinnamon. Place the banana in the middle of the tortilla.
Roll the tortilla tightly around the banana and slice into 8 pieces.
Featured
Ingredients


What goes in Banana Roll-Ups?

Raisins

Whole Wheat Tortillas

Banana

Peanut Butter
Nutritional Information
(Per Serving)
See complete nutrition facts >>
Comments