Baked Balsamic Peach Salad
Dairy-Free |
Gluten-Free |
Main Dishes |
Quick & Easy |
Salads |
Egg-Free |
Nut-Free
Made with either fresh or canned peaches, this sweet and savory salad is delicious any time of year.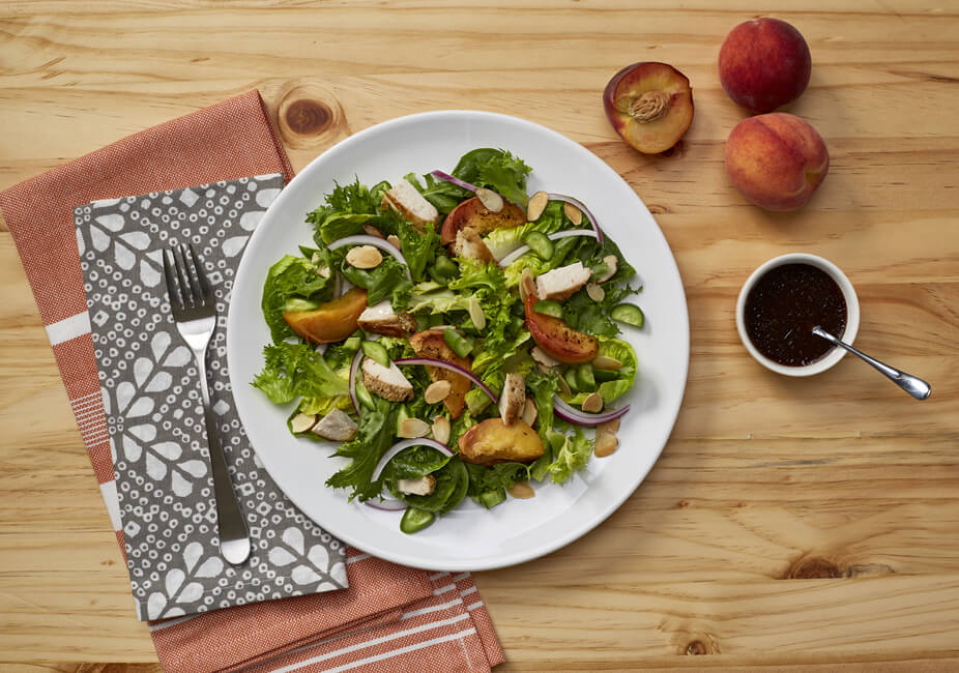 Temperature:
400 degrees
Serving size:
1 cup
Prep time:
10 minutes
Cook time:
20 minutes
Total time:
30 minutes
Equipment:

Baking sheet

Aluminum foil

Utensils:

Knife

Cooking brush

Tongs

Mixing spoon

Measuring cups and spoons
* Cost and availability of recipe ingredients may vary across different regions of Ohio. Cost per serving information should be used as a general guide when considering recipe cost.
Non-stick spray
4 peaches OR 2 15 ounce cans peaches
6 tablespoons balsamic vinaigrette dressing, divided
2 boneless skinless chicken breasts
1 tablespoon olive oil OR vegetable oil
1/4 teaspoon salt
1/8 teaspoon black pepper
2 cloves garlic, minced OR 2 teaspoons garlic powder
5 ounces mixed salad greens OR romaine lettuce
1/2 cucumber, chopped
3/4 cup red onion, sliced
1/2 cup unsalted nuts (almonds, pecans, cashews), chopped (optional)
Instructions
Before you begin, wash your hands, surfaces, utensils, tops of cans, fruit, and vegetables.
Preheat oven to 400 degrees. Line rimmed baking sheet with aluminum foil and spray with non-stick spray.
Halve the peaches and remove the pit. Cut into wedges. Brush the cut sides with 2 tablespoons balsamic vinaigrette. Lay out on baking sheet in single layer.
Bake for 15 minutes, flipping peaches halfway.
Coat chicken breast with oil, salt, pepper, and garlic. Cook the chicken in a frying pan, for 8 to 10 minutes or until chicken until browned on one side. Brush with 2 tablespoons balsamic vinaigrette on cooked side and repeat until the chicken is cooked through.
Prepare the chicken for the salad by cutting into bite sized pieces.
Add the peaches and chicken to a bowl with the mixed greens, cucumber, red onion, and nuts if using, and drizzle with 2 tablespoons balsamic vinaigrette. Mix thoroughly.
Tips
Don't have balsamic salad dressing or chicken breast on hand? This salad is great with any vinaigrette-based salad dressing, and tastes great with canned chicken!
Add some more color to this salad by topping it off with berries, or any other fruit you have on hand.
Featured
Ingredients


What goes in Baked Balsamic Peach Salad?

Red Onion

Cucumber

Garlic Cloves
Canned Peaches

Chicken Breast

Salad greens
Nutritional Information
(Per Serving)
See complete nutrition facts >>
Comments