Beef and Mushroom Burgers
Dairy-Free |
Kid Approved |
Main Dishes |
Quick & Easy |
High in Fiber |
Nut-Free
Mushrooms add savory flavor to these burgers while stretching out the beef, meaning there's more 'mmm' to go around.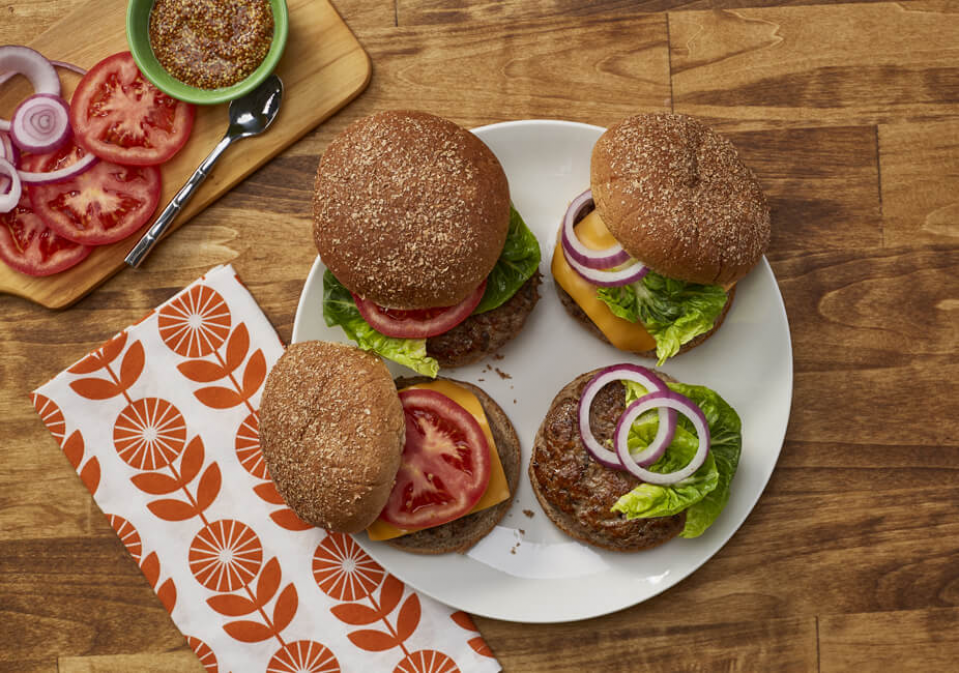 Temperature:
Medium-high heat
Serving size:
1 burger
Prep time:
20 minutes
Cook time:
10 minutes
Total time:
30 minutes
Equipment:

Medium frying pan

Large mixing bowl

Utensils:

Potato masher or fork

Mixing spoon

Measuring cups and spoons
* Cost and availability of recipe ingredients may vary across different regions of Ohio. Cost per serving information should be used as a general guide when considering recipe cost.
2 teaspoons olive oil OR vegetable oil, divided
12 ounces mushrooms, chopped into 1/4 inch pieces
8 ounces (85% or leaner) ground beef
1/4 teaspoon black pepper
1/8 teaspoon salt
2 large eggs
1/2 cup seasoned bread crumbs
2 tablespoons Worcestershire sauce
6 whole wheat buns, toasted
Instructions
Before you begin, wash your hands, surfaces, utensils, and vegetables.
Add 1 teaspoon oil to medium frying pan over medium-high heat. Add mushrooms and cook until tender, about 5 minutes. Remove from frying pan, place in large mixing bowl, allow to cool for 5 minutes.
Mash mushrooms with potato masher or fork until mushrooms break up into small pieces, and allow to cool.
Add beef, black pepper, salt, eggs, bread crumbs, and Worcestershire sauce to bowl with mushrooms, mix until combined evenly. Form mixture into 6 patties of equal size.
Add remaining teaspoon of oil to pan. Preheat frying pan to medium-high heat.
Cook burgers for 5 to 7 minutes on each side or until they reach an internal temperature of 160˚F.
Serve burgers on whole wheat buns.
Tips
Having a cookout? These burgers grill up great! Make sure to cook to an internal temperature of 160 degrees.
You can plan ahead and freeze these burgers in portioned out patties separated by a square of wax paper. Store in an air-tight container or zip-close bag for up to one month.
Featured
Ingredients


What goes in Beef and Mushroom Burgers?

Eggs

Mushrooms

Lean Ground Beef
Panko Breadcrumbs
Nutritional Information
(Per Serving)
See complete nutrition facts >>
Comments