BBQ Chicken Salad
Gluten-Free |
Kid Approved |
Quick & Easy |
Salads |
High in Fiber
Combine tender diced chicken chunks, black beans and veggies to make this fresh and hearty salad.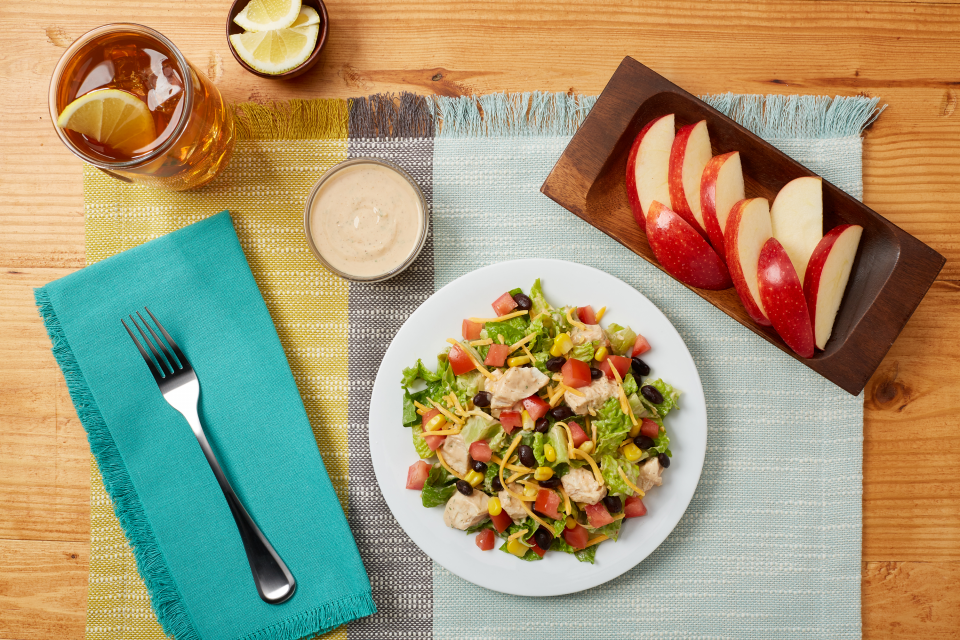 Serving size:
2 cups
Prep time:
20 minutes
Total time:
20 minutes
Equipment:

Colander

Cutting board

Paper towels

Measuring cups

Large bowl

Small bowl

Utensils:

Knife

Whisk or fork

Tongs or fork to toss salad
Serving Suggestion:
With a side of fruit or whole grain tortilla chips.
1 pound cooked, cooled chicken
1/2 cup BBQ sauce optional
2 heads romaine lettuce
4 tomatoes
1 15 oz can no salt added black beans, drained and rinsed
1 cup thawed frozen corn
1 cup reduced fat shredded cheddar cheese
Instructions
Before you begin, wash your hands, surfaces, utensils and vegetables.
Dice chicken and add to a large bowl. Toss with BBQ sauce, if using.
Chop lettuce into 1/2 inch pieces and add to bowl.
Dice tomatoes into 1/4 inch chunks; pat dry with a paper towel to remove excess moisture and add to bowl. Add thawed frozen corn to bowl.
Drain and rinse black beans, shake off excess moisture, and add to bowl.
Toss salad and dressing together and top with shredded cheese.
Tips
Use different greens (kale, chard, etc.) for a different flavor and texture.
For a less expensive option, use a head of iceberg lettuce.
Add peppers and onions to bring more color to your salad.
Make your own salad dressing by combining 1 cup fat-free plain yogurt, 1/2 cup BBQ sauce, 2 tablespoons ranch dressing mix, and 1 tablespoon water
Featured
Ingredients


What goes in BBQ Chicken Salad?

Black Beans

Roma Tomatoes

Frozen Corn

Romaine Lettuce

Chicken Breast
Nutritional Information
(Per Serving)
See complete nutrition facts >>
Comments