Orange Glazed Carrots
Dairy-Free |
Gluten-Free |
Side Dishes |
Low Fat |
No Added Sugars |
Vegan |
Vegetarian |
WIC Friendly |
Egg-Free |
Nut-Free
Sweet, juicy carrots are even better with a glaze of orange juice.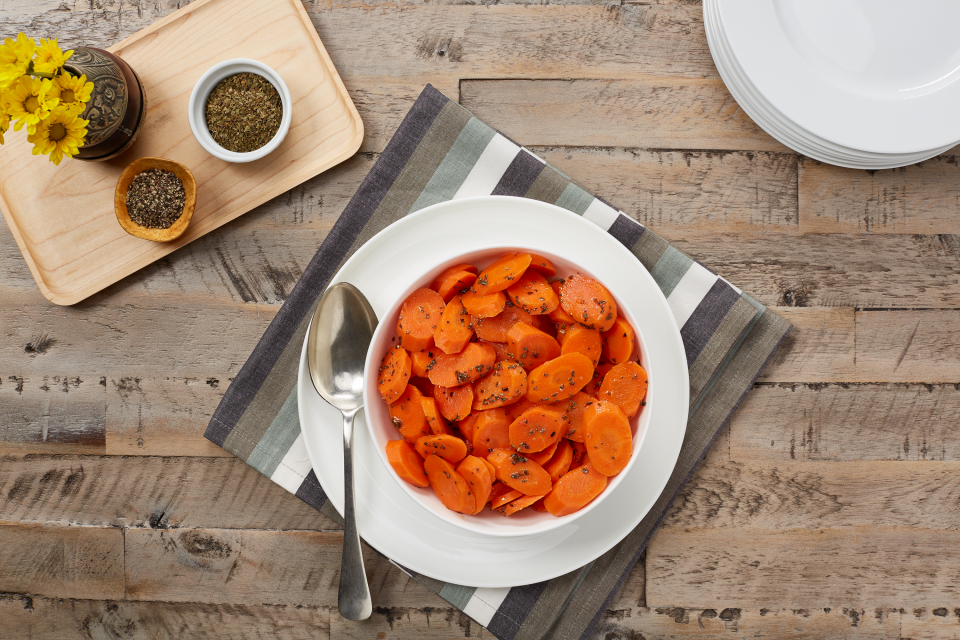 Temperature:
Medium heat
Serving size:
3/4 cup
Prep time:
15 minutes
Cook time:
10 minutes
Total time:
25 minutes
Equipment:

Colander

Vegetable peeler

Cutting board

Large pot

Medium bowl

Medium frying pan

Utensils:

Knife

Stirring spoon

Measuring cups and spoons
* Cost and availability of recipe ingredients may vary across different regions of Ohio. Cost per serving information should be used as a general guide when considering recipe cost.
1 pound carrots, sliced
1 cup 100% orange juice
1/4 teaspoon salt (optional)
1/2 teaspoon dried basil
1 pinch black pepper
Instructions
Before you begin, wash your hands, surfaces, utensils, and vegetables.
Fill a large pot half-full with water. Bring to a boil.
In a medium frying pan over medium heat, warm orange juice until liquid thickens and reduces by about 3/4. Watch carefully after it reduces by 1/2 so that it does not boil dry in the pan. Juice may take up to 20 minutes to reduce.
Add carrots to boiling water. Cook until slightly soft but still a bit crunchy, about 7-10 minutes.
In a colander, drain carrots. Rinse under cold water.
In a medium bowl, add carrots, salt, basil, black pepper, and orange juice sauce. Toss until carrots are fully coated. Taste and adjust seasoning as needed.
Tips
To save time, steam carrots in the microwave instead of cooking on the stove. Place carrots in a microwave-safe dish with 1/2 cup of water for 3-5 minutes.
Featured
Ingredients


What goes in Orange Glazed Carrots?

Carrots

Orange Juice
Nutritional Information
(Per Serving)
See complete nutrition facts >>
Comments