Tabbouleh
Dairy-Free |
Quick & Easy |
Salads |
Side Dishes |
Vegan |
Vegetarian |
Egg-Free |
Nut-Free
This Middle Eastern salad features creamy feta cheese, bright parsley, and bulgur wheat—a chewy, pasta-like grain.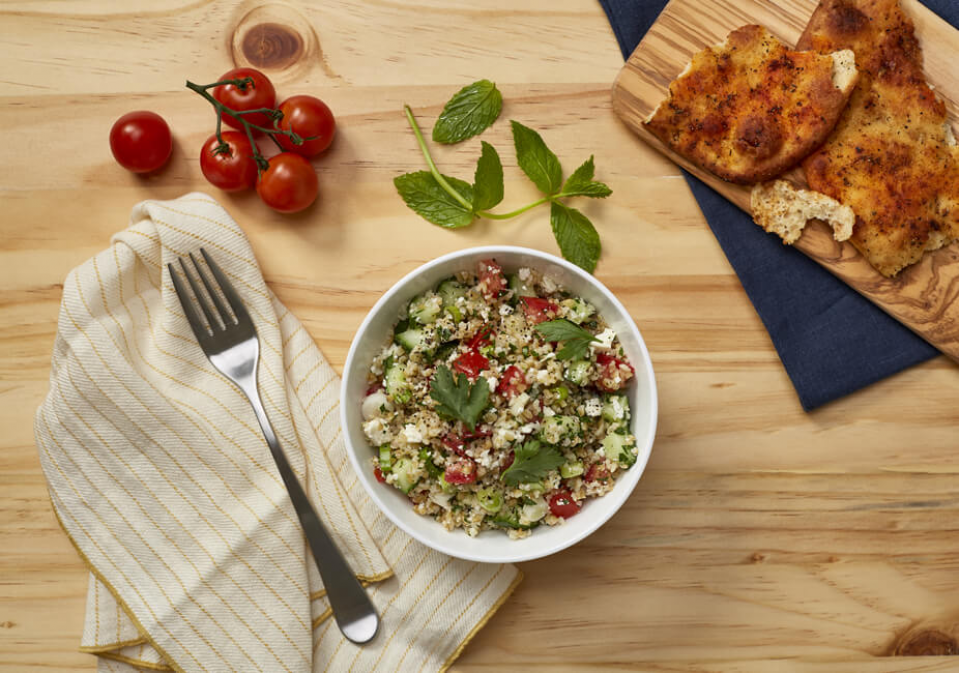 Temperature:
Medium-high heat
Serving size:
2/3 cup
Prep time:
30 minutes
Cook time:
20 minutes
Total time:
50 minutes
Equipment:

Medium bowl

Large pot

Colander

Utensils:

Knife, Spoon

Mixing spoon




Recipe Sourced from Share our Strength's Cooking Matters
* Cost and availability of recipe ingredients may vary across different regions of Ohio. Cost per serving information should be used as a general guide when considering recipe cost.
5 tablespoons lemon juice
1 cup bulgur wheat
1 1/2 cups boiling water
1 cup fresh parsley leaves, rinsed and chopped
3 green onions, thinly sliced
1 large tomato, diced
1 small cucumber, sliced lengthwise, seeds removed and diced
1/4 cup mint leaves, chopped (optional)
4 ounces feta cheese, crumbled (optional)
2 tablespoons olive oil OR vegetable oil
3/4 teaspoon salt
1/4 teaspoon black pepper
1 pinch ground cayenne pepper OR paprika (optional)
Instructions
Before you begin, wash your hands, surfaces, utensils, fruits, and vegetables.
Combine lemon juice and hot water in a medium bowl. Add bulgur wheat. Cover and let rest until bulgur is soft and chewy, about 30 minutes.
Transfer bulgur to a colander and drain excess liquid. Return bulgur to bowl.
Add parsley, green onions, tomato, cucumber, oil, salt, black pepper, and cayenne or paprika (if using), to bowl. Mix well to combine.
If using feta and mint leaves, add now. Mix gently before serving.
Tips
On a time crunch? Cook your bulgur ahead of time, and have it ready to go to make this delicious salad in no time!
Don't have bulgur? Try this recipe with brown rice or quinoa for a delicious gluten-free option.
Featured
Ingredients


What goes in Tabbouleh?

Diced Tomatoes

Cucumber

Green onions

Lemon Juice

Bulgar wheat
Nutritional Information
(Per Serving)
See complete nutrition facts >>
Comments