Zucchini Pumpkin Bread
Breakfast |
Dairy-Free |
Kid Approved |
Snacks |
Low Sodium |
Low Fat |
Vegetarian |
Nut-Free
If you've always thought zucchini and pumpkin were polar opposites, prepare to change your mind.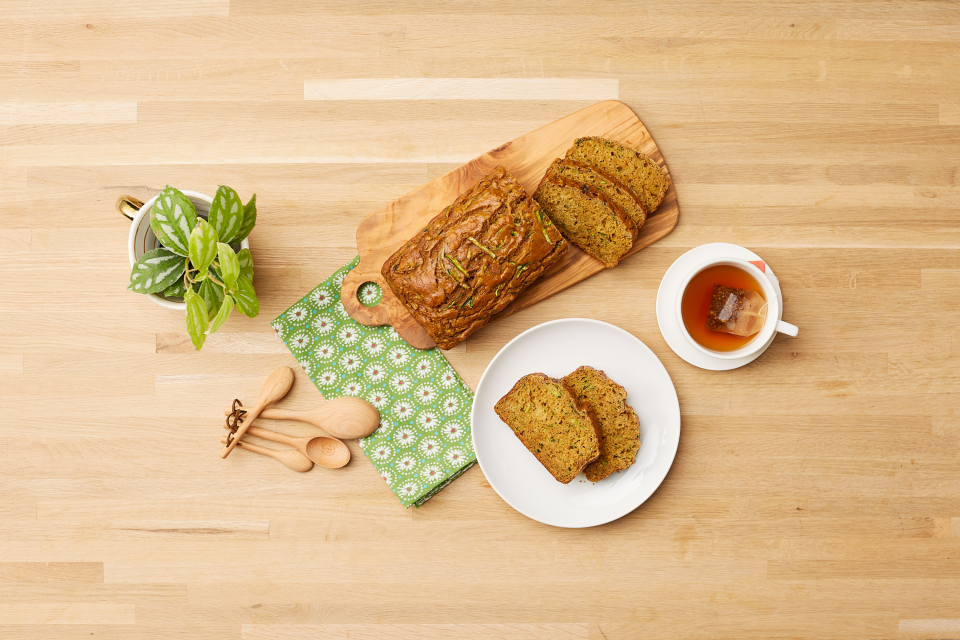 1 hour, 15 minutes
Total Time
Temperature:
350 degrees
Serving size:
1 slice
Prep time:
15 minutes
Cook time:
60 minutes
Total time:
1 hour, 15 minutes
Equipment:

Grater

Loaf pan

Large bowl

Medium bowl

Utensils:

Mixing spoon

Whisk or fork

Measuring cups and spoons
* Cost and availability of recipe ingredients may vary across different regions of Ohio. Cost per serving information should be used as a general guide when considering recipe cost.
Non-stick spray
2 eggs
1/2 cup brown sugar
1/2 15 ounce can pumpkin puree
1/4 cup unsweetened applesauce
1/2 tablespoon (regular of imitation) vanilla extract
1 1/2 cups all-purpose flour
1/2 teaspoon baking soda
1/2 teaspoon baking powder
1 teaspoon ground cinnamon
1 cup zucchini (about 1 large zucchini), shredded
Instructions
Before you begin, wash your hands, surfaces, utensils, tops of cans, and produce.
Preheat oven to 350 degrees.
Spray a loaf pan with non-stick spray.
Combine eggs, sugar, pumpkin, applesauce, and vanilla extract in a large bowl. Use a whisk or fork to combine.
In a medium bowl mix together flour, baking soda, baking powder, and cinnamon.
Add dry ingredients to the pumpkin mixture. Stir to combine.
Gently stir in zucchini to pumpkin mixture, being careful not to over-mix.
Bake for 55-60 minutes or until a toothpick inserted into the middle of the loaf comes out clean.
Tips
These also bake well as muffins. Use a 12-cup muffin tin with non-stick spray and bake for 35-40 minutes at 375 degrees. Do not use muffin-tin liners, as muffins will stick.
Featured
Ingredients


What goes in Zucchini Pumpkin Bread?

Zucchini

Cinnamon

Pumpkin Puree

Applesauce

Eggs
Nutritional Information
(Per Serving)
See complete nutrition facts >>
Comments