Black Bean Brownies
Desserts |
Gluten-Free |
High in Fiber |
Vegetarian
Black beans replace the flour in these moist, deep chocolate brownies. These brownies are gluten-free and packed with protein.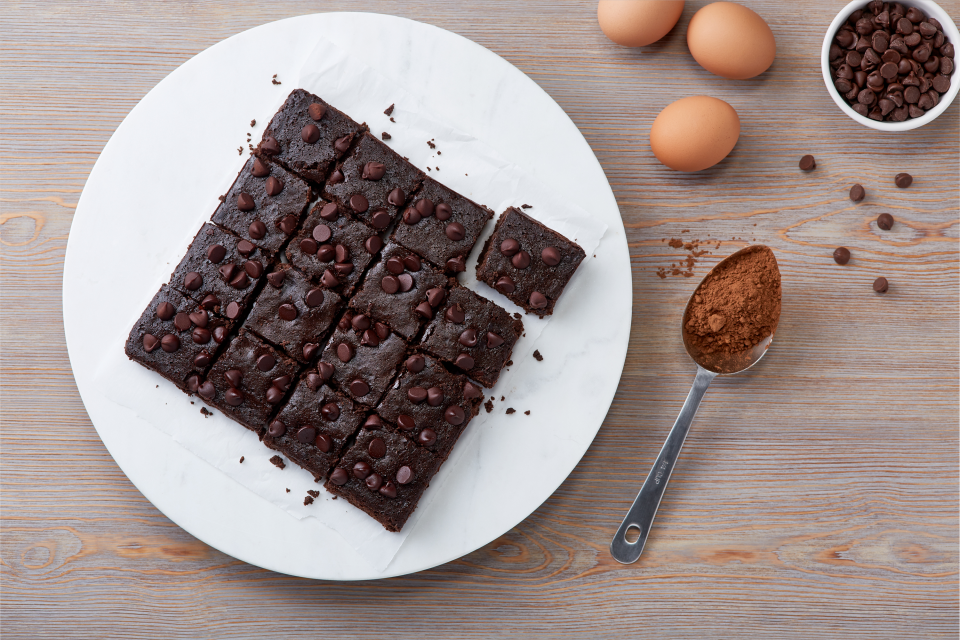 35-40 minutes + cooling
Total Time
Temperature:
350 degrees
Serving size:
2, 2"x2" brownies
Prep time:
15 minutes
Cook time:
20-25 minutes
Total time:
35-40 minutes + cooling
Equipment:

Can opener

Mixing bowl, 2 quart

Potato masher or fork

Measuring cups and spoons

8x8 inch baking dish or pan

Utensils:

Mixing spoon

Toothpick to test
Serving Suggestion:
Have a glass of fat-free milk with a brownie for a healthy snack.
Recipe adapted from Share Our Strength's Cooking Matters
Non-stick spray
1 15 ounce can no salt added black beans, rinsed and drained
1/4 cup oil, vegetable or canola
3 large eggs
2/3 cup packed brown sugar
1/2 cup baking cocoa
1 teaspoon vanilla extract (regular or imitation)
1/2 teaspoon baking powder
1/4 teaspoon salt
1/2 cup semi-sweet chocolate chips (optional)
Instructions
Before you begin wash your hands, surfaces, utensils and top of cans
Preheat oven to 350 degrees.
Spray an 8x8 inch pan or baking dish with non-stick spray.
Use a potato masher or fork to completely break up the beans.
Add the oil to the beans. Stir to mix completely to be sure that all beans are completely mashed.
Add the eggs and mix well.
Add brown sugar and cocoa and mix well.
Add vanilla extract, baking powder and salt.
Pour into the prepared baking pan. Sprinkle with chocolate chips (optional).
Bake at 350 degrees for 20-25 minutes or until toothpick inserted in the center comes out clean.
Cool on a wire rack. Cut into 16 pieces.
Tips
Add 1 tablespoon of instant coffee to the mix for a mocha flavor.
Add 1 teaspoon cayenne pepper for a flash of heat.
Featured
Ingredients


What goes in Black Bean Brownies?

Black Beans

Vanilla Extract
Nutritional Information
(Per Serving)
See complete nutrition facts >>
Comments