Cucumber Salad
Dairy-Free |
Gluten-Free |
Salads |
Side Dishes |
Low Fat |
No Added Sugars |
Vegan |
Vegetarian |
WIC Friendly |
Egg-Free |
Nut-Free
Combine your veggies, fresh parsley and dressing for a refreshing summer salad that's as cool as a… well, you know.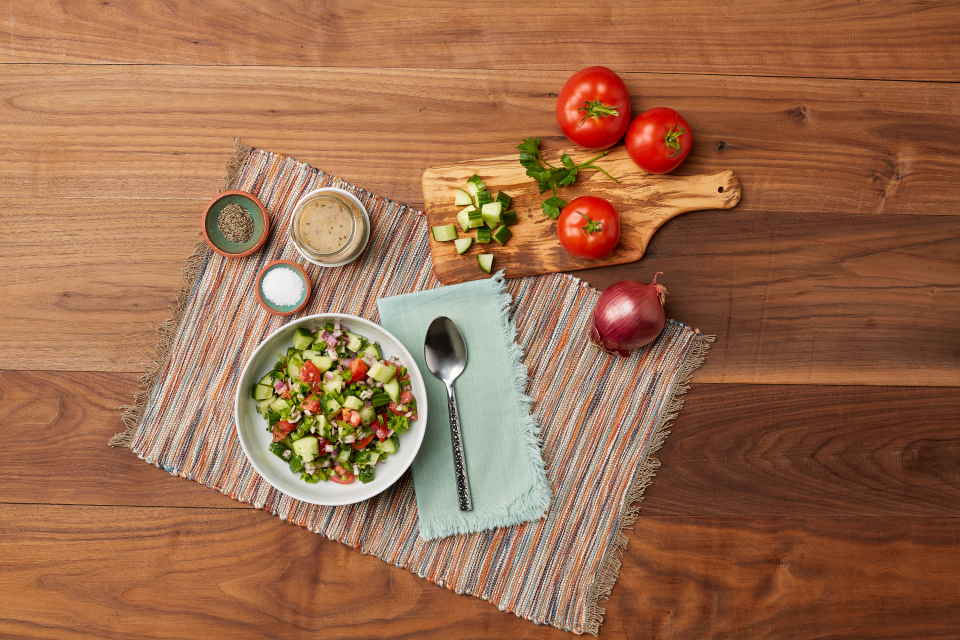 1 hour, 10 minutes
Total Time
Temperature:
N/A
Serving size:
1 cup
Prep time:
10 minutes
Cook time:
N/A, but 1 hour of chill time
Total time:
1 hour, 10 minutes
Equipment:

Cutting board

Large bowl

Utensils:

Knife

Mixing spoon

Measuring cups and spoons
* Cost and availability of recipe ingredients may vary across different regions of Ohio. Cost per serving information should be used as a general guide when considering recipe cost.
3 small tomatoes, chopped
1 large cucumber, chopped
1/2 red onion, finely chopped
1 medium green bell pepper, finely chopped
1/3 cup fresh parsley, chopped small OR 1 tablespoon dried parsley (optional)
1/3 cup fat-free Italian dressing OR Celebrate Your Plate Vinaigrette Salad Dressing
Instructions
Before you begin, wash your hands, surfaces, utensils, and produce.
Combine all ingredients in a large bowl and stir to combine. Refrigerate for at least 1 hour before serving.
Tips
If you're making your own dressing, combine those ingredients in the bottom of a large bowl, add the vegetables and parsley (if using), and toss to mix well.
Featured
Ingredients


What goes in Cucumber Salad?

Chopped Tomatoes

Red Onion

Cucumber

Parsley

Green Peppers
Nutritional Information
(Per Serving)
See complete nutrition facts >>
Comments