Blueberry Chicken Pasta Salad
Dairy-Free |
Main Dishes |
Salads |
High in Fiber |
WIC Friendly
This salad starts with pasta and chicken that are already cooked for a quick and easy meal.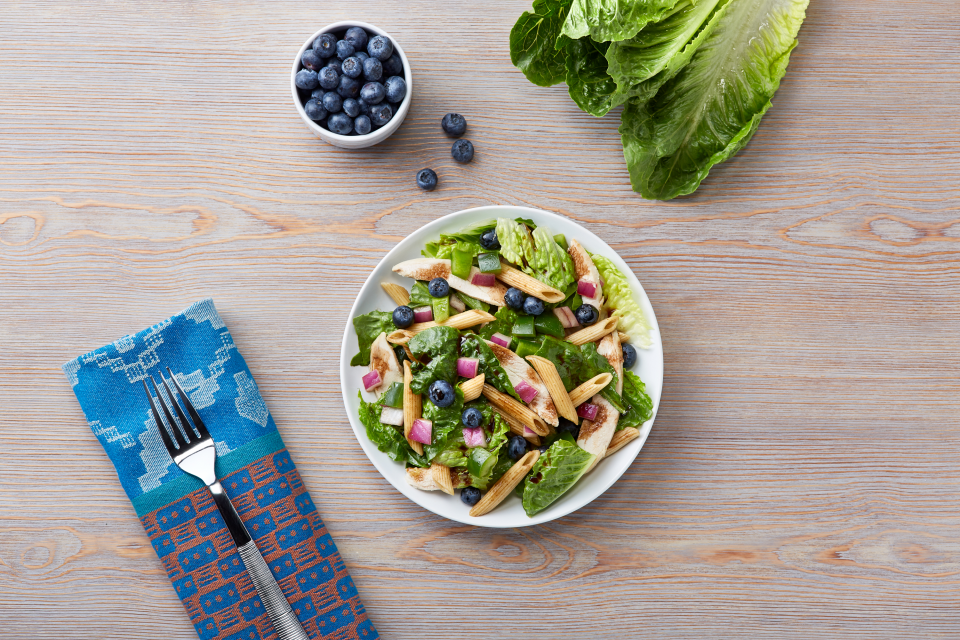 Serving size:
2 cups
Prep time:
30 minutes
Total time:
30 minutes
Equipment:

Jar with tight lid

Measuring cups and spoons

Cutting board

Large bowl

Utensils:

Knife

Mixing spoon
Serving Suggestion:
Serve salad with a glass of fat-free milk.
For the Blueberry Vinaigrette
1/2 cup fresh or frozen blueberries, thawed
2 tablespoons extra virgin olive oil
2 tablespoons balsamic vinegar
1/2 teaspoon Dijon mustard
2 teaspoons honey
1/4 teaspoon salt
For the Salad
1 1/2 cups fresh blueberries, washed and drained
3 cups cooked whole grain pasta, cooled
12 ounces cooked chicken breast, sliced
4 cups dark green leafy vegetables, washed and drained
1/2 cup red onion, chopped
1 medium bell pepper, chopped
Instructions
Before you begin wash your hands, surfaces, utensils, fruits and vegetables.
After blueberries and dark green leafy vegetables are washed and drained, place in refrigerator.
Cook pasta according to package directions. Drain and cool in large mixing bowl.
Add vinaigrette ingredients in a jar with a lid. Shake to blend. Set aside.
Add onion, pepper and chicken to large mixing bowl.
Tear leafy vegetables into bite-size pieces. Add to large mixing bowl.
Add cooked chilled pasta to large mixing bowl.
Toss all salad ingredients with dressing and serve.
Tips
You may choose
other fresh or frozen fruit instead of blueberries.
beans such as chickpeas, kidney, or cannelloni (drained) for chicken.
any mix of dark green leafy vegetables or broccoli.
add avocado.
Ingredients


What goes in Blueberry Chicken Pasta Salad?

Fresh Blueberries
Nutritional Information
(Per Serving)
See complete nutrition facts >>
Comments