Potato Salad
Gluten-Free |
Salads |
Side Dishes |
No Added Sugars |
Vegetarian |
WIC Friendly |
Egg-Free |
Nut-Free
This creamy potato salad uses non-fat yogurt to create a satisfying twist on this classic dish.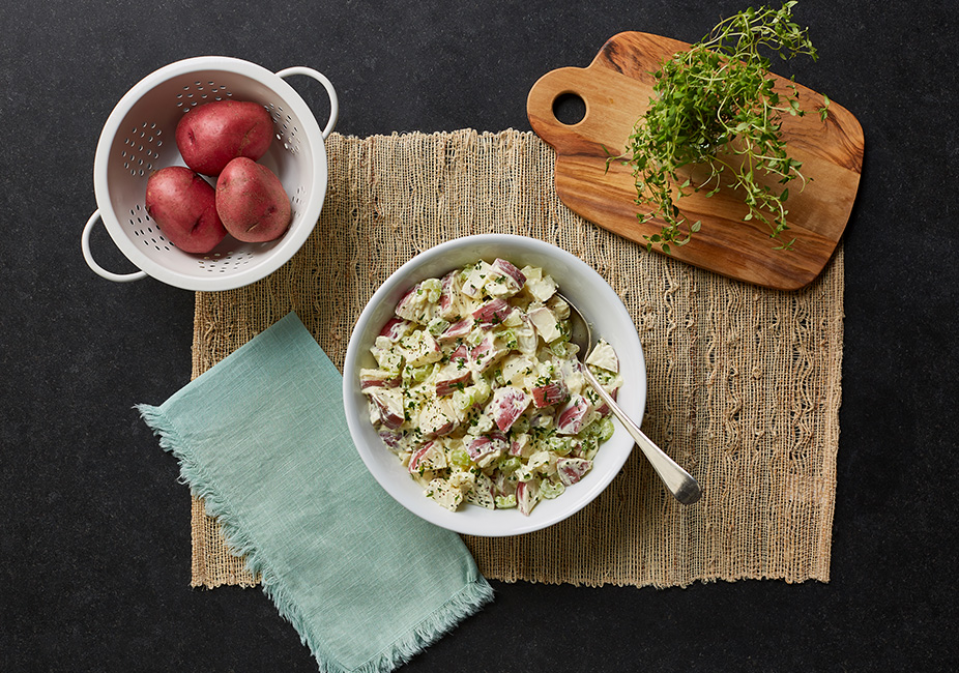 Temperature:
High heat
Serving size:
1 cup
Prep time:
10 minutes
Cook time:
20 minutes, 20 additional minutes for potatoes to cool
Total time:
50 minutes
Equipment:

Cutting board

Large pot

Colander

Large bowl

Plastic wrap

Utensils:

Knife

Fork

Mixing spoon

Measuring cups and spoons
* Cost and availability of recipe ingredients may vary across different regions of Ohio. Cost per serving information should be used as a general guide when considering recipe cost.
4 medium potatoes, peeled (about 1 pound)
1 cup plain low-fat yogurt
1/4 cup light mayonnaise
1 tablespoon yellow mustard
1/2 teaspoon salt (optional)
1/4 teaspoon black pepper
1 stalks celery, chopped
1/2 small onion, finely chopped
Instructions
Before you begin, wash your hands, surfaces, utensils, and produce.
Place potatoes in a large pot. Add enough water to cover the potatoes.
Put pot over high heat and boil under you can easily pierce potatoes with a fork, about 20-25 minutes.
Drain potatoes and cool.
While potatoes are cooling, combine the yogurt, mayonnaise, mustard, black pepper, and salt (if using) in a large bowl.
Once the potatoes have cooled, cut them into bite-sized cubes. Add the potatoes, celery, and onion to the yogurt mixture, then stir to coat the potatoes.
Cover the bowl with plastic wrap or a lid and refrigerate for at least an hour before serving.
Featured
Ingredients


What goes in Potato Salad?

Celery

Low-fat Yogurt

Chopped Onions

Red Potatoes
Nutritional Information
(Per Serving)
See complete nutrition facts >>
Comments