Blueberry Muffin in a Mug
Breakfast |
Kid Approved |
Quick & Easy |
Snacks |
High in Fiber |
Vegetarian |
One-Two Serving
No muffin tin needed. A mug is all you need to make this quick, can't-miss snack.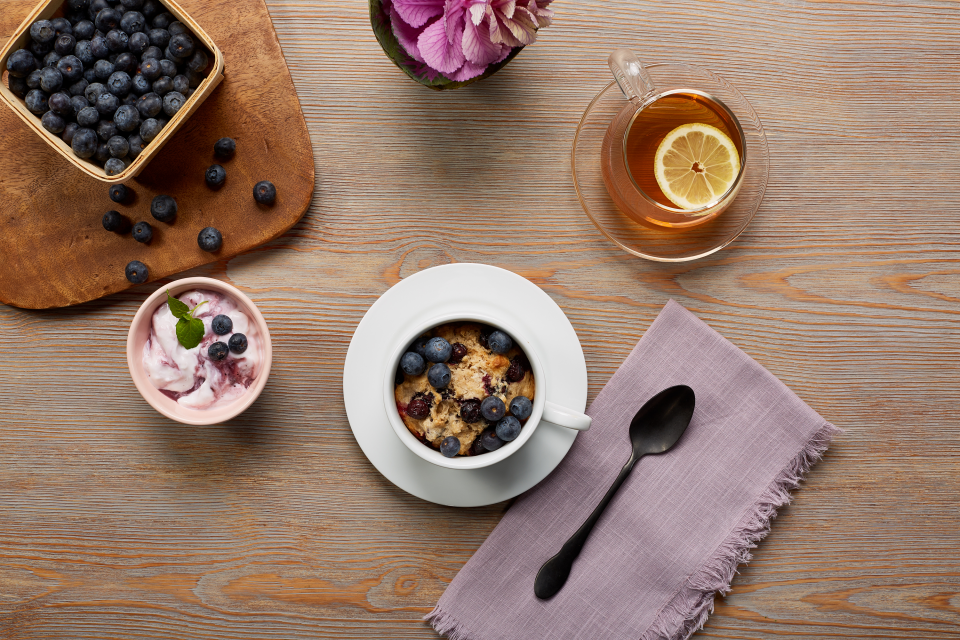 Temperature:
High
Serving size:
Entire Recipe
Prep time:
5 minutes
Cook time:
1 1/2 minutes
Total time:
7 minutes
Equipment:

Microwave-safe mug or cereal bowl

Measuring spoons

Measuring cups

Utensils:

Spoon
1/4 cup whole wheat flour
1 tablespoon brown sugar
1/4 teaspoon baking powder
1/8 teaspoon salt
Pinch cinnamon
1/2 tablespoon butter
3 tablespoons low-fat milk
3-4 tablespoons fresh or frozen blueberries, plus 1/2 cup additional berries for serving
Instructions
1. Before you begin, wash your hands, surfaces, utensils, and fruit.
2. In a microwave safe mug or cereal bowl, combine flour, brown sugar, baking powder, salt, and cinnamon and mix well.
3. Add the butter to the mug; using your fingers to rub or smoosh the butter into the flour mixture until no large chunks of butter remain.
4. Add milk to the flour mixture and stir together.
5. Add 3-4 tablespoons blueberries and stir until they are evenly distributed.
6. Microwave on high for 90 seconds. Remove from microwave, stir, and microwave for an additional 30 seconds.
7. Serve immediately with remaining ½ cup blueberries.
Featured
Ingredients


What goes in Blueberry Muffin in a Mug?

Fresh Blueberries

Cinnamon

Skim Milk
Nutritional Information
(Per Serving)
See complete nutrition facts >>
Comments