Blueberry Muffin in a Mug
Breakfast |
Kid Approved |
Quick & Easy |
Snacks |
High in Fiber |
Vegetarian |
Egg-Free |
Nut-Free
No muffin tin needed. A mug is all you need to make this quick, can't-miss snack.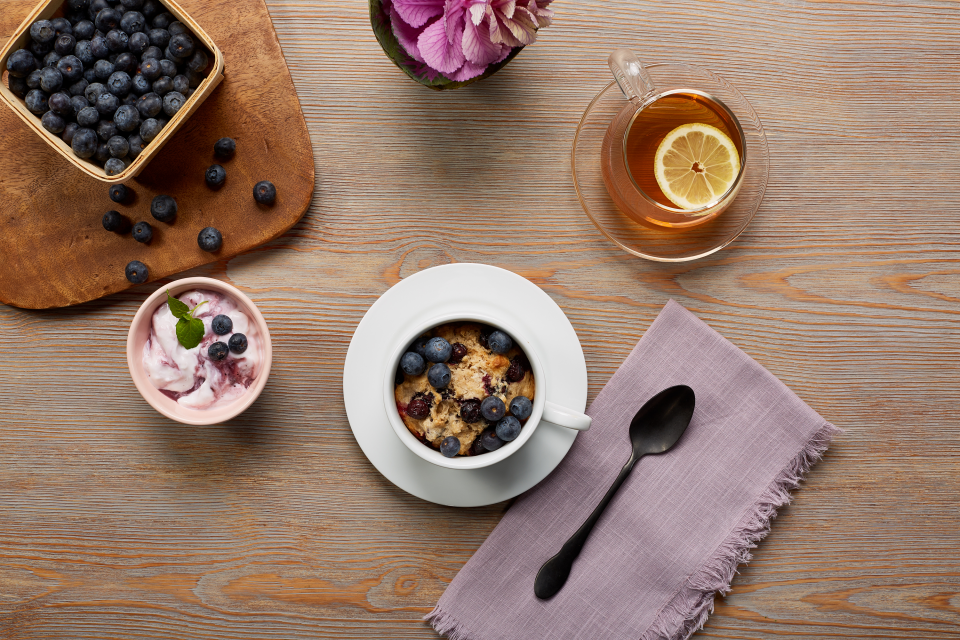 Temperature:
High
Serving size:
Entire recipe
Prep time:
5 minutes
Cook time:
1 1/2 minutes
Total time:
7 minutes
Equipment:

Microwave-safe mug or cereal bowl

Utensils:

Spoon

Fork

Measuring cups and spoons
* Cost and availability of recipe ingredients may vary across different regions of Ohio. Cost per serving information should be used as a general guide when considering recipe cost.
1/4 cup whole wheat flour
1 tablespoon brown sugar
1/4 teaspoon baking powder
1/8 teaspoon salt
1 pinch ground cinnamon
1/2 tablespoon butter
3 tablespoons low-fat milk
3 to 4 tablespoons (fresh or thawed frozen) blueberries, plus 1/2 cup additional berries for serving
Instructions
Before you begin, wash your hands, surfaces, utensils, and fruit.
In a microwave-safe mug or cereal bowl, combine flour, brown sugar, baking powder, salt, and cinnamon. Mix well.
Add the butter to the mug. Using a fork or back of a spoon, mix and smash the butter into the flour mixture until no large chunks of butter remain.
Add milk to the flour mixture and stir together.
Add 3-4 tablespoons blueberries and stir until they are evenly distributed.
Microwave on high for 90 seconds. Remove from microwave, stir, and microwave for an additional 30 seconds.
Serve immediately with remaining 1/2 cup blueberries.
Featured
Ingredients


What goes in Blueberry Muffin in a Mug?

Fresh Blueberries

Cinnamon

Low-fat Milk
Nutritional Information
(Per Serving)
See complete nutrition facts >>
Comments