One Pot Chicken Alfredo
Kid Approved |
Main Dishes |
Quick & Easy |
Egg-Free |
Nut-Free
This creamy, satisfying meal is as easy to make as it is to eat. Plus, one pot means easy clean up, too! Win, win, win.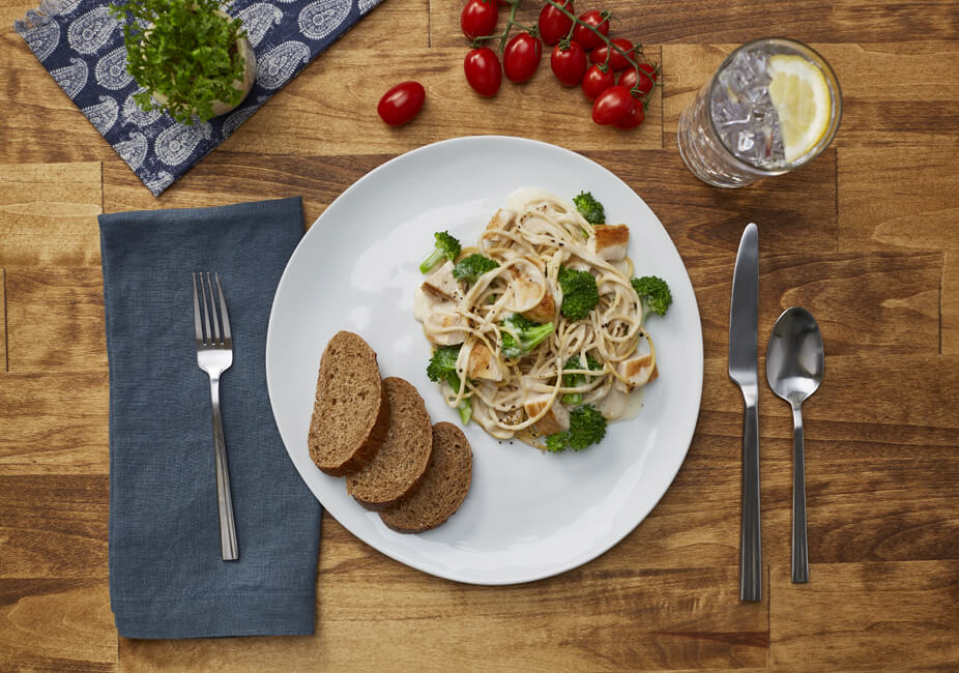 Temperature:
Medium-high heat
Serving size:
1 cup
Prep time:
5 minutes
Cook time:
25 minutes
Total time:
30 minutes
Equipment:

Large pot with lid

Utensils:

Stirring spoon

Measuring cups and spoons




Recipe Sourced from Oregon State University's Food Hero
* Cost and availability of recipe ingredients may vary across different regions of Ohio. Cost per serving information should be used as a general guide when considering recipe cost.
1 large chicken breast, cubed
2 tablespoons olive oil OR vegetable oil
2 tablespoons all-purpose flour
1 3/4 cups low-sodium chicken broth
1 3/4 cups low-fat milk
2 cloves garlic, minced OR 2 teaspoons garlic powder
1/2 teaspoon onion powder
1/2 teaspoon black pepper
8 ounces dry whole grain penne pasta OR whole grain spaghetti
2 cups (fresh or frozen) broccoli, chopped OR 1 12 ounce package frozen vegetable mix
1 cup grated Parmesan cheese
Instructions
Before you begin, wash your hands, surfaces, utensils, tops of cans, and vegetables.
In a large pot over medium-high heat, brown chicken in oil.
Add flour, broth, milk, garlic, onion powder, black pepper, and pasta to pot and stir well.
Bring to a boil, then reduce heat to simmer and cover. Cook until pasta is almost tender, stirring occasionally.
Add broccoli or frozen vegetables and cover. Cook until vegetables are tender.
Remove from heat and stir in Parmesan cheese.
Tips
If you don't have chicken breast on hand use one can of low sodium chicken breast in water.
Featured
Ingredients


What goes in One Pot Chicken Alfredo?

Broccoli

Whole Grain Pasta

Chicken Breast

Flour

Low-sodium chicken broth
Nutritional Information
(Per Serving)
See complete nutrition facts >>
Comments