Braised Beans
Dairy-Free |
Gluten-Free |
Side Dishes |
No Added Sugars |
High in Fiber |
Vegan |
Vegetarian |
WIC Friendly |
Egg-Free |
Nut-Free
Dried beans can be a real money-saver.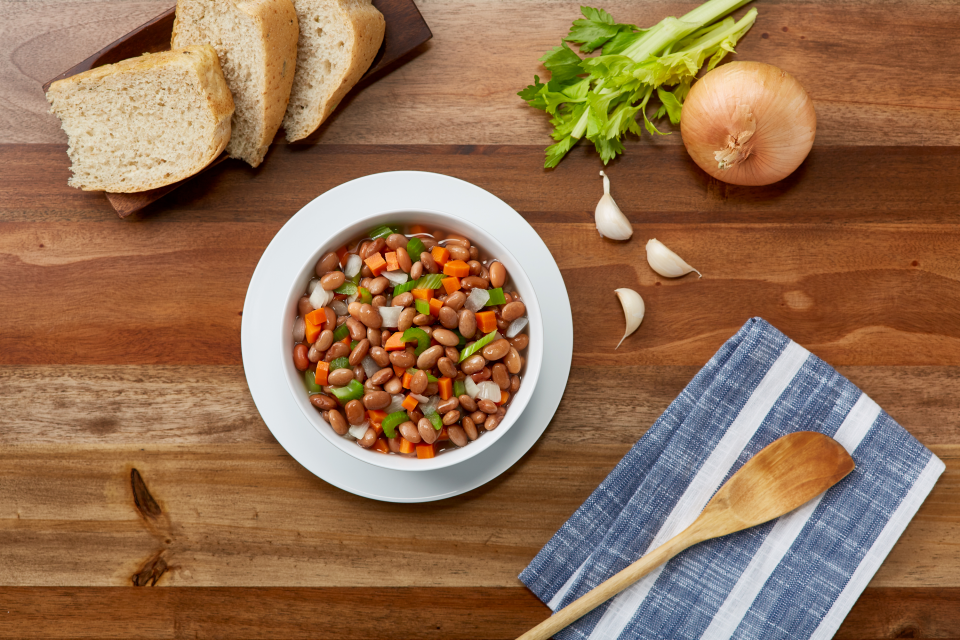 3 hours, 10 minutes
Total Time
Temperature:
325 degrees
Serving size:
1/2 cup
Prep time:
10 minutes
Cook time:
3 hours
Total time:
3 hours, 10 minutes
Equipment:

Large oven-proof pot with tight-fitting lid

Cutting board

Utensils:

Knife

Measuring cups and spoons
* Cost and availability of recipe ingredients may vary across different regions of Ohio. Cost per serving information should be used as a general guide when considering recipe cost.
2 cups dried (pinto, navy, kidney, black) beans
1/4 cup olive oil OR vegetable oil
6 cups water
3 large carrots, diced
4 stalks celery, diced
2 onions, chopped
4 cloves garlic, minced OR 4 teaspoons garlic powder
1 tablespoon salt (optional)
Instructions
Before you begin, wash your hands, surfaces, utensils, and vegetables.
Preheat oven to 325 degrees.
Rinse beans and pick over to remove any stones or bad beans.
Put all ingredients into an oven-proof pot. Add 6 cups water. Put in oven with lid on tight so that the liquid stays in the pot to cook the beans. Use foil to cover tightly if you don't have a lid.
Cook 2 1/2 hours – 3 hours, stirring occasionally. Keep the beans covered with water. Add hot water if needed to just cover the beans.
Check to see that the beans are cooked. A bean should be soft through, without a hard area in the middle.
Tips
You can serve this once as a main dish and the leftovers as a side dish in another meal.
These beans are a perfect addition to a salad or soup!
Dry beans are less expensive than canned beans or meat.
Featured
Ingredients


What goes in Braised Beans?

Black Beans

White Onion

Celery

Carrots
Nutritional Information
(Per Serving)
See complete nutrition facts >>
Comments