Broccoli Salad
Quick & Easy |
Salads |
Side Dishes |
No Added Sugars |
WIC Friendly |
Egg-Free |
Nut-Free
Whip up a healthy, hearty salad in just 15 minutes. Serve it cold on a hot day.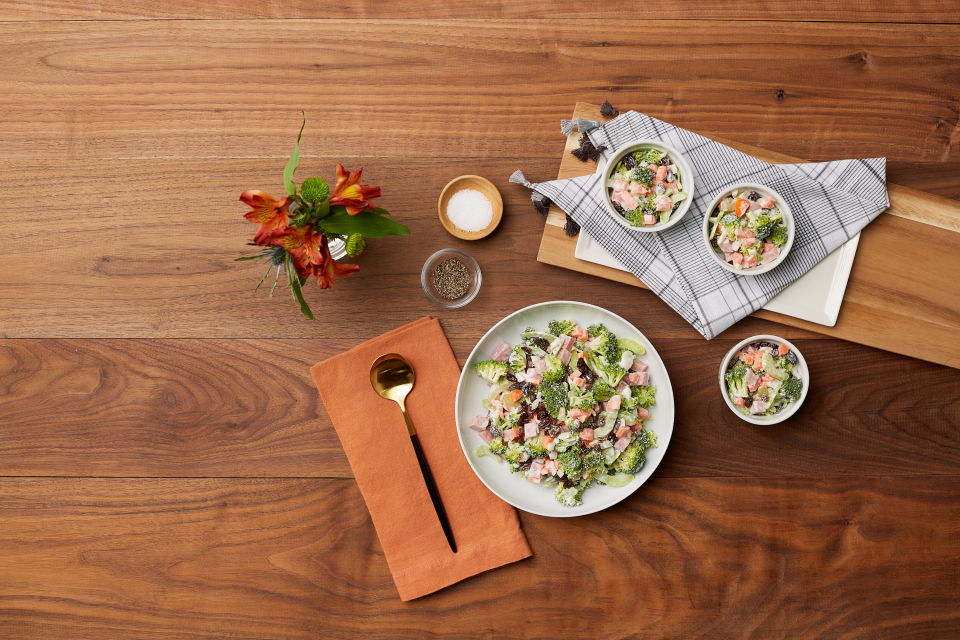 Temperature:
N/A
Serving size:
1 cup
Prep time:
15 minutes
Cook time:
N/A, but 30 minute chill time
Total time:
45 minutes
Equipment:

Cutting board

Large bowl

Utensils:

Knife

Mixing spoon

Measuring cups and spoons
* Cost and availability of recipe ingredients may vary across different regions of Ohio. Cost per serving information should be used as a general guide when considering recipe cost.
3 cups raw broccoli, chopped into small pieces
1 medium carrot, peeled and diced
2 stalks celery, thinly sliced
1/2 cup raisins (optional)
1/4 cup onion, chopped
1 cup cooked meat (ham, chicken or turkey), cubed
1/4 cup light mayonnaise
1/2 cup plain low-fat yogurt
1 teaspoon vinegar (white, red wine, or apple cider)
Instructions
Before you begin, wash your hands, surfaces, utensils, and vegetables.
In a large bowl, mix together broccoli, carrot, celery, raisins, onion, and meat.
In a small bowl, mix together mayonnaise, yogurt, and vinegar.
Add mayonnaise mixture to the vegetable mixture and stir well to combine.
Refrigerate for at least 30 minutes before serving.
Featured
Ingredients


What goes in Broccoli Salad?

Celery

Carrots

Raisins

Broccoli

Chopped Onions
Nutritional Information
(Per Serving)
See complete nutrition facts >>
Comments