Vegetarian Stuffed Peppers
Gluten-Free |
Main Dishes |
No Added Sugars |
High in Fiber |
Vegetarian |
WIC Friendly
Light, healthy, and easy to make—these weeknight-friendly peppers can be a main or side dish.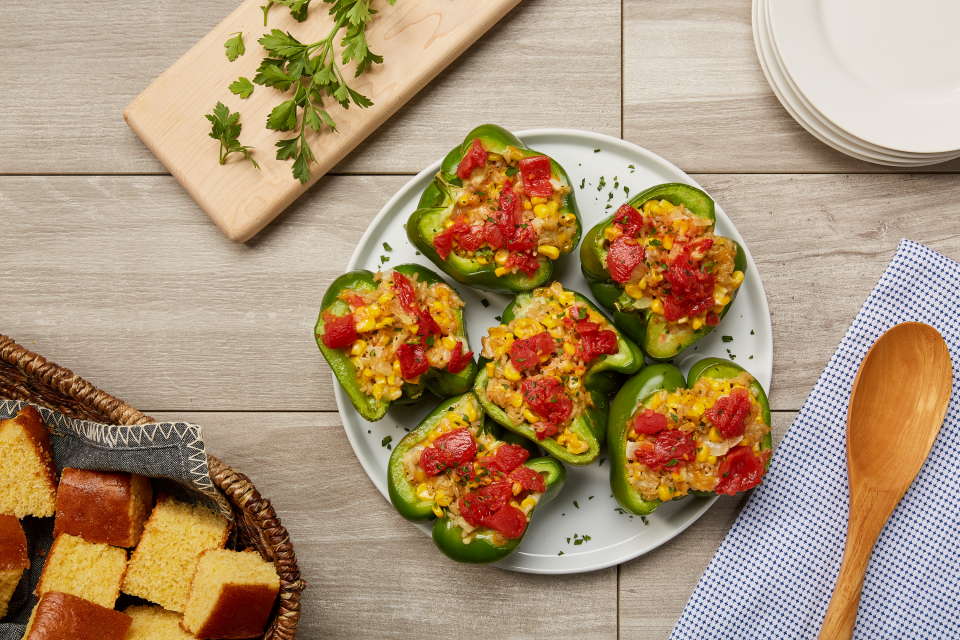 1 hour and 10 minutes
Total Time
Temperature:
350 degrees
Serving size:
1 pepper half
Prep time:
25 minutes
Cook time:
45 minutes
Total time:
1 hour and 10 minutes
Equipment:

Cutting board

Large mixing bowl

Can opener

9" x 9" baking dish

Utensils:

Knife

Measuring cups and spoons

Mixing spoon
2 eggs
1 cup non-fat dry milk
1 1/2 cups cooked brown rice
1 cup shredded low-fat cheese
1 15 ounce can no salt added corn
1 onion, chopped
1/2 teaspoon black pepper
1 1/2 teaspoons garlic powder
3 medium green peppers cut in half, seeds and stem removed
1 15 ounce can no salt added chopped tomatoes, drained
Instructions
1. Before you begin wash your hands, surfaces, utensils, and vegetables.
2. Preheat oven to 350 degrees.
3. In a large bowl, combine the eggs, non-fat dry milk, rice, cheese, corn, onion, black pepper, and garlic powder.
4. Place green pepper halves in a 9x9-inch baking dish.
5. Spoon mixture into pepper halves until very full. Pour tomatoes over peppers.
6. Bake for 40-45 minutes.
Featured
Ingredients


What goes in Vegetarian Stuffed Peppers?

Canned Corn

Canned Diced Tomatoes

Chopped Onions

Eggs

Green Peppers
Nutritional Information
(Per Serving)
See complete nutrition facts >>
Comments