Buffalo Chicken Casserole
Gluten-Free |
Main Dishes |
No Added Sugars |
WIC Friendly |
Egg-Free |
Nut-Free
Buffalo sauce isn't just for wings anymore. This creamy but healthy casserole brings Buffalo's most famous flavor home.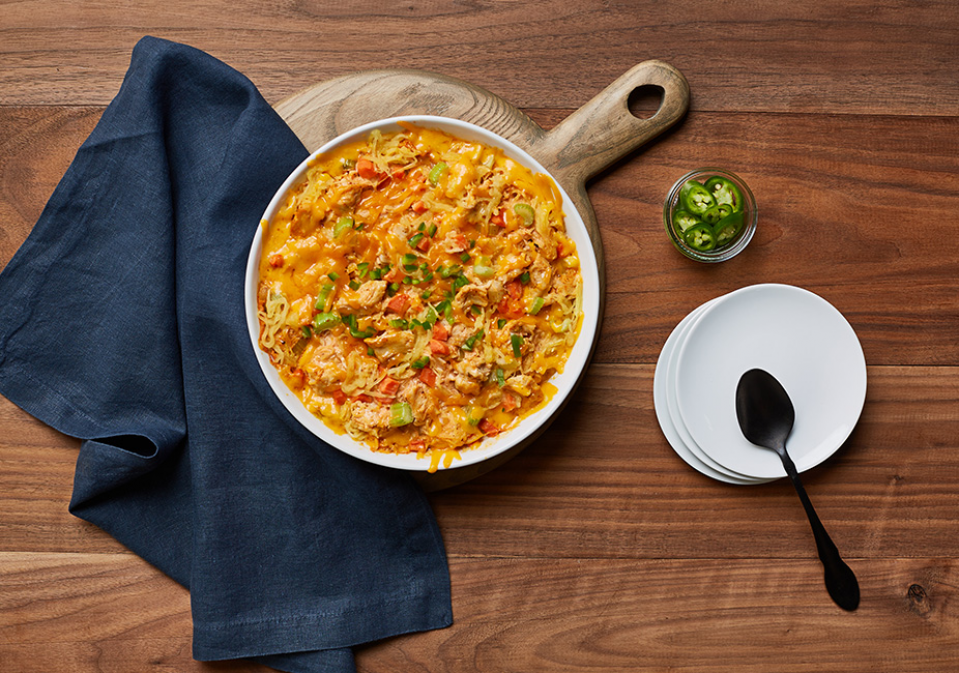 1 hour, 10 minutes
Total Time
Temperature:
375 degrees
Serving size:
1 cup
Prep time:
15 minutes
Cook time:
55 minutes
Total time:
1 hour, 10 minutes
Equipment:

Cutting board

Casserole dish

Mixing spoon

Aluminum foil

Utensils:

Knife

Measuring cups and spoons
* Cost and availability of recipe ingredients may vary across different regions of Ohio. Cost per serving information should be used as a general guide when considering recipe cost.
Non-stick spray
1/3 cup hot sauce
1 1/2 pounds boneless skinless chicken breast or thighs, cut into 3/4 inch cubes
2 stalks celery, diced
1 onion, diced
2 carrots, diced
3 cloves garlic OR 1 tablespoon garlic powder
4 cups spaghetti squash (about 1 medium spaghetti squash), cooked
2 ounces reduced fat cream cheese, cut into small cubes
1/2 cup low-fat shredded cheese (optional)
Instructions
Before you begin, wash your hands, surfaces, vegetables, and utensils.
Preheat oven to 375 degrees.
Spray a 13 x 9 casserole dish with non-stick spray.
Add all ingredients in the casserole dish except shredded cheese and stir to combine. Spread out into an even layer.
Cover casserole dish with foil or lid and bake for 20 minutes. Remove the casserole dish from the oven and stir: the cream cheese will be soft and as you stir it will create a sauce. Re-cover with the foil or lid and bake for another 20 minutes.
Take casserole from oven, remove foil, stir again, sprinkle with cheese (if using), and bake for an additional 15 minutes, uncovered.
Featured
Ingredients


What goes in Buffalo Chicken Casserole?

White Onion

Celery

Carrots

Spaghetti Squash
Nutritional Information
(Per Serving)
See complete nutrition facts >>
Comments