Butternut Squash Enchiladas
Kid Approved |
Main Dishes |
No Added Sugars |
High in Fiber |
Vegetarian |
WIC Friendly
These delicious enchiladas taste better and are better for you than fast-food Mexican.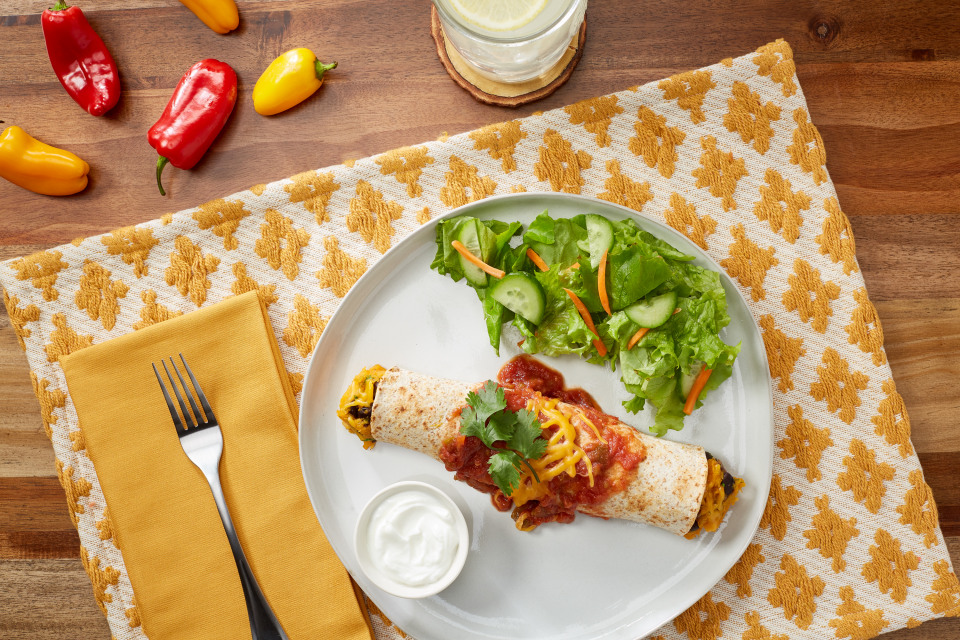 Temperature:
375 degrees
Serving size:
1 enchilada
Prep time:
30 minutes
Cook time:
25 minutes
Total time:
55 minutes
Equipment:

Cutting board

Microwave-safe dish large enough to hold squash

Medium bowl

Measuring cups

Measuring spoons

9-by-13-inch baking dish

Utensils:

Knife

Mixing spoon

Spoon
Serving Suggestion:
Top enchiladas with lettuce, tomato, and salsa for extra veggies. Add a side of fruit or whole grain tortilla chips.
2 1/2 cups fresh or frozen cubed butternut squash or other winter squash
1 15 ounce can no salt added black beans, drained and rinsed
1/2 cup finely chopped onion
1/2 cup fresh cilantro, chopped or 3 tablespoons dried cilantro
2 teaspoons garlic powder
1/2 teaspoon cumin
1 cup low-fat shredded cheese
8, 10-inch whole wheat tortillas
1 cup salsa or 1 can (10 ounces) red or green enchilada sauce
1/2 cup plain Greek yogurt
Instructions
Before you begin, wash your hands, surfaces, utensils and vegetables
Dry squash. Pierce skin several times and place in microwave-safe dish and microwave for 6-8 minutes. Let cool.
Preheat oven to 375° F
Place cooled squash on cutting board, cut off the top inch of the squash (including the stem). Cut squash in half and spoon out seeds and pulp.
Place each half of squash face-side down on your microwave-safe plate or dish. Add ½ cup of water to the dish, microwave on high for 5-10 minutes. Check squash to see if it is soft. If not, cook for another 2-3 minutes.
Let squash cool then scoop out insides into a medium sized bowl.
Mix squash, beans, onion, cilantro, garlic powder, and cumin in a bowl.
Mix ¾ cup of the cheese into the squash mixture.
Heat tortillas 2-3 at a time in the microwave for 30 seconds before filling them (this will prevent the tortillas from tearing while you roll them).
Put ½ cup of filling on each tortilla in a line. Roll the tortilla around the filling. Put tortilla into a greased 9-inch-by-13-inch baking dish with the seam face-down.
Cover the tortillas with the salsa or enchilada sauce. Put the rest of the cheese (1/4 cup) on the salsa.
Bake for 25 minutes.
Serve each enchilada with 1 tablespoon of Greek yogurt.
Tips
Use a medium butternut squash (2-3 pounds) to make about 2 cups of diced squash
Use spices like onion powder, chili powder, or cayenne pepper instead of cumin or garlic powder for a different flavor.
Featured
Ingredients


What goes in Butternut Squash Enchiladas?

Black Beans

Butternut Squash

Low-Fat Yogurt

Chopped Onions

Whole Wheat Tortillas
Nutritional Information
(Per Serving)
See complete nutrition facts >>
Comments