Butternut Squash Enchiladas
Kid Approved |
Main Dishes |
No Added Sugars |
High in Fiber |
Vegetarian |
WIC Friendly |
Egg-Free |
Nut-Free
These delicious enchiladas taste better and are better for you than fast-food Mexican.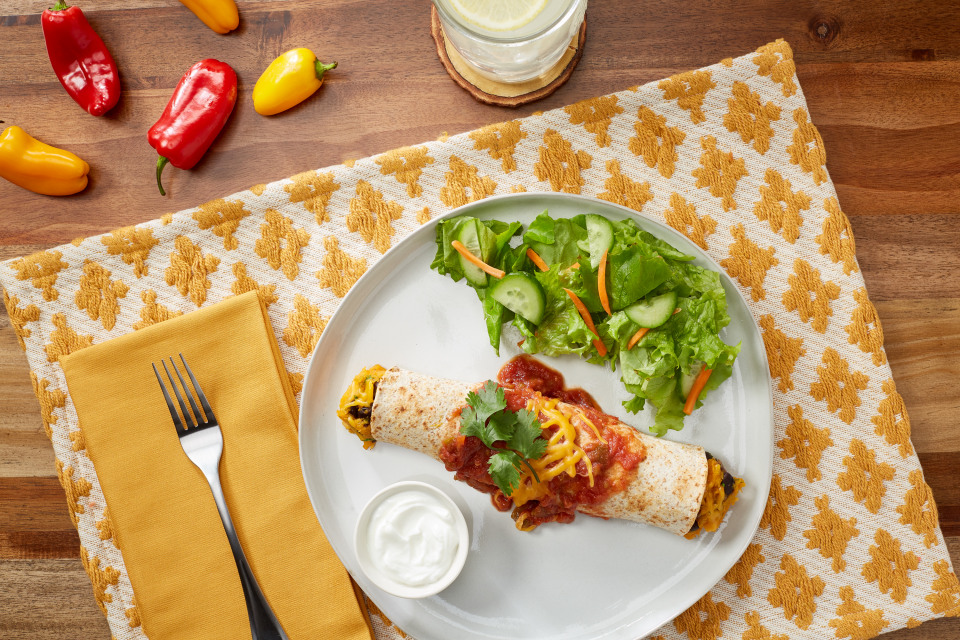 Temperature:
375 degrees
Serving size:
1 enchilada
Prep time:
30 minutes
Cook time:
25 minutes
Total time:
55 minutes
Equipment:

Cutting board

Vegetable peeler or sharp knife

Can opener

Colander

Large frying pan

Utensils:

Knife

Spatula or wooden spoon

Measuring cups and spoons
* Cost and availability of recipe ingredients may vary across different regions of Ohio. Cost per serving information should be used as a general guide when considering recipe cost.
Non-stick spray
2 1/2 cups (fresh or frozen) butternut squash, cubed OR winter squash, cubed
1 cup reduced fat cheese, shredded
1/2 cup fresh cilantro, chopped OR 3 tablespoons dried cilantro
1/2 teaspoon ground cumin
2 cloves garlic, minced OR 2 teaspoons garlic powder
1/2 cup onion, finely chopped
1 cup salsa OR 1 10 ounce can (red or green) enchilada sauce
8 large whole wheat tortillas
1/2 cup plain Greek low-fat yogurt
Instructions
Before you begin, wash your hands, surfaces, utensils, and vegetables.
Lightly spray baking dish with non-stick spray. Dry squash and pierce the skin several times. Place squash in a microwave-safe dish and microwave for 6-8 minutes. Let cool.
Preheat oven to 375 degrees.
Heat oil in a large frying pan over medium heat and add squash, vinegar, and water. Stir to coat the squash.
Place each half of squash face-side down on your microwave-safe plate or dish. Add 1/2 cup of water to the dish and microwave on high for 5-10 minutes. Check squash to see if it is soft. If not, cook for another 2-3 minutes.
Add beans, onion, garlic, oregano, and leafy greens (if using). Cook for an additional 5 minutes.
Mix squash, beans, onion, cilantro, garlic powder, and cumin in a bowl.
Mix 3/4 cup of the cheese into the squash mixture.
Heat 2-3 tortillas at a time in the microwave for 30 seconds before filling them. This will prevent tearing while rolling.
Put 1/2 cup of filling in center of tortilla. Roll tortilla around the filling. Place seam side-down in baking dish. Repeat with remaining tortillas, lining them up in a row.
Cover the tortillas with the salsa or enchilada sauce. Put the rest of the cheese (1/4 cup) on the salsa.
Bake for 25 minutes.
Serve each enchilada with 1 tablespoon of Greek yogurt.
Tips
Use a medium butternut squash (2-3 pounds) to make about 2 cups of diced squash
Featured
Ingredients


What goes in Butternut Squash Enchiladas?

Black Beans

Butternut Squash

Low-fat Yogurt

Chopped Onions

Whole Wheat Tortillas
Nutritional Information
(Per Serving)
See complete nutrition facts >>
Comments