Cauliflower and Mozzarella Stuffed Shells
Kid Approved |
Main Dishes |
High in Fiber |
Vegetarian
Need an easy way to get your family to eat more veggies? Sneak some cauliflower and spinach into jumbo pasta shells!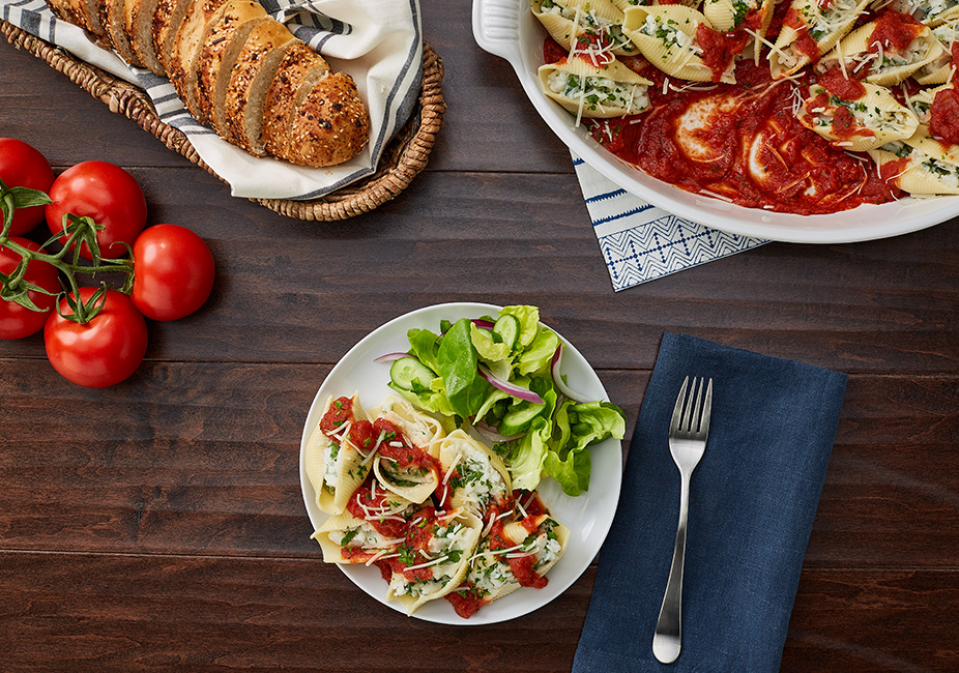 4 (1 lb of Shell Pasta ~ 24 Shells)
Servings
| | |
| --- | --- |
| Temperature: | Medium-High Heat, High/Puree Blender Setting |
| Serving size: | 6 Stuffed Shells (~ ¼ lb of Shell Pasta) |
| Prep time: | 15 minutes |
| Cook time: | 25 minutes |
| Total time: | 40 minutes |
| Equipment: | Measuring Cups and Spoons, Medium Bowl, Medium/Large Pot, Large Casserole Dish/Serving Plate, Blender/Food Processor, Small Sauce Pot/Microwave-Safe Bowl |
| Utensils: | Mixing/Stirring Spoon, Fork or Whisk, Spoon, Knife |
Serving Suggestion:
Recipe adapted from Michigan State University Extension
1 package large pasta shells (about 24 shells)
8 cups water, divided
1 large head cauliflower, chopped
1 1/2 cups non-fat milk, divided
2 teaspoons garlic powder
1/4 teaspoon salt
1/4 cup olive or vegetable oil
1/4 cup whole wheat flour
1 cup mozzarella cheese, shredded
1 10 ounce frozen block of spinach, thawed and squeezed dry
1 24 ounce jar of pasta sauce
Instructions
Before you begin, wash your hands, surfaces, utensils, and produce.
Fill a large pot with 6 cups of water and bring to a boil. Once the water is boiling, add pasta and cook according to instructions on box of shells.
Drain pasta and set aside in baking dish. Fill the same pot with 2 cups of water and bring to a boil.
Place the chopped cauliflower in the boiling water and cook until the florets are soft (about 4 minutes). Drain cauliflower.
Place the cooked cauliflower, 1/2 cup milk, garlic, and salt in a blender and blend on high until mixture is smooth.
Set a saucepan on medium-low heat and heat the pasta sauce.
In a separate pot, heat oil on medium heat. Add the flour and whisk until the mixture is smooth. Add 1 cup of milk and cook the mixture until it bubbles and thickens. Add the cheese, cauliflower mixture, thawed spinach block. Mix well.
Once the mixture is complete, remove from heat. Carefully stuff each shell with a spoon full of cauliflower mixture. Pour heated pasta sauce over stuffed shells and serve.
Tips
If you are looking to increase the amount of fiber in your diet, try using large whole wheat pasta shells.
Featured
Ingredients


What goes in Cauliflower and Mozzarella Stuffed Shells?

Spinach

Garlic Powder

Cauliflower

Skim Milk

Whole Wheat Pasta Shells
Nutritional Information
(Per Serving)
See complete nutrition facts >>
Comments