Chicken and Rice Soup
Dairy-Free |
Gluten-Free |
Main Dishes |
Soups |
Low Fat |
No Added Sugars |
Egg-Free |
Nut-Free
When you're in need of a warm bowl of comfort, look no further. All the flavor of a homecooked meal with none of the work.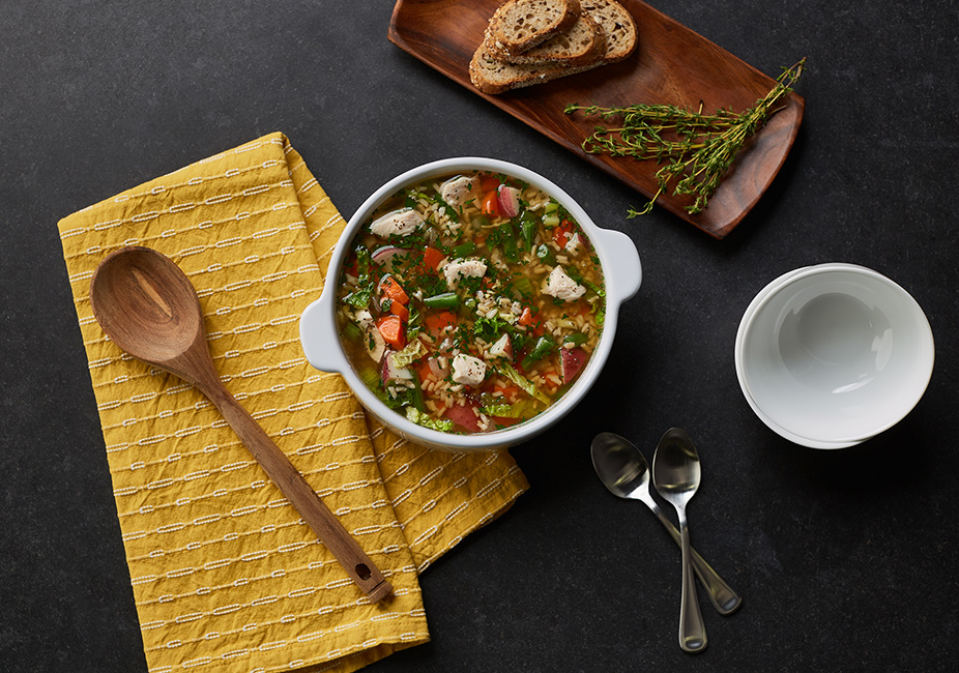 Temperature:
High heat, reduced to medium heat
Serving size:
1 1/2 cups
Prep time:
10 minutes
Cook time:
40 minutes
Total time:
50 minutes
Equipment:

Cutting board

Large pot with lid

Utensils:

Knife

Measuring cups and spoons
* Cost and availability of recipe ingredients may vary across different regions of Ohio. Cost per serving information should be used as a general guide when considering recipe cost.
6 cups low-sodium chicken broth
1 cup chicken, cooked and cubed
1 cup uncooked brown rice
1 3/4 cups fresh vegetables (such as: potatoes, carrots, celery, cabbage, etc.), chopped OR 1 12 ounce package frozen vegetable mix
1 clove garlic, minced OR 1 teaspoon garlic powder
1/4 teaspoon black pepper
1/4 teaspoon salt (optional)
1 tablespoon dried parsley
Instructions
Before you begin, wash your hands, surfaces, vegetables, and utensils.
Place the cooked chicken, broth, and uncooked rice in a large pot over high heat. Bring to a boil.
Lower the heat, cover the pan, and simmer for 15 minutes.
Add the chopped vegetables and seasonings and simmer for 10 to 15 minutes until the vegetables are tender.
Featured
Ingredients


What goes in Chicken and Rice Soup?

Garlic Powder

Frozen Mixed Vegetables

Brown Rice

Chicken Breast
Nutritional Information
(Per Serving)
See complete nutrition facts >>
Comments