Cowboy Caviar
Dairy-Free |
Gluten-Free |
Kid Approved |
Quick & Easy |
Side Dishes |
Snacks |
Low Sodium |
No Added Sugars |
High in Fiber |
Vegan |
Vegetarian |
WIC Friendly |
Egg-Free |
Nut-Free
One part dip. One part side salad. This healthy snack couldn't be easier.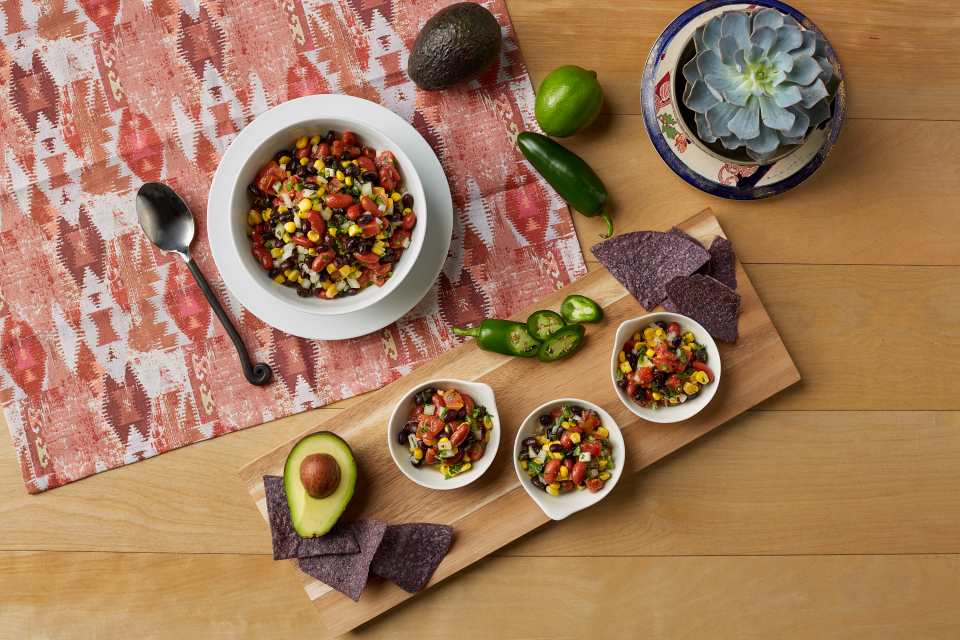 1 hour, 10 minutes
Total Time
Temperature:
N/A
Serving size:
1/2 cup
Prep time:
10 minutes
Cook time:
N/A, but chill for 1 hour
Total time:
1 hour, 10 minutes
Equipment:

Cutting board

Can opener

Colander

Large bowl

Small bowl

Utensils:

Knife

Whisk or fork

Mixing spoon

Measuring cups and spoons
* Cost and availability of recipe ingredients may vary across different regions of Ohio. Cost per serving information should be used as a general guide when considering recipe cost.
1 15 ounce can no salt added corn, rinsed and drained
1 15 ounce can no salt added black beans, drained and rinsed
1 15.5 ounce can no salt added kidney beans, rinsed and drained
1 15 ounce can no salt added diced tomatoes, drained
1 small white onion, diced
1/3 cup olive oil OR vegetable oil
4 tablespoons lime juice (about 2 limes)
1/4 teaspoon black pepper
1/4 teaspoon salt
1 teaspoon ground cumin (optional)
1 jalapeño pepper, minced (optional)
3/4 cup fresh cilantro, chopped (optional)
1 to 2 avocados, sliced (optional)
Instructions
Before you begin, wash your hands, surfaces, utensils, tops of cans, and vegetables.
In a large bowl, combine the corn, black beans, kidney beans, tomato, and onion.
In a small bowl, combine the oil, lime juice, salt, pepper, and cumin (if using). Whisk the dressing ingredients together until well-combined.
Pour the dressing into the large bowl over the veggies. Add the cilantro and jalapeño (if using) and stir to combine. Taste and adjust the seasoning, if needed.
Cover and chill for at least 1 hour, or overnight to blend flavors.
Serve chilled or at room temperature, with sliced avocado, if using.
Featured
Ingredients


What goes in Cowboy Caviar?

Black Beans

White Onion

Canned Corn

Diced Tomatoes

Canned Kidney Beans
Nutritional Information
(Per Serving)
See complete nutrition facts >>
Comments