Eggplant Crisps
Dairy-Free |
Gluten-Free |
Snacks |
Low Sodium |
No Added Sugars |
High in Fiber |
Vegan |
Vegetarian |
Egg-Free |
Nut-Free
Make eggplant a healthy substitute for snack chips. Slice thinly, bake and let cool for the maximum crunch factor.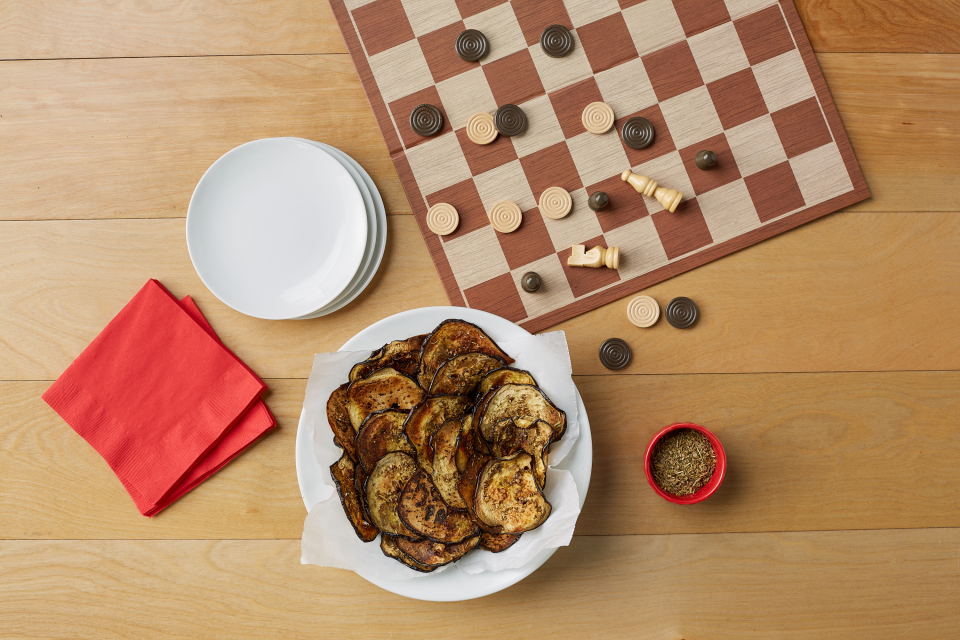 Temperature:
350 degrees
Serving size:
6-8 chips
Prep time:
15 minutes
Cook time:
30 minutes
Total time:
45 minutes
Equipment:

Baking sheet

Parchment paper (if using)

Cutting board

Pastry brush (optional)

Utensils:

Knife

Measuring cups and spoons

Spatula or wooden spoon
* Cost and availability of recipe ingredients may vary across different regions of Ohio. Cost per serving information should be used as a general guide when considering recipe cost.
Non-stick spray (if using)
1 eggplant
2 tablespoons olive oil OR vegetable oil
1 teaspoon Celebrate Your Plate Italian Seasoning OR savory seasoning blend (1/4 teaspoon chili powder, 1/4 teaspoon cumin, 1/2 teaspoon garlic powder, 1/2 teaspoon paprika)
Instructions
Before you begin, wash your hands, surfaces, utensils, and vegetables.
Preheat the oven to 350 degrees.
Line a baking sheet with parchment paper or spray with non-stick spray.
Slice eggplant into very thin slices, about 1/8 of an inch, and place them in a single layer on the baking sheet. If all eggplant slices won't fit on one baking sheet, repeat baking process with remaining slices.
Using your finger or a pastry brush, apply a small amount of vegetable or olive oil to the top of each eggplant slice and sprinkle with seasoning blend.
Bake for 30 minutes or until eggplant slices become crispy. Depending on how even your slices are, some will cook faster than others.
Remove eggplant slices from the baking sheet once they start to brown. Continue baking remaining eggplant slices until they start to brown, checking the oven every 2-3 minutes to make sure they don't burn.
For maximum crunchiness, let eggplant slices cool completely before eating.
Featured
Ingredients


What goes in Eggplant Crisps?

Garlic Powder

Olive Oil

Paprika

Eggplant
Nutritional Information
(Per Serving)
See complete nutrition facts >>
Comments