Cran-Apple Crisp
Dairy-Free |
Desserts |
Gluten-Free |
Snacks |
Low Sodium |
Vegetarian |
Egg-Free |
Nut-Free
This dessert is a perfect balance of sweet apples and tart cranberries with a light crunch from the whole grain oatmeal.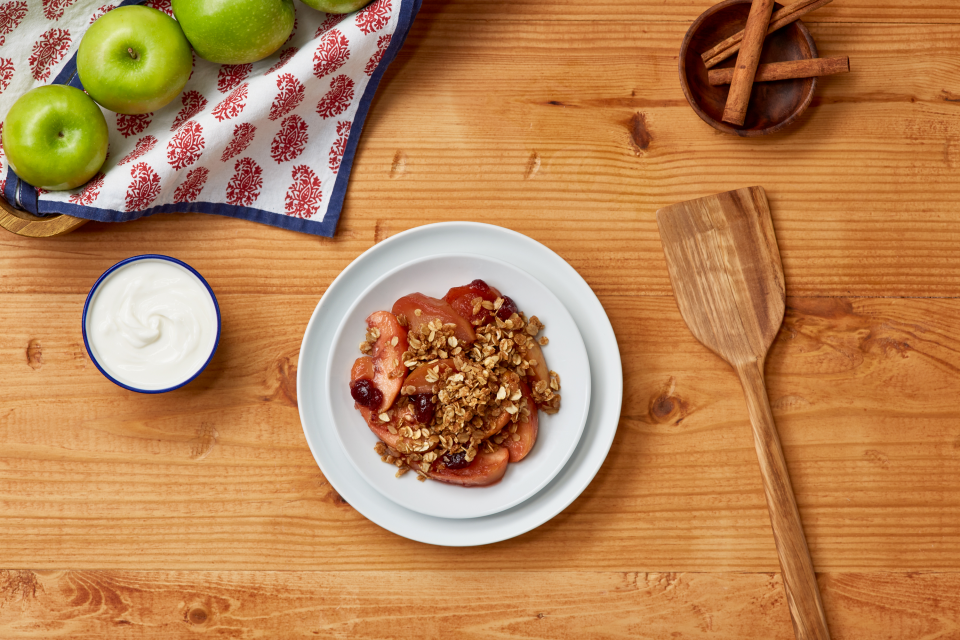 Temperature:
350 and 400 degrees
Serving size:
1/2 - 3/4 cup (depending on size of apples)
Prep time:
15 minutes
Cook time:
30-40 minutes
Total time:
50-60 minutes
Equipment:

8x8-inch baking dish or pan

Cutting board

Large mixing bowl

Aluminum foil

Utensils:

Knife

Spoon

Measuring cups and spoons
* Cost and availability of recipe ingredients may vary across different regions of Ohio. Cost per serving information should be used as a general guide when considering recipe cost.
Non-stick spray
4 apples, cored and thinly sliced
1 14 ounce can whole berry cranberry sauce
2 tablespoons soft margarine or butter, melted
1 cup quick-cooking oats OR rolled oats
1/4 cup brown sugar
1 teaspoon ground cinnamon
Instructions
Before you begin, wash your hands, surfaces, utensils, fruits, and tops of cans.
Preheat oven to 350 degrees.
Spray an 8x8-inch baking dish or pan with non-stick spray.
Combine the cranberry sauce and apples in a large mixing bowl. Pour the mixture into the prepared 8x8-inch baking dish or pan.
Cover with foil and return to oven for 25-30 minutes. The sauce should be bubbling and apples fork tender.
While apples are baking, combine melted margarine or butter with oatmeal, brown sugar, and cinnamon.
Remove apple mixture from oven and increase temperature to 400 degrees.
Sprinkle oat topping over apple/cranberry mixture. Return to oven and bake for an additional 5-7 minutes.
Tips
Choose Granny Smith, Jonagold or Honey Crisp apples for best results.
For more fruit flavor, add 1/4 cup dried cranberries, raisins or other dried fruit to the apple/cranberry mix.
Try with other fruit in season: pears, peaches, apricots, or cherries.
Featured
Ingredients


What goes in Cran-Apple Crisp?

Apples

Oatmeal

Cranberry Sauce
Nutritional Information
(Per Serving)
See complete nutrition facts >>
Comments