Summer Salsa
Dairy-Free |
Gluten-Free |
Quick & Easy |
Salads |
Snacks |
Low Fat |
No Added Sugars |
Vegan |
Vegetarian
Whip up your own easy salsa to spice up the summer.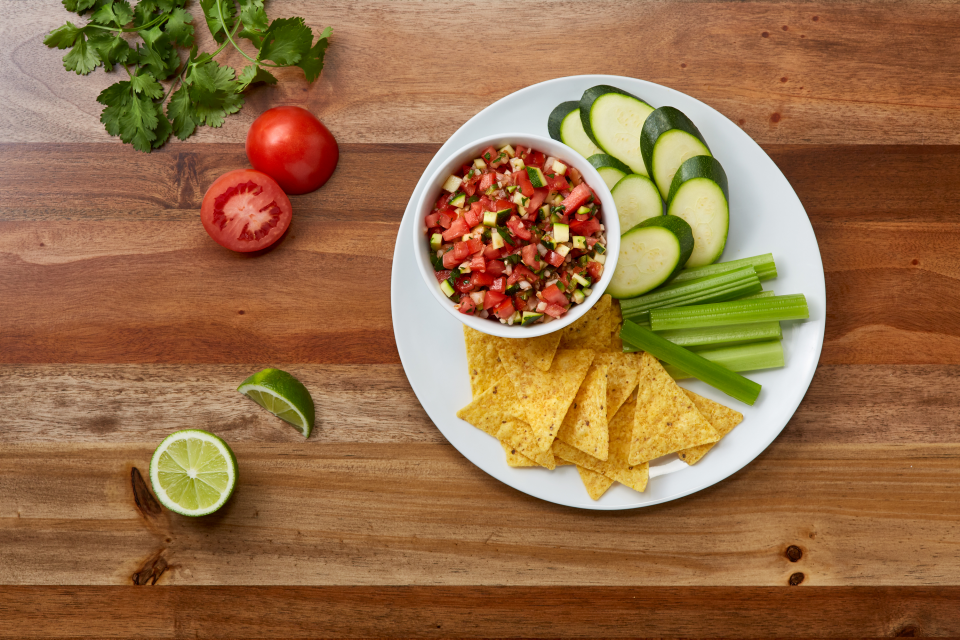 Serving size:
3/4 - 1 cup
Prep time:
30 minutes
Total time:
30 minutes
Equipment:

Cutting board

Medium mixing bowl

Latex gloves

Utensils:

Sharp knife
Serving Suggestion:
Serve with tortilla chips as a snack.
Serve as a side dish with a meal.
Serve as a dressing on salad greens.
1 medium zucchini
1 medium white onion
3 Roma tomatoes
1 jalapeño pepper (optional)
4 cloves garlic
1/2 cup fresh cilantro or parsley, chopped
1/2 teaspoon salt
1/4 cup lemon or lime juice
Instructions
Before you begin wash your hands, surfaces, and utensils.
Wash all vegetables and herbs under cool running water before cutting or eating.
Dice zucchini, onion, and tomatoes into small pieces and put into medium bowl.
Jalapeño can irritate the skin; an adult should remove the seeds and mince it. Wearing latex gloves can protect your skin. If you don't use gloves, wash your hands with soap after handling the pepper.
Mince the garlic and add to the bowl.
Add the seeded, minced jalapeño to the bowl.
Add cilantro, salt, and lime juice to the tomato mixture. Stir well.
Chill in the refrigerator for at least 30 minutes before serving so that flavors can blend.
Tips
• Serve with Sunny Baked Eggs and Vegetables (video recipe) or Braised Beans.
• Try other vegetables or fruit in season to the tomato and onion: cucumber, yellow squash, green pepper, broccoli, or corn. Try blueberries, oranges, apples or peaches.
Ingredients


What goes in Summer Salsa ?

White Onion

Zucchini

Jalapeno

Roma Tomatoes
Nutritional Information
(Per Serving)
See complete nutrition facts >>
Comments