Creamy Green Beans & Potatoes
Gluten-Free |
Side Dishes |
Low Sodium |
No Added Sugars |
Vegetarian |
Egg-Free |
Nut-Free
This rich and satisfying side dish keeps it light with the addition of skim milk.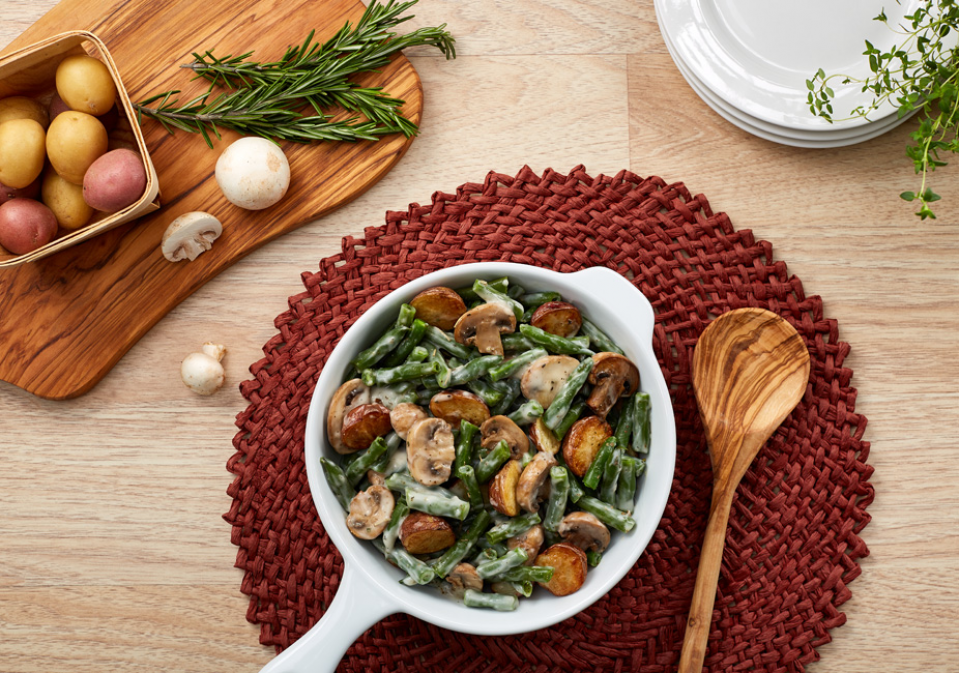 Temperature:
Medium heat
Serving size:
1/2 cup
Prep time:
30 minutes
Cook time:
20 minutes
Total time:
50 minutes
Equipment:

Large saucepan

Utensils:

Mixing spoon

Measuring cups and spoons
* Cost and availability of recipe ingredients may vary across different regions of Ohio. Cost per serving information should be used as a general guide when considering recipe cost.
2 cups frozen green beans
2 tablespoons olive oil OR vegetable oil
1 tablespoon corn starch
1/4 teaspoon dried basil
1/4 teaspoon dried rosemary
1/4 teaspoon salt
1/8 teaspoon black pepper
1 cup low-fat milk
1/2 cup mushrooms, sliced
2 cups small potatoes, roasted and quartered
Instructions
Before you begin, wash your hands, surfaces, produce, and utensils.
Cook frozen green beans according to package directions. Set aside.
Heat oil in a large saucepan on medium heat, stir in corn starch until evenly blended for three to four minutes.
Slowly add basil, rosemary, salt, pepper, milk, and mushrooms stirring constantly until mixture has thickened, about five minutes.
Add green beans and potatoes and stir until heated through, and mushrooms have fully cooked.
Tips
If you don't have corn starch in your pantry, try using 2 tablespoons of flour instead!
Featured
Ingredients


What goes in Creamy Green Beans & Potatoes?

Rosemary

Low-fat Milk

Potatoes

Mushrooms
Green Beans
Nutritional Information
(Per Serving)
See complete nutrition facts >>
Comments