Fish and Veggie Foil Packets
Dairy-Free |
Gluten-Free |
Main Dishes |
Quick & Easy |
Low Sodium |
Low Fat |
No Added Sugars |
WIC Friendly |
Egg-Free |
Nut-Free
Foil keeps your fish moist, tender, and flavorful.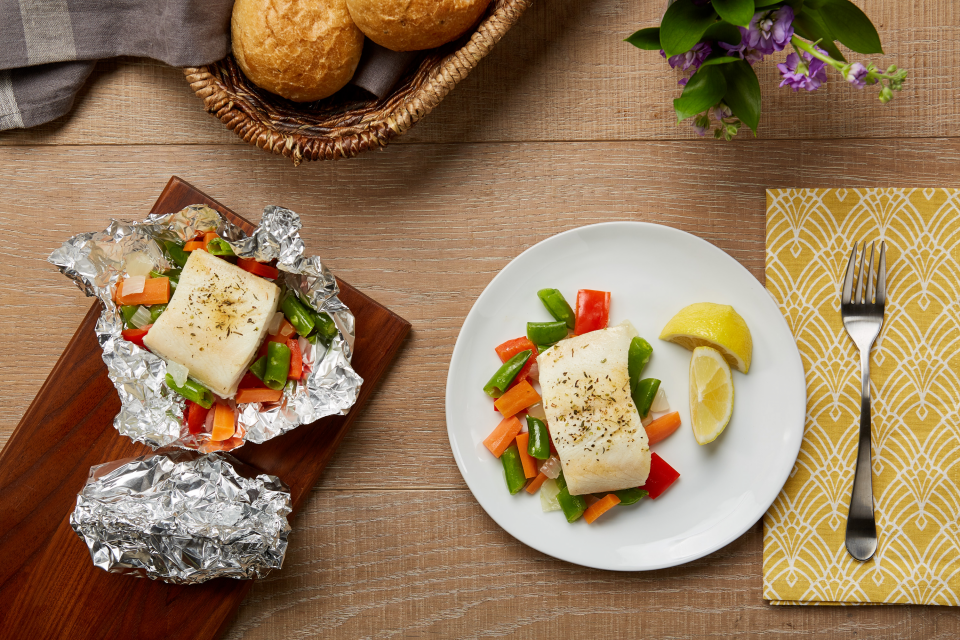 Temperature:
450 degrees
Serving size:
1 fish and veggie packet
Prep time:
10 minutes
Cook time:
10 minutes
Total time:
20 minutes
Equipment:

Cutting board

Aluminum foil

Baking sheet

Utensils:

Knife

Measuring cups and spoons
* Cost and availability of recipe ingredients may vary across different regions of Ohio. Cost per serving information should be used as a general guide when considering recipe cost.
4 4 ounce (fresh or frozen) white fish fillets (tilapia, cod, perch, etc.)
2 cups (fresh or frozen) vegetable mix, cut into 1/2 inch pieces
1 small onion, diced
1 teaspoon lemon juice OR fresh lemon, thinly sliced
1 clove garlic, minced OR 1 teaspoon garlic powder
2 teaspoons Celebrate Your Plate Italian seasoning OR 2 tablespoons fresh herbs
Instructions
Before you begin, wash your hands, surfaces, utensils, and vegetables.
Preheat oven to 450 degrees.
Tear off 4 pieces of aluminum foil, each about 12 inches long. Place all 4 pieces of baking sheet.
Divide vegetables evenly among the four foil squares.
Place fish fillets on top of the vegetables.
Sprinkle garlic powder and Italian seasoning on top of the fish.
Sprinkle fish with lemon juice (or top with lemon slice). Fold ends of tin foil together to create a pouch.
Bake for 10 minutes. Fish should flake easily with a fork when done.
Featured
Ingredients


What goes in Fish and Veggie Foil Packets?

Frozen Mixed Vegetables

Chopped Onions

White Fish Fillets
Nutritional Information
(Per Serving)
See complete nutrition facts >>
Comments