Crockpot Chicken Noodle Soup
Dairy-Free |
Kid Approved |
Main Dishes |
Soups |
Egg-Free |
Nut-Free
Chicken noodle soup is universal. This comforting classic is made of simple, nourishing ingredients that are tried and true.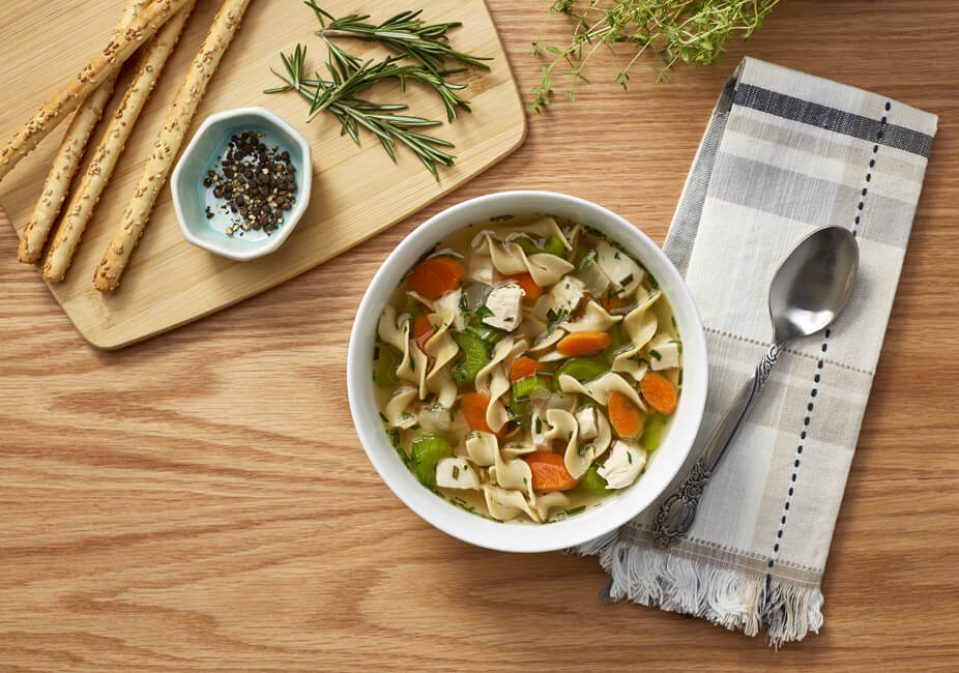 3-4 hours OR 6-8 hours
Total Time
Temperature:
High for 3-4 hours OR Low for 6-8 hours
Serving size:
1 1/2 cup
Prep time:
5 minutes
Cook time:
3-4 hours on high or 6-8 hours on low
Total time:
3-4 hours OR 6-8 hours
Equipment:

Slow cooker

Utensils:

Fork

Measuring cups and spoons
* Cost and availability of recipe ingredients may vary across different regions of Ohio. Cost per serving information should be used as a general guide when considering recipe cost.
1 pound boneless skinless chicken breasts
3 stalks celery, sliced
4 carrots, peeled and sliced
1 medium onion, diced
2 garlic cloves, minced OR 2 teaspoons powdered garlic
1 tablespoon fresh thyme OR 1/2 tablespoon dried thyme
1 tablespoon fresh rosemary OR 1/2 tablespoon dried rosemary
1 teaspoon black pepper
3/4 teaspoon salt (optional)
8 cups fat-free chicken stock
8 ounces egg noodles
Instructions
Before you begin, wash your hands, surfaces, utensils, tops of cans, and vegetables.
Add the chicken, celery, carrots, onion, garlic, thyme, rosemary, and black pepper into the slow cooker.
Pour in the chicken stock.
Cook on high for 3-4 hours or low for 6-8 hours.
During the last 15 minutes, remove the chicken breast. Shred with a fork.
Taste soup, add salt as needed. Add the shredded chicken and the egg noodles, then combine. Cover with lid and cook for the last 15 minutes.
Tips
If you don't have egg noodles in your pantry this recipe tastes great with any kind of medium or larger pasta shape!
Don't have chicken stock on hand? You can replace it with chicken broth.
Featured
Ingredients


What goes in Crockpot Chicken Noodle Soup?

White Onion

Celery

Carrots

Chicken Breast

Egg Noodles
Nutritional Information
(Per Serving)
See complete nutrition facts >>
Comments