Egg Roll in a Bowl
Dairy-Free |
Main Dishes |
No Added Sugars
Super easy to make, packed with flavor and oh-so satisfying.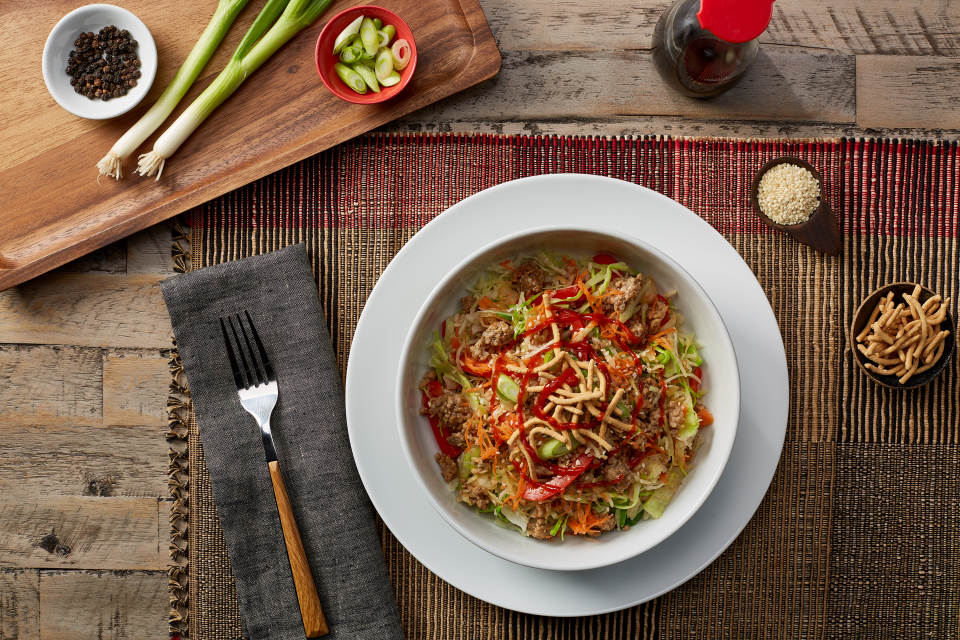 Temperature:
Medium-high
Serving size:
1 1/2 cups
Prep time:
10 minutes
Cook time:
15 minutes
Total time:
25 minutes
Equipment:

Cutting board

Large skillet/non-stick pan

Utensils:

Knife

Measuring spoons

Spatula or wooden spoon
1 pound lean ground meat (pork, turkey, chicken, or beef)
2 tablespoons sesame oil OR olive oil
1 onion, diced
1 bell pepper, thinly sliced (red, yellow, or green)
2 cloves garlic, minced
1 teaspoon ground ginger (optional)
1/3 cup low-sodium soy sauce
1 16 ounce bag coleslaw mix OR 4 cups fresh green cabbage, finely sliced
1 carrot, finely grated
Optional toppings:
Sriracha hot sauce, green onions, sesame seeds, chow mein noodles
Instructions
1. Before you begin, wash your hands, surfaces, utensils, and produce.
2. In a large skillet over medium-high heat, add ground meat to pan. Using a wooden spoon or spatula, break meat into small pieces. Cook meat thoroughly and until no pink remains. (If needed, drain and discard cooking liquid).
3. To same skillet add onion, and bell pepper; continue cooking, stirring frequently, until vegetables begin to soften, about 5 minutes.
4. Add oil, garlic, ginger (if using), soy sauce, coleslaw mix, and carrots to the skillet. Continue to cook for 5-7 minutes, stirring consistently.
5. Remove from heat, divide among four bowls and add toppings.
Featured
Ingredients


What goes in Egg Roll in a Bowl?

Bell Pepper

Chopped Onions

Garlic Cloves

Cabbage
Nutritional Information
(Per Serving)
See complete nutrition facts >>
Comments