Harvest Mashed Potatoes
Gluten-Free |
Kid Approved |
Side Dishes |
Low Sodium |
Low Fat |
No Added Sugars |
Vegetarian |
WIC Friendly |
Egg-Free |
Nut-Free
Think mashed potatoes can't get any better? Add carrots for a boost of color, flavor, and nutrients.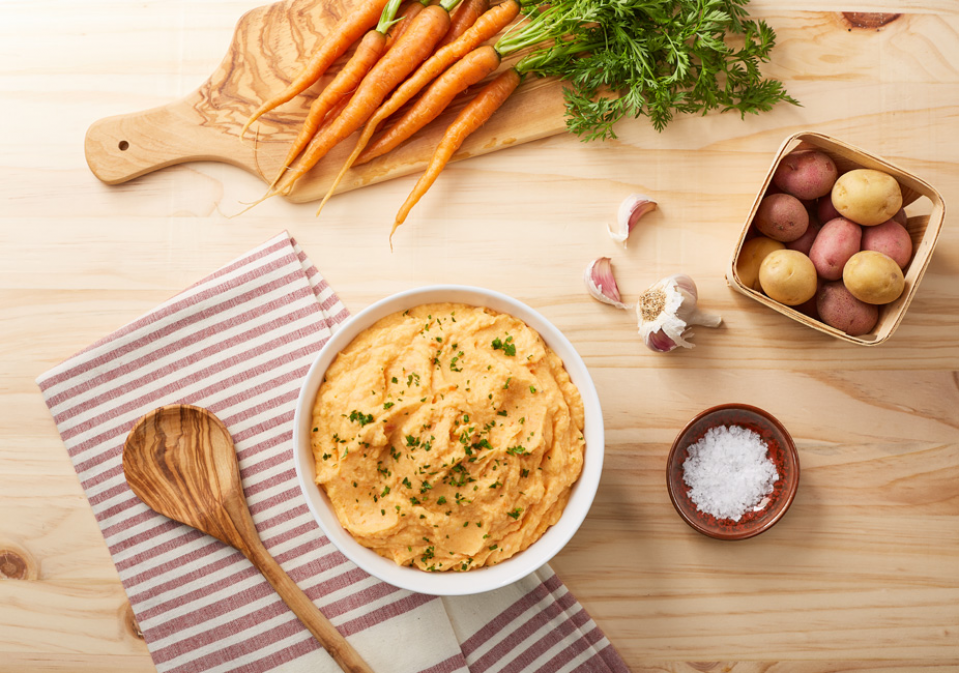 1 hour 20 minutes
Total Time
Temperature:
Medium heat, Medium-low heat
Serving size:
1 cup
Prep time:
35 minutes
Cook time:
45 minutes
Total time:
1 hour 20 minutes
Equipment:

Large pot

Small bowl

Utensils:

Potato masher or fork

Mixing spoon

Measuring cups and spoons
* Cost and availability of recipe ingredients may vary across different regions of Ohio. Cost per serving information should be used as a general guide when considering recipe cost.
6 medium potatoes, peeled and cubed
2 carrots, peeled and chopped
3 cloves garlic, minced OR 1 tablespoon garlic powder
1/2 cup low-sodium vegetable broth
1 tablespoon butter
Salt to taste
Instructions
Before you begin, wash your hands, surfaces, utensils, and produce.
Combine potatoes and carrots in a large pot and fill with cold water. Bring to a boil and cook 5 minutes.
Add garlic and reduce heat to simmer until potatoes and carrots are tender, about 40 minutes.
Drain and keep 1 cup of the cooking liquid. Set aside in a small bowl.
Return the potatoes and carrots to the pot and mash with a potato masher or fork.
Add vegetable broth and butter to the mashed potatoes and carrots and mix over medium-low heat, until combined evenly. Add in salt to taste.
If necessary, add the reserved cooking liquid until the potatoes reach the desired thickness.
Featured
Ingredients


What goes in Harvest Mashed Potatoes?

Garlic Powder

Carrots

Potatoes

Low-Sodium Vegetable Broth
Nutritional Information
(Per Serving)
See complete nutrition facts >>
Comments