Five-Minute Refried Beans
Dairy-Free |
Gluten-Free |
Kid Approved |
Main Dishes |
Quick & Easy |
Side Dishes |
Snacks |
Low Sodium |
No Added Sugars |
High in Fiber |
Vegan |
Vegetarian |
WIC Friendly |
Egg-Free |
Nut-Free
Layer 'em in a dip. Spread 'em on toast. Roll 'em in a burrito. There are so many ways to enjoy these flavorful beans.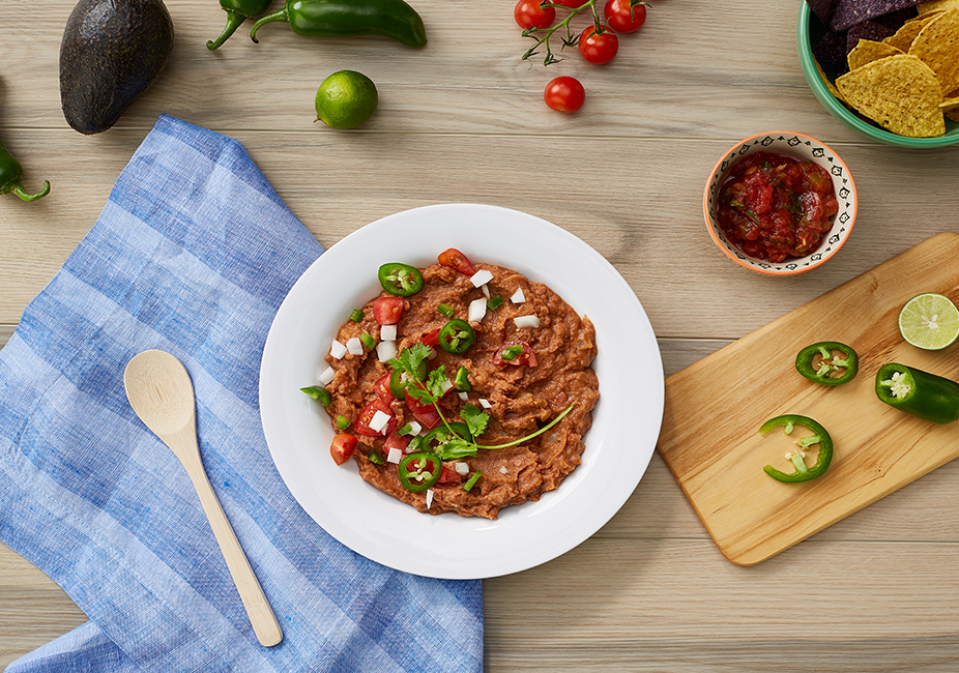 Temperature:
Medium heat
Serving size:
About 1/3 cup
Prep time:
5 minutes
Cook time:
10 minutes
Total time:
15 minutes
Equipment:

Frying pan

Can opener

Utensils:

Large spoon for mashing

Mixing spoon

Measuring cups and spoons
* Cost and availability of recipe ingredients may vary across different regions of Ohio. Cost per serving information should be used as a general guide when considering recipe cost.
1 15 ounce can no salt added beans (pinto, black, or other type)
1 tablespoon olive oil OR vegetable oil
2 tablespoons onion, chopped
1 clove garlic, minced OR 1 teaspoon garlic powder
1/4 teaspoon ground cumin OR 1/2 teaspoon chili powder
Instructions
Before you begin, wash your hands, surfaces, utensils, and tops of cans.
Drain beans and rinse to reduce juices.
Heat oil in a frying pan on medium heat. Add onion and garlic. Sauté until onion is soft.
Add beans and cumin or chili powder to frying pan. Using a potato masher or back of spoon, scrunch beans and cumin into onion mixture in frying pan.
Drain beans. Add 1 tablespoon of water at a time until desired consistency is reached.
Cook and stir bean mixture on medium heat until heated through; 3-5 minutes.
Tips
Refried beans make a delicious spread to put onto toast for breakfast, or a quick snack!
Refried beans can be served in a variety of ways: A thicker consistency like peanut butter, or a softer spread like hummus.
Featured
Ingredients


What goes in Five-Minute Refried Beans?

Black Beans

Garlic Powder

Chopped Onions

Chili Power

Cumin
Nutritional Information
(Per Serving)
See complete nutrition facts >>
Comments