Sweet Potato Harvest Salad
Gluten-Free |
Main Dishes |
Salads |
Side Dishes |
Vegetarian |
Egg-Free |
Nut-Free
Autumn's harvest is on full display in this colorful, flavorful salad, perfect for potlucks or as a side dish for a special meal.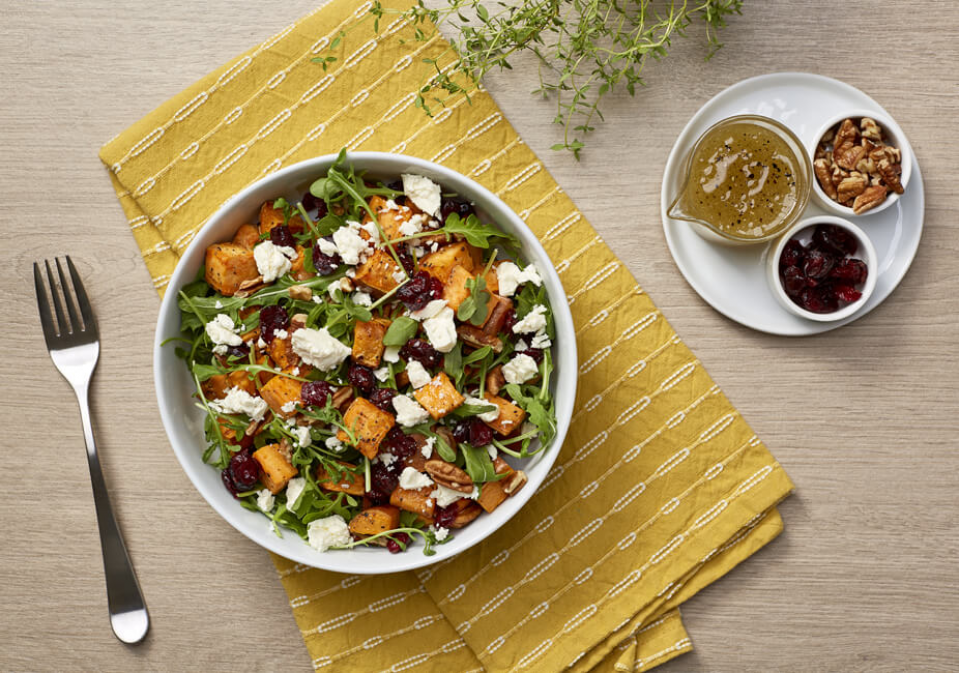 Temperature:
425 degrees
Serving size:
1 cup
Prep time:
15 minutes
Cook time:
30 minutes
Total time:
45 minutes
Equipment:

Baking sheet

Aluminum foil

Large bowl

Utensils:

Mixing spoon

Measuring cups and spoons
* Cost and availability of recipe ingredients may vary across different regions of Ohio. Cost per serving information should be used as a general guide when considering recipe cost.
3 large sweet potatoes (about 2 pounds total), cubed
2 tablespoons olive oil OR vegetable oil
1 teaspoon salt
1/2 teaspoon black pepper
2 cups salad greens, packed into cup
1/2 cup pecan halves (optional)
1/2 cup reduced sugar dried cranberries
1/2 cup feta cheese, crumbled
1/2 cup Celebrate Your Plate Vinaigrette Salad Dressing OR vinaigrette salad dressing
Instructions
Before you begin, wash your hands, surfaces, utensils, and vegetables.
Preheat oven to 425 degrees.
Line baking sheet with aluminum foil.
Transfer sweet potatoes to pan. Add oil, salt, black pepper. Toss to combine. Spread into a single layer.
Roast for 15 minutes. Turn over sweet potatoes, and put back in oven for 10 to 15 more minutes or until tender. When finished remove from oven and let cool for at least 10 minutes.
Transfer the sweet potatoes to a large bowl. Add salad greens, pecan halves (if using), dried cranberries, and feta cheese. Toss gently. Drizzle with Celebrate Your Plate Vinaigrette Salad Dressing, or your favorite vinaigrette salad dressing. Serve warm or at room temperature.
Tips
This recipe is a great pantry buster! Use whatever leftover vegetables you have in your fridge like pepper, corn, or onions.
Featured
Ingredients


What goes in Sweet Potato Harvest Salad?

Sweet Potatoes

Dried Cranberries

Feta cheese

Salad greens
Nutritional Information
(Per Serving)
See complete nutrition facts >>
Comments