Fruit Pizza
Desserts |
Gluten-Free |
Kid Approved |
Snacks |
Low Sodium |
Vegetarian |
Nut-Free
A cinnamon-oat crust, vanilla cream cheese, and your favorite fruit come together to make a delicious dessert.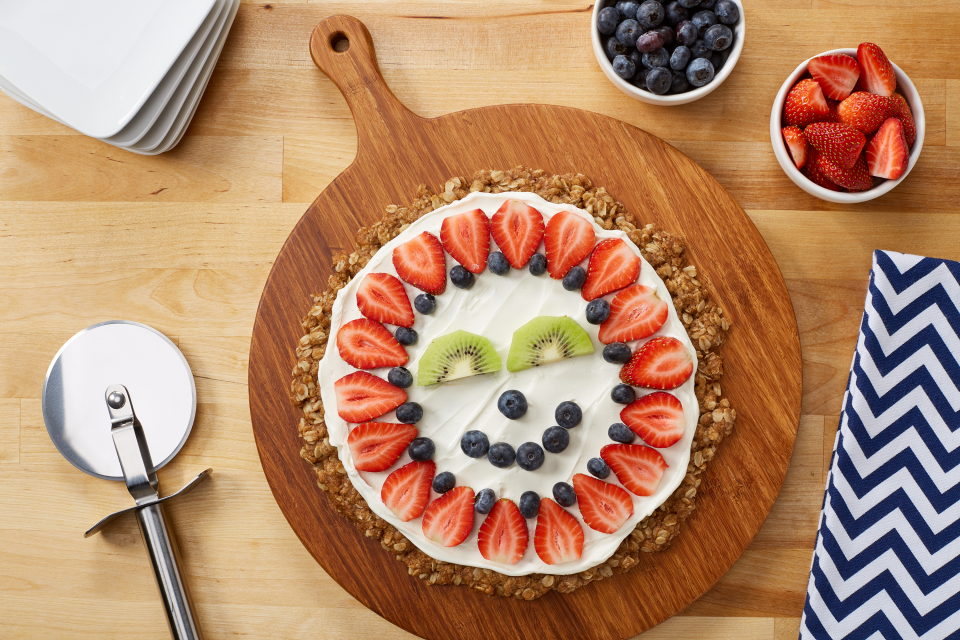 Temperature:
375 degrees
Serving size:
1 wedge (1/8 of pizza)
Prep time:
20 minutes
Cook time:
12 minutes
Total time:
32 minutes
Equipment:

Medium bowl

Small bowl

Baking sheet

Aluminum foil

Plastic wrap

Paper towels or a clean kitchen cloth

Cutting board

Utensils:

Whisk or fork

Mixing spoon

Knife

Measuring cups and spoons
* Cost and availability of recipe ingredients may vary across different regions of Ohio. Cost per serving information should be used as a general guide when considering recipe cost.
For crust:
1 large egg white
1/4 cup vegetable oil OR canola oil
1/4 cup brown sugar
1/3 cup all-purpose flour
1/4 teaspoon ground cinnamon
1/4 teaspoon baking soda
1 cup quick-cooking oats
Non-stick spray
For topping:
1/4 cup reduced fat cream cheese, softened to room temperature
1/2 cup vanilla low-fat yogurt
1 cup fruit (strawberries, blueberries, kiwi, etc.)
Instructions
For crust:
Before you begin, wash your hands, surfaces, utensils, and fruit.
Preheat the oven to 375 degrees.
In a small mixing bowl, use a whisk or fork to beat egg white until foamy (approximately 1-2 minutes). Add oil and sugar. Beat until smooth.
In a medium mixing bowl, stir together the flour, cinnamon, and baking soda. Stir in quick cooking oats.
Add sugar mixture oat mixture in medium bowl.
Line a baking sheet with aluminum foil and spray foil with non-stick spray. Using your hands, spread the dough in a 9-inch circle.
Bake about 12 minutes or until the crust begins to puff. Remove from oven and let cool about 20 minutes.
For topping:
While the crust is baking, stir together the cream cheese and yogurt in a small bowl until smooth. Cover with plastic wrap and refrigerate.
Dry off cleaned fruit and cut into bite-size pieces.
Transfer the crust to a serving plate. Spread the cream cheese mixture over the crust. Arrange fruit on top.
Cut into 8 wedges and serve or refrigerate up to 2 hours (covered and uncut).
Tips
Any variety of fresh fruit will work on top of the pizza: for less expensive options use fresh fruit that is on sale or canned fruit such as pineapple or mandarin oranges.
Dip fresh fruits into lemon juice after cutting and drain well before putting on pizza to prevent browning. This works for bananas, apples, peaches, or pears.
Use flavored yogurt instead of vanilla to vary color and flavors.
If dough is too sticky to handle, spray hands with non-stick spray or apply a small amount of vegetable oil to palms.
Featured
Ingredients


What goes in Fruit Pizza?

Low-fat Yogurt

Oatmeal

Cinnamon
Kiwi

Strawberries
Nutritional Information
(Per Serving)
See complete nutrition facts >>
Comments