Granola
Breakfast |
Dairy-Free |
Gluten-Free |
Kid Approved |
Quick & Easy |
Snacks |
Low Sodium |
Vegetarian |
Egg-Free
Enjoy granola as cereal, as a fruit salad topping, in yogurt, or on its own for a tasty afternoon snack.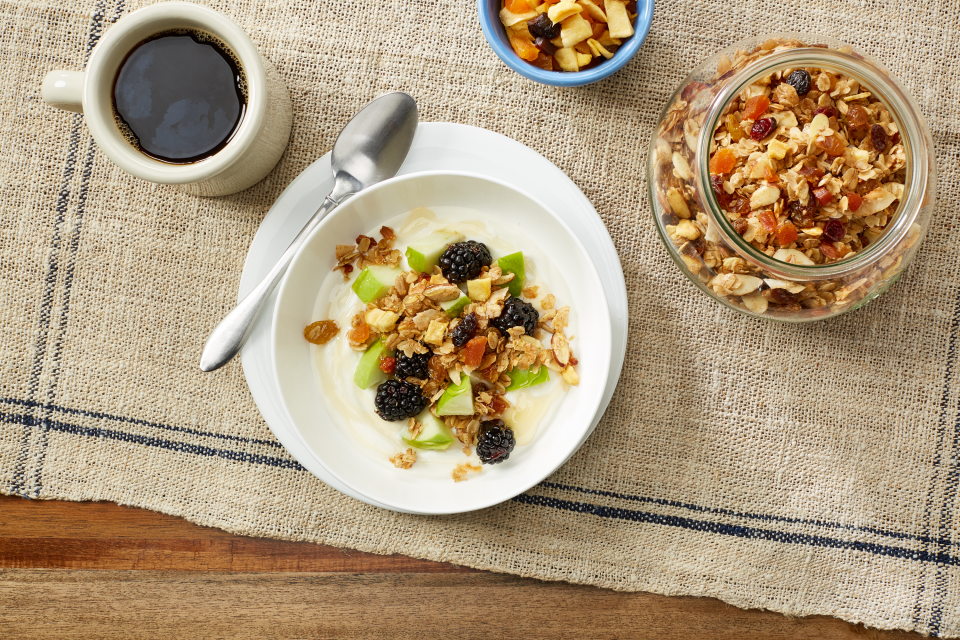 Temperature:
350 degrees
Serving size:
1/2 cup
Prep time:
5-10 minutes
Cook time:
10-15 minutes
Total time:
20-25 minutes
Equipment:

Large bowl

Baking sheet

Utensils:

Whisk or fork

Mixing spoon

Measuring cups and spoons
* Cost and availability of recipe ingredients may vary across different regions of Ohio. Cost per serving information should be used as a general guide when considering recipe cost.
4 tablespoons honey
2 tablespoons vegetable oil OR canola oil
1/2 teaspoon ground cinnamon
2 cups rolled oats
4 tablespoons almonds, sliced
4 tablespoons unsweetened shredded coconut (optional)
Non-stick spray
1 1/2 cup dried fruit (reduced sugar cranberries, blueberries, strawberries, raisins, etc.)
Instructions
Before you begin, wash your hands, surfaces, and utensils.
Preheat oven to 350 degrees.
In a large bowl, add honey, oil, and cinnamon. Use a fork or whisk to thoroughly combine.
Add oats, almonds, and coconut (if using). Stir until well coated with honey mixture.
Spray baking sheet with non-stick cooking spray.
Bake until very light brown, 10-15 minutes.
Remove from oven, add dried fruit, and let cool.
Tips
Granola can be stored in an airtight container or zip-close bag for up to 3 weeks.
This granola makes great cereal when served with low-fat milk. You can also try it alone as an afternoon snack, or as a topping on your favorite fruit salad or yogurt parfait.
Featured
Ingredients


What goes in Granola?

Coconut

Cinnamon

Dried Fruit

Oats
Nutritional Information
(Per Serving)
See complete nutrition facts >>
Comments