Granola
Breakfast |
Dairy-Free |
Kid Approved |
Snacks |
Low Sodium |
Vegan |
Vegetarian
Enjoy granola as cereal, as a fruit salad topping, in yogurt, or on its own for a tasty afternoon snack.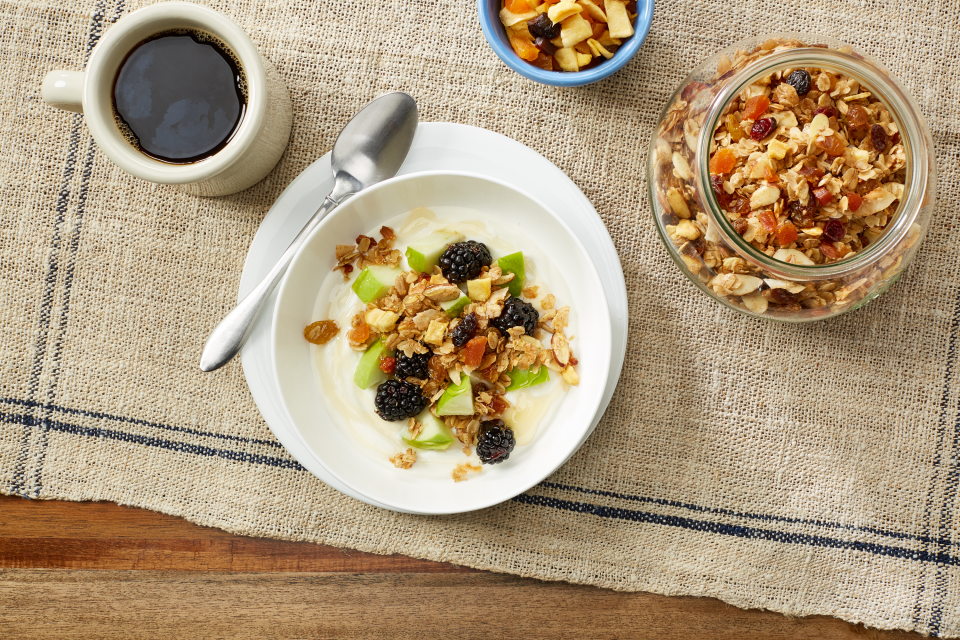 Temperature:
350 degrees
Serving size:
1/2 cup
Prep time:
5-10 minutes
Cook time:
10-15 minutes
Total time:
20-25 minutes
Equipment:

Large bowl

Measuring spoons

Measuring cups

Baking sheet

Utensils:

Whisk or fork

Spoon
Serving Suggestion:
Eat by itself, with non-fat plain yogurt, or as cereal with low-fat milk.
Recipe sourced from Share Our Strength's Cooking Matters
4 tablespoons honey
2 tablespoons canola or vegetable oil
1/2 teaspoon ground cinnamon
2 cups old-fashioned rolled oats
4 tablespoons almonds, sliced
4 tablespoons shredded, unsweetened coconut (optional)
Non-stick spray
1 1/2 cup dried fruit
Instructions
Before you begin wash your hands, surfaces and utensils.
Preheat oven to 350 degrees.
In a large bowl, add honey, oil, and cinnamon. Use a fork or whisk to thoroughly combine.
Add oats, almonds, and coconut (if using). Stir until well coated with honey mixture.
Spray baking sheet with non-stick cooking spray.
Bake until very light brown,10-15 minutes.
Remove from oven, add dried fruit, and let cool.
Tips
Make large batches. Granola can be stored at room temperature or in the refrigerator for up to 3 weeks.

Add milk to granola and eat like cereal. Use it to top a fruit salad or nonfat plain yogurt. Or, pack single servings in a zip-top plastic bag. Eat on its own for a tasty afternoon snack.
Featured
Ingredients


What goes in Granola?

Coconut

Cinnamon

Dried Fruit

Oats
Nutritional Information
(Per Serving)
See complete nutrition facts >>
Comments