Stuffing with Vegetables
Quick & Easy |
Side Dishes |
Low Fat |
No Added Sugars |
Egg-Free |
Nut-Free
Add your favorite frozen veggies right into the stuffing. Microwaved or baked, this stuffing is tops.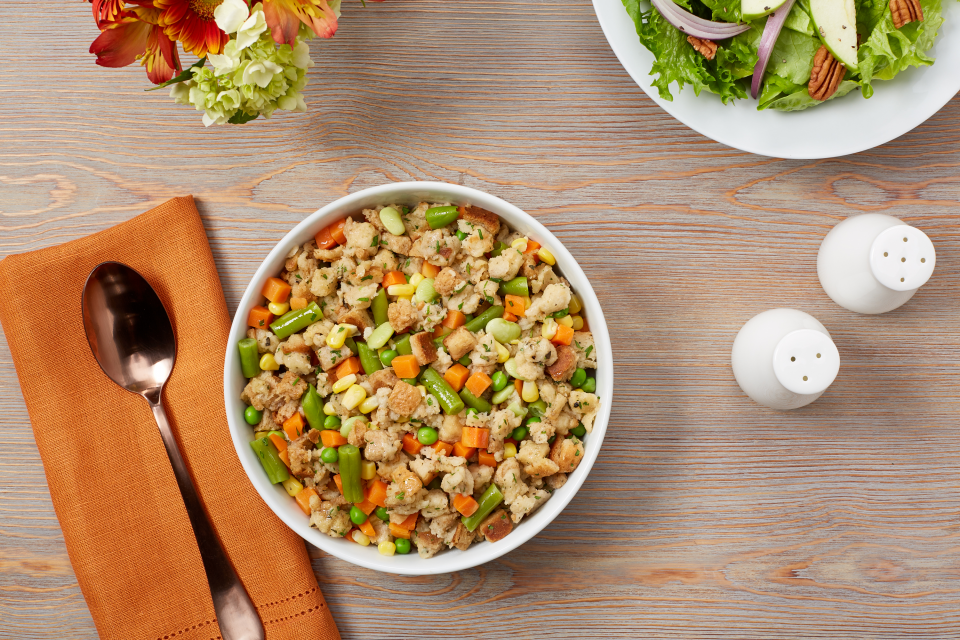 Temperature:
High heat
Serving size:
1 cup
Prep time:
5 minutes
Cook time:
14 minutes
Total time:
19 minutes
Equipment:

Small microwave-safe bowl

Large bowl

Casserole dish

Utensils:

Mixing spoon

Measuring cups and spoons
* Cost and availability of recipe ingredients may vary across different regions of Ohio. Cost per serving information should be used as a general guide when considering recipe cost.
1 16 ounce package frozen vegetable mix
1 tablespoon butter OR margarine
1 6 ounce package low-sodium stuffing mix
1 14 ounce can low-sodium chicken broth
1 clove garlic, minced OR 1 teaspoon garlic powder
1/4 cup water (optional)
Instructions
Before you begin, wash your hands, surfaces, and utensils.
Melt margarine by placing it in a small, microwave-safe bowl and microwave for 20 seconds.
Placed thawed vegetables in a large mixing bowl. Pour melted margarine over vegetables. Stir to combine.
Add stuffing mix, broth, and garlic powder. Stir to combine.
Scoop mixture into casserole dish. Microwave on high for 10-12 minutes until hot in center.
If stuffing seems dry, add 1/2 cup water and microwave for 2 more minutes.
Tips
Frozen stir-fry vegetables, including broccoli and green beans, work well.
This can also be baked in the oven: Bake at 350 degrees for 45 minutes
Featured
Ingredients


What goes in Stuffing with Vegetables?

Garlic Powder

Frozen Mixed Vegetables

Low-sodium chicken broth

Boxed Stuffing Mix
Nutritional Information
(Per Serving)
See complete nutrition facts >>
Comments