Stuffing with Vegetables
Side Dishes |
Low Fat |
No Added Sugars |
Vegetarian
Add your favorite frozen veggies right into the stuffing. Microwaved or baked, this stuffing is tops.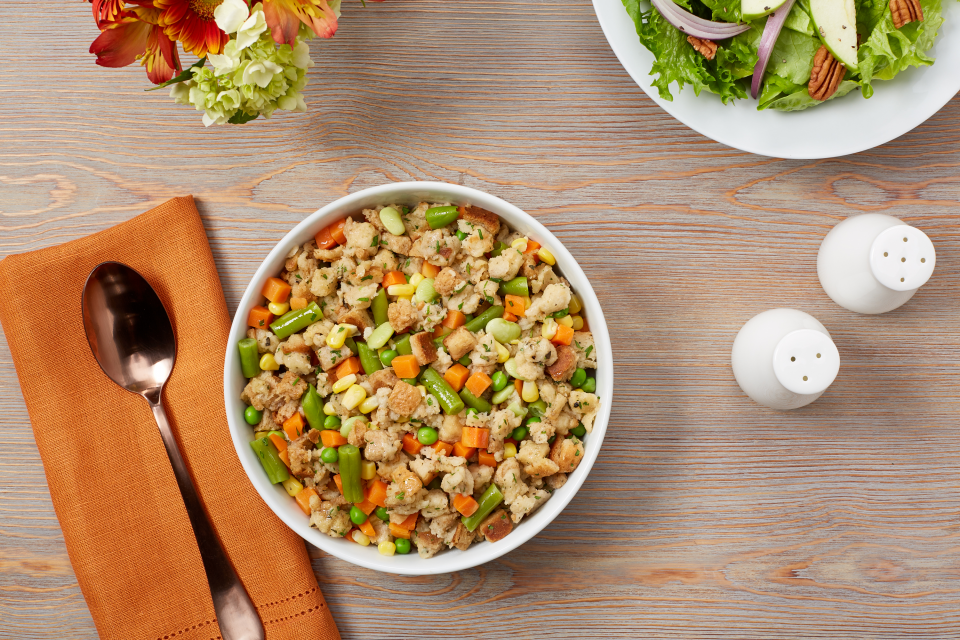 Serving size:
1 cup
Prep time:
5 minutes
Cook time:
14 minutes
Total time:
19 minutes
Equipment:

Small microwave-safe bowl

Large bowl

Measuring spoons

Casserole dish

Utensils:

Mixing spoon
Serving Suggestion:
Eat with everyday dinners or on special occasions with baked turkey or chicken and low-sodium gravy.
16 ounces frozen vegetables
1 tablespoon margarine
1 package (6 ounces) low-sodium stuffing mix
1 14 ounce can low-sodium chicken broth
1 teaspoon garlic powder
1/4 cup water (optional)
Instructions
Before you begin wash your hands, surfaces and utensils.

Melt margarine by placing it in a small, microwave-safe bowl and microwave for 20 seconds.

Placed thawed vegetables in a large mixing bowl. Pour melted margarine over vegetables. Stir to combine.

Add stuffing mix, broth, and garlic powder. Stir to combine.

Scoop into casserole dish. Microwave on high for 10-12 minutes until hot in center.

If stuffing seems dry, add ½ cup water and microwave for 2 more minutes.
Tips
Frozen stir-fry vegetables, including broccoli and green beans, work well.
This can also be baked in the oven: bake at 350° F for 45 minutes.
Featured
Ingredients


What goes in Stuffing with Vegetables?

Garlic Powder

Frozen Mixed Vegetables

Canned Chicken Broth

Boxed Stuffing Mix
Nutritional Information
(Per Serving)
See complete nutrition facts >>
Comments