Guacamole
Dairy-Free |
Kid Approved |
Quick & Easy |
Snacks |
Low Sodium |
High in Fiber |
Vegan |
Vegetarian |
WIC Friendly
Dip into a fresh and fast snack that's loaded with flavor.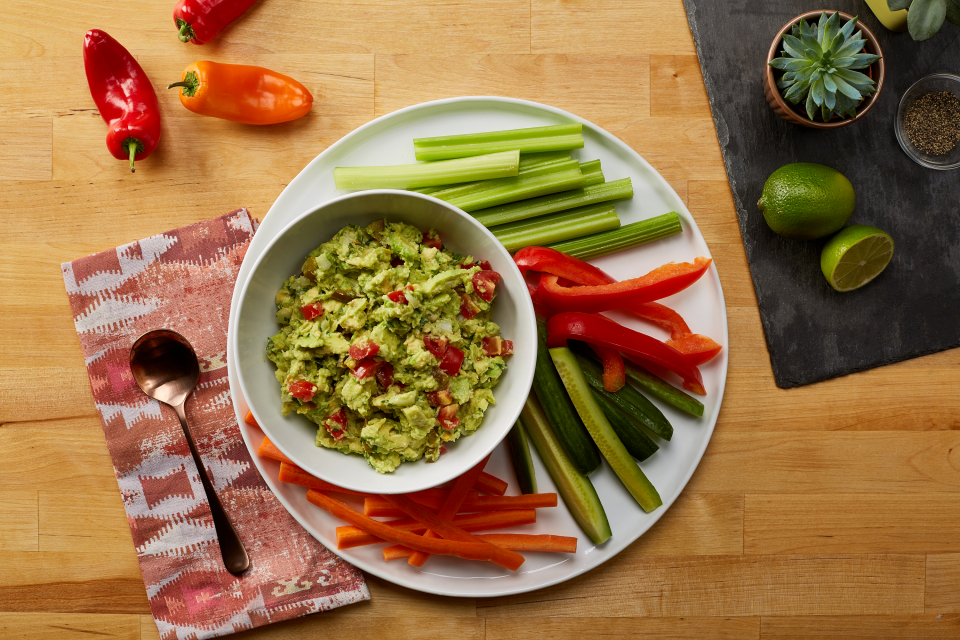 Serving size:
1/3 cup
Prep time:
15 minutes
Total time:
15 minutes
Equipment:

Cutting board

Large bowl

Utensils:

Knife

Spoon

Potato masher or fork

Mixing spoon
3 avocados, ripe
1 clove garlic, minced
1 – 2 tablespoons lime juice (about 1 lime)
3 tablespoons onion, diced (about 1/4 of an onion)
2 small tomatoes, diced
3 pickled jalapeno peppers (about 1/4 cup), diced (optional)
1/4 cup fresh cilantro, finely chopped
1/8 teaspoon salt
Instructions
1. Before you begin, wash your hands, surfaces, utensils, and produce.
2. Halve one avocado by placing it on a cutting board and cutting in half around the pit. Turn halves of avocado in separate directions to separate. Remove pit with a spoon (NOT with a knife), and scoop avocado out of skin into a large bowl. Repeat with remaining avocados.
3. Add garlic to avocados and mash with a potato masher, fork, or back of a mixing spoon.
4. Add lime juice and mix well.
5. Add salt to taste.
6. Add onions, tomatoes and jalapenos and cilantro to avocado mixture and stir well.
7. Chill in the refrigerator for 15-30 minutes and serve with baked tortilla chips and/or veggies.
Featured
Ingredients


What goes in Guacamole?

Jalapeno

Chopped Tomatoes

Chopped Onions

Garlic Cloves

Avocado
Nutritional Information
(Per Serving)
See complete nutrition facts >>
Comments