Haluski and Veggies
Dairy-Free |
Main Dishes |
Quick & Easy |
No Added Sugars |
Vegetarian
Made with oodles of noodles and whatever veggies you have on hand, there's so much to love about Haluski.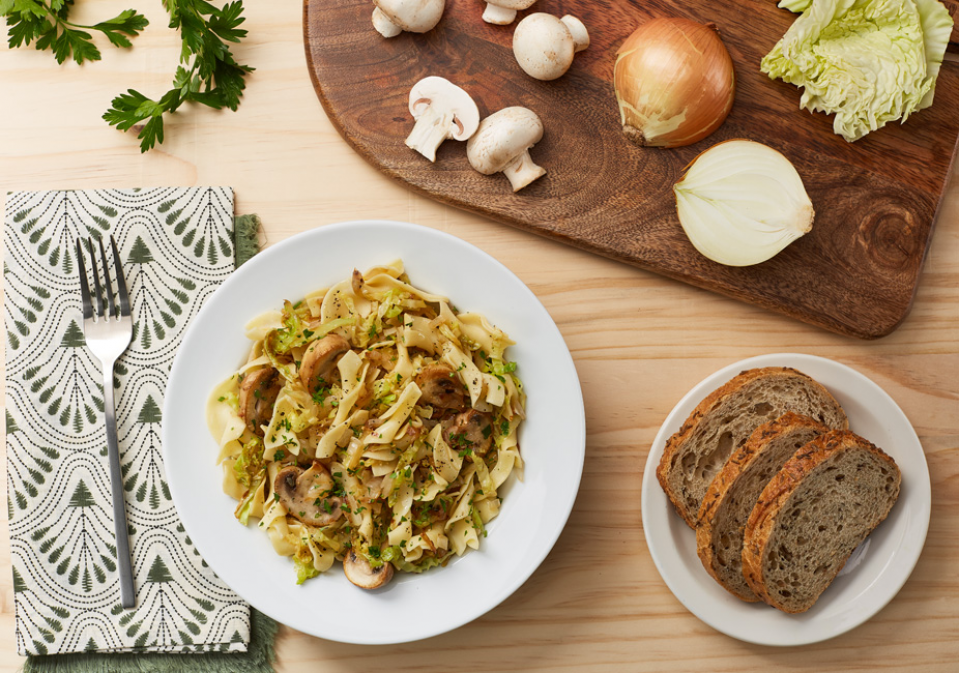 | | |
| --- | --- |
| Temperature: | Medium-high heat |
| Serving size: | 1/2 cup |
| Prep time: | 10 minutes |
| Cook time: | 20 minutes |
| Total time: | 30 minutes |
| Equipment: | Large Frying Pan With Sides, Large Pot, Colander or Strainer, Measuring Cups and Spoons |
| Utensils: | Mixing Spoon |
12 ounces egg noodles
2 tablespoons olive or vegetable oil
4 cloves garlic, minced or 2 ¼ teaspoons garlic powder
2 tablespoons low sodium soy sauce
16 ounces fresh mushrooms or 1 6.5 ounce can no salt added canned mushrooms, drained
1 small head green cabbage, shredded
1 large white or yellow onion, diced
1/2 teaspoon salt
1/2 teaspoon black pepper
Instructions
For the Noodles:
Before you begin, wash your hands, surfaces, tops of cans, produce, and utensils.
Boil a pot of water and cook egg noodles according to the package directions, cooking until just tender.
Drain egg noodles, rinse with cold water and set aside.
For the Veggies:
In a large sauté pan with sides, add oil and garlic. Once the garlic begins to brown, add the soy sauce, mushrooms, cabbage, and onion stirring occasionally. Simmer over medium heat until the veggies begin to soften and lightly brown. Add salt and pepper.
Add the cooked egg noodles and mix to combine.
Tips
This dish is a great pantry buster! Try using other canned or frozen veggies that you have on hand, such as corn, peas, or beans.
Featured
Ingredients


What goes in Haluski and Veggies?

Garlic Cloves

Mushrooms

Cabbage

Egg Noodles

Yellow Onion
Nutritional Information
(Per Serving)
See complete nutrition facts >>
Comments