Supreme Veggie Grilled Cheese
Dairy-Free |
Kid Approved |
Main Dishes |
Quick & Easy |
High in Fiber |
Vegetarian |
WIC Friendly |
Egg-Free |
Nut-Free
Ooey-gooey grilled cheese never gets old, especially when you add a healthy crunch of bell peppers and spinach.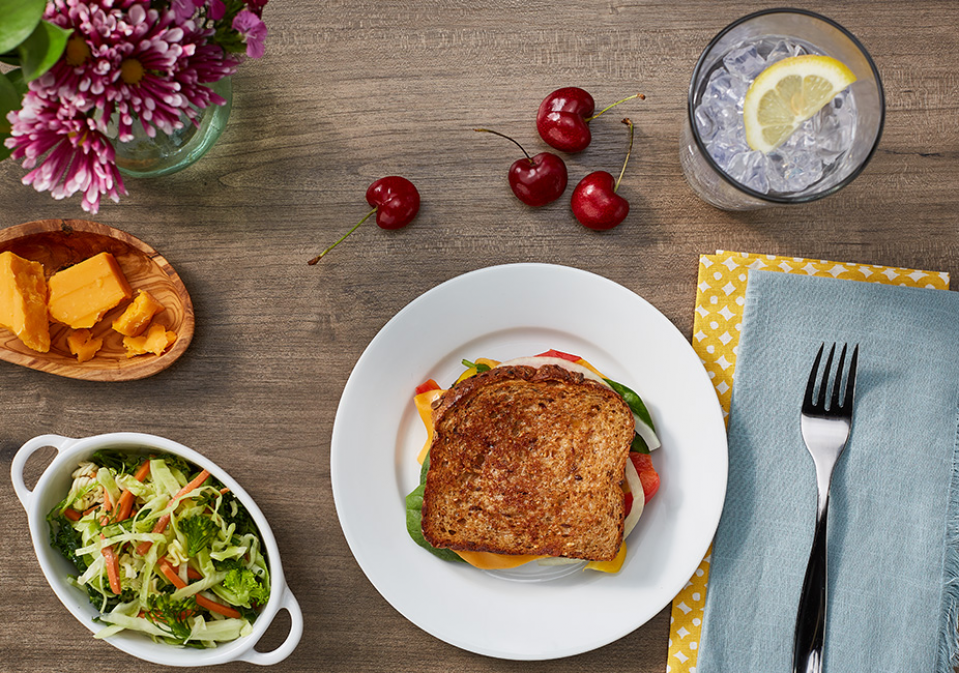 Temperature:
Medium-low heat
Serving size:
1 sandwich
Prep time:
10 minutes
Cook time:
10 minutes
Total time:
20 minutes
Equipment:

Medium or large frying pan

Utensils:

Chef knife

Butter knife

Spatula

Measuring cups and spoons
* Cost and availability of recipe ingredients may vary across different regions of Ohio. Cost per serving information should be used as a general guide when considering recipe cost.
1 medium (red, yellow, or green) bell pepper, sliced
1/2 onion, sliced
4 slices whole wheat bread
1/4 tablespoon butter OR margarine
1/4 teaspoon garlic powder
4 slices cheddar cheese
1 cup fresh spinach
Instructions
Before you begin, wash your hands, surfaces, utensils, and produce.
Lay out 4 slices of bread. Thinly spread the outside of each slice of bread with butter or margarine.
Lightly sprinkle outside of bread with garlic powder on top of butter or margarine. These sides of the bread will be placed down to be grilled in the pan.
Place a slice of cheese on bread side without garlic powder and butter or margarine. Add in layers of spinach leaves, peppers, and onions on two slices of bread. Add the second slice of cheese. Top with another piece of bread, keeping garlic powder and butter or margarine on the outside.
Heat a frying pan to medium-low. Lay sandwiches in frying pan, and cover with plate, lid, or aluminum foil.
Heat sandwiches until cheese melts and bread is toasted, 2-3 minutes. Flip and toast other side until golden.
Tips
For a hearty breakfast sandwich, add an over-easy egg to your sandwich.
Don't have sliced cheese? Shredded cheese can work as well! Use 1/4 cup shredded cheese per slice.
Try using your favorite low-fat cheese for your sandwich, such as mozzarella.
Have extra tomatoes? Add a few slices to your sandwich!
Featured
Ingredients


What goes in Supreme Veggie Grilled Cheese?

White Onion

Spinach

Garlic Powder

Green Peppers

Whole Wheat Bread
Nutritional Information
(Per Serving)
See complete nutrition facts >>
Comments