Vegetable Pasta Soup
Dairy-Free |
Main Dishes |
Soups |
Low Fat |
High in Fiber |
Vegan |
Vegetarian |
WIC Friendly
This soup eats like a meal, thanks to a garden's worth of veggies and a healthy helping of whole wheat pasta.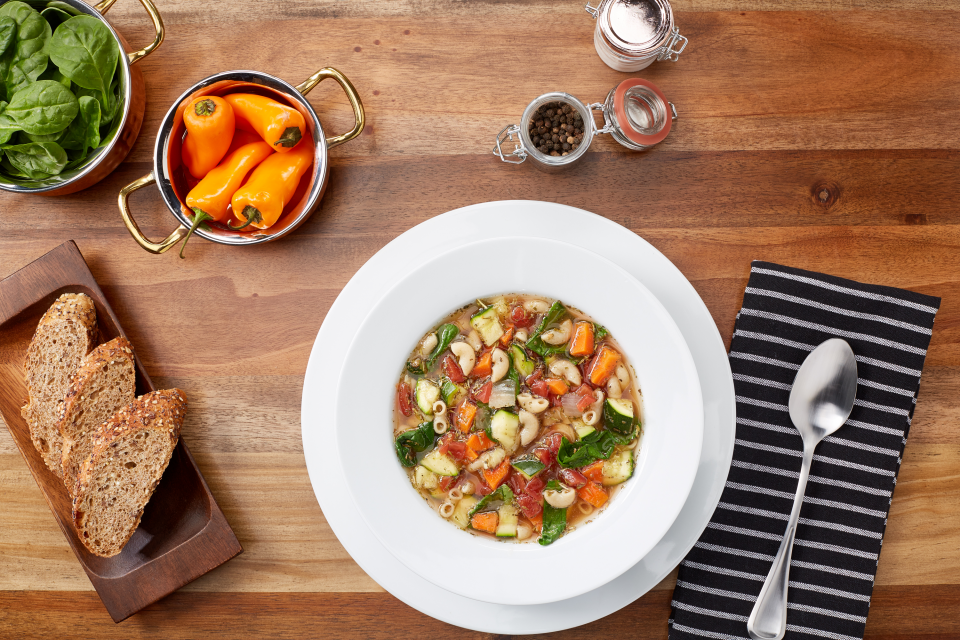 | | |
| --- | --- |
| Serving size: | 2 cups |
| Prep time: | 20 minutes |
| Cook time: | 25 minutes |
| Total time: | 45 minutes |
| Equipment: | Large saucepan |
| Utensils: | Mixing spoon |
Serving Suggestion:
Serve with an apple or fruit of your choice and a slice of whole wheat bread.
1 tablespoon oil, vegetable or canola
2 carrots, chopped
1 large onion, diced
1 zucchini, chopped
1 (14.5 ounce) can diced tomatoes with green chilies
2 (14.5 ounce) cans low sodium vegetable or chicken broth
4 cups water
¼ teaspoon salt
1 tablespoon Italian seasoning or dried basil
2 cups small whole wheat pasta (shell or macaroni)
6 cups fresh spinach leaves about ½ pound)
Instructions
Before you begin wash your hands, surfaces, utensils and vegetables.

Heat the oil in a large saucepan over medium heat until hot. Add onions and carrots. Cook until the vegetables are softened (about 3 minutes), stirring often.

Stir in zucchini and canned tomatoes. Cook 3-4 minutes.

Stir in the broth, water, salt, and Italian seasoning or dried basil. Bring to a boil.

Stir in the pasta and spinach. Return to a boil.

Cook until the pasta is tender using the time on the package for a guide.
Tips
Packaged, prewashed spinach does not need to be washed. Spinach that is not packaged should be rinsed under running water before using.
Try using kale, collard greens, or a 10-ounce package of frozen spinach in place of fresh spinach.
This soup freezes well.
Use plain diced tomatoes for less spiciness.
Use washed and diced garden tomatoes and homemade broth if they are available. Keep cut tomatoes cold until you need them.
Ingredients


What goes in Vegetable Pasta Soup?

Spinach

Zucchini

Carrots

Chopped Onions

Diced Tomatoes
Nutritional Information
(Per Serving)
See complete nutrition facts >>
Comments