Lentil Burgers
Dairy-Free |
Main Dishes |
Low Fat |
High in Fiber |
Vegetarian |
WIC Friendly |
Nut-Free
There are a lot of veggie burger recipes out there, but none are as delicious or as easy-to-make.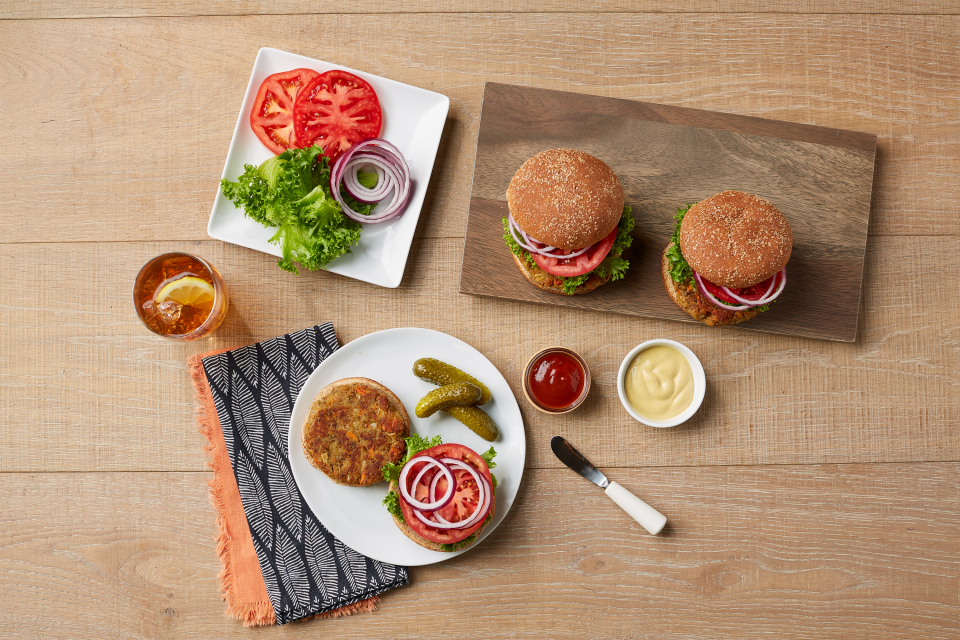 Temperature:
Low heat
Serving size:
1 burger
Prep time:
5 minutes
Cook time:
45 minutes
Total time:
50 minutes
Equipment:

Cutting board

Grater

Colander

Medium saucepan

Frying pan

Utensils:

Knife

Measuring cups and spoons
* Cost and availability of recipe ingredients may vary across different regions of Ohio. Cost per serving information should be used as a general guide when considering recipe cost.
1 cup uncooked lentils
2 cups water
1 small onion, chopped
3/4 cup carrot, grated
2 cups bread crumbs
1 egg, beaten
1 clove garlic OR 1 teaspoon garlic powder
1/2 teaspoon dried oregano
1/2 teaspoon salt (optional)
Non-stick spray
Instructions
Before you begin, wash your hands, surfaces, utensils, and vegetables.
Place lentils in a colander, rinse in cold water, and drain.
In a medium saucepan, bring water to a boil. Add lentils, reduce heat to low, cover, and cook for 15 minutes.
Add onion and carrots to the saucepan. Cook 15 minutes more or until lentils are tender.
Remove from heat and cool slightly.
Stir in breadcrumbs, egg, garlic powder, oregano, and salt (if using).
Spray a large frying pan with non-stick spray. Use a 1/2-cup dry measuring cup to drop lentil mixture into the hot frying pan.
Flatten into patties and cook until firm and brown on both sides--about 4 minutes per side.
Featured
Ingredients


What goes in Lentil Burgers?

Garlic Powder

Carrots

Chopped Onions

Eggs

Dried Brown Lentils
Nutritional Information
(Per Serving)
See complete nutrition facts >>
Comments