Mini Meatloaf in a Mug
Gluten-Free |
Main Dishes |
Quick & Easy |
WIC Friendly |
One-Two Serving
Skip the frozen dinner and get your home-cooking fix in a flash with this easy recipe.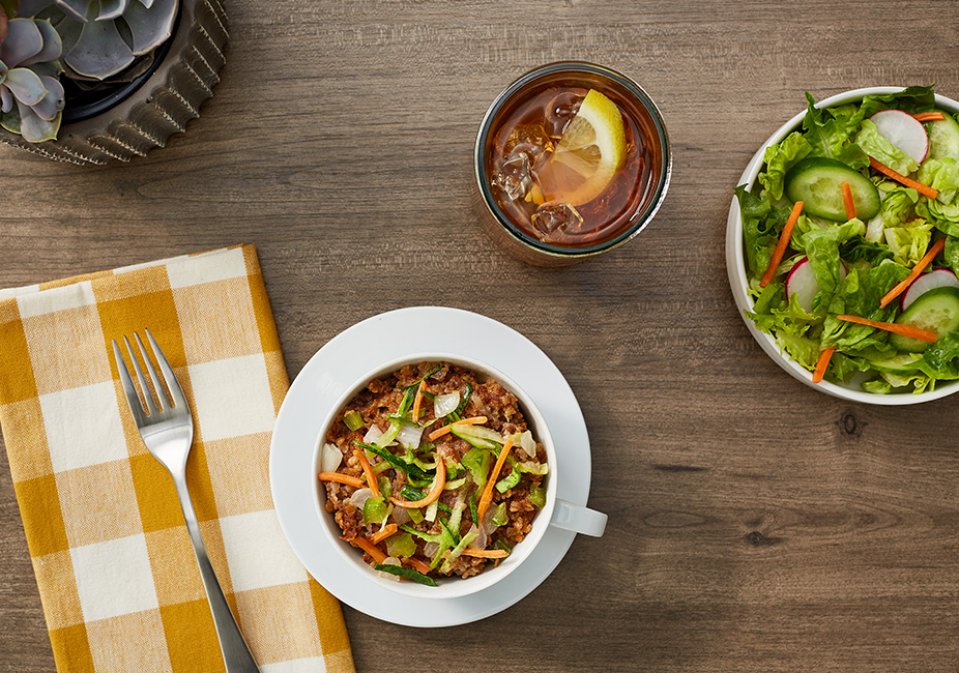 | | |
| --- | --- |
| Temperature: | N/A |
| Serving size: | Entire Recipe |
| Prep time: | 15 minutes |
| Cook time: | 2 minutes |
| Total time: | 17 minutes |
| Equipment: | Measuring Spoons, Measuring Cups and Spoons, Grater, Cutting Board, Microwave-Safe Mug (Medium Sized), Bowl |
| Utensils: | Knife, Mixing Spoon or Spatula |
Serving Suggestion:
Recipe adapted from Iowa State University's Spend Smart. Eat Smart.
Non-stick spray
1/4 pound ground beef, 85% lean (or leaner)
2 tablespoons quick oatmeal
1 1/2 tablespoons low-sugar ketchup
1/8 teaspoon salt
1/8 teaspoon pepper
2 teaspoons low-fat milk
1/3 small onion, diced—or—1/4 cup onion, diced
1/4 cup carrot, shredded
Instructions
Before you begin, wash your hands, surfaces, and utensils.
Combine all ingredients in a small mixing bowl and stir to mix.
Spray microwave-safe mug with non-stick spray.
Pat beef mixture into mix. Make a small hole in center, all the way through to the bottom.
Microwave on HIGH (100%) for 2 minutes, or until meat is thoroughly cooked through, and no longer pink.
Tips
Meatloaf in a mug can make a quick and tasty dinner for a family! You can prep the ingredients together, but make sure you microwave each serving separately to ensure they cook fully.
Try topping the meatloaf with a small dallop of ketchup.
Try adding diced green bell pepper, spinach, or shredded zucchini to the meatloaf mixture for added veggies and flavor.
Featured
Ingredients


What goes in Mini Meatloaf in a Mug?

White Onion

Oatmeal

Carrots

Skim Milk

Ground Beef
Nutritional Information
(Per Serving)
See complete nutrition facts >>
Comments