Mushroom Stroganoff
Main Dishes |
Quick & Easy |
High in Fiber |
Vegetarian |
Egg-Free |
Nut-Free
This filling noodle and veggie dish tastes like it took all day, but comes together on the stovetop in a matter of minutes.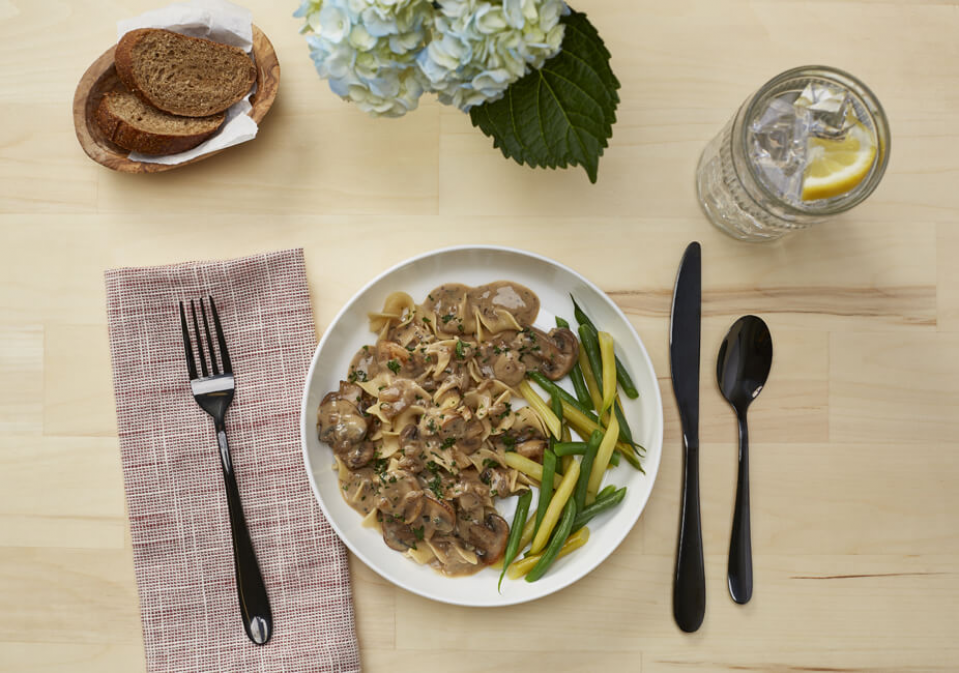 Temperature:
Medium-high heat
Serving size:
1 cup
Prep time:
10 minutes
Cook time:
20 minutes
Total time:
30 minutes
Equipment:

Large frying pan

Small bowl

Utensils:

Measuring cups and spoons




Recipe Sourced from Oregon State University's Food Hero
* Cost and availability of recipe ingredients may vary across different regions of Ohio. Cost per serving information should be used as a general guide when considering recipe cost.
1 1/2 tablespoons butter OR margarine
2 cups onion, chopped (about 2 medium onions)
8 ounces mushrooms, sliced
1 cup reduced sodium vegetable broth
1 tablespoon garlic, minced OR 1 1/2 teaspoon garlic powder
1/2 teaspoon salt
1/4 teaspoon black pepper
1 tablespoon cornstarch OR 1 1/2 tablespoons flour
3 tablespoons light sour cream
3 cup whole grain noodles, cooked
Instructions
Before you begin, wash your hands, surfaces, utensils, tops of cans, and vegetables.
Heat the butter in a large frying pan over medium-high heat. Add onion and mushrooms. Sauté and stir until mushrooms and onions start to brown.
In a small bowl, mix vegetable broth, garlic, salt, black pepper, and cornstarch. Add to frying pan and cook until sauce is thickened.
Remove from heat and stir in sour cream.
Serve with cooked noodles.
Featured
Ingredients


What goes in Mushroom Stroganoff?

White Onion

Whole Grain Pasta

Mushrooms

Low-Sodium Vegetable Broth
Nutritional Information
(Per Serving)
See complete nutrition facts >>
Comments