Nice Cream
Desserts |
Kid Approved |
Snacks |
Low Sodium |
Low Fat |
No Added Sugars |
Vegan |
Vegetarian |
WIC Friendly
Dreamy, creamy and naturally sweet with just bananas, milk, and vanilla, it's a great way to make your taste buds happy.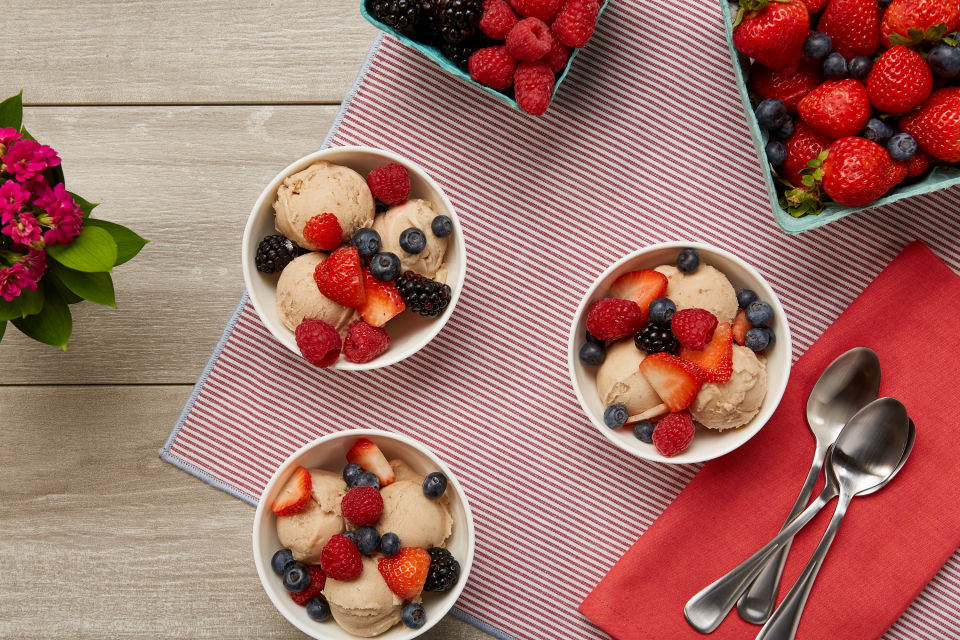 2 hours, 30 minutes
Total Time
Serving size:
1 cup
Prep time:
2 hours, 30 minutes
Total time:
2 hours, 30 minutes
Equipment:

Tin foil or waxed paper

Baking sheet or plate

Blender

Container with lid

Cutting board

Utensils:

Measuring spoons

Spatula

Knife
4 ripe bananas
1/2 cup low-fat milk
1/2 teaspoon vanilla extract (regular or imitation)
Instructions
1. Before you begin wash your hands, surfaces, and utensils.
2. Peel and chop bananas into thick (1 inch) slices.
3. Lay banana slices in a single layer on baking sheet or plate lined with tin foil or waxed paper. Put banana slices in the freezer for 1-2 hours.
4. Combine bananas, milk, and vanilla extract in the bowl of a blender. Blend until smooth, scraping down the sides of the blender and adding more milk as needed until you reach the desired consistency.
5. Transfer banana mixture to a covered container and freeze for 30 minutes before serving.
Featured
Ingredients


What goes in Nice Cream?

Banana

Skim Milk
Nutritional Information
(Per Serving)
See complete nutrition facts >>
Comments