Parmesan Zucchini Coins
Side Dishes |
Low Sodium |
No Added Sugars |
Vegetarian
Try these golden-brown zucchini coins for a healthy and delicious substitute to French fries.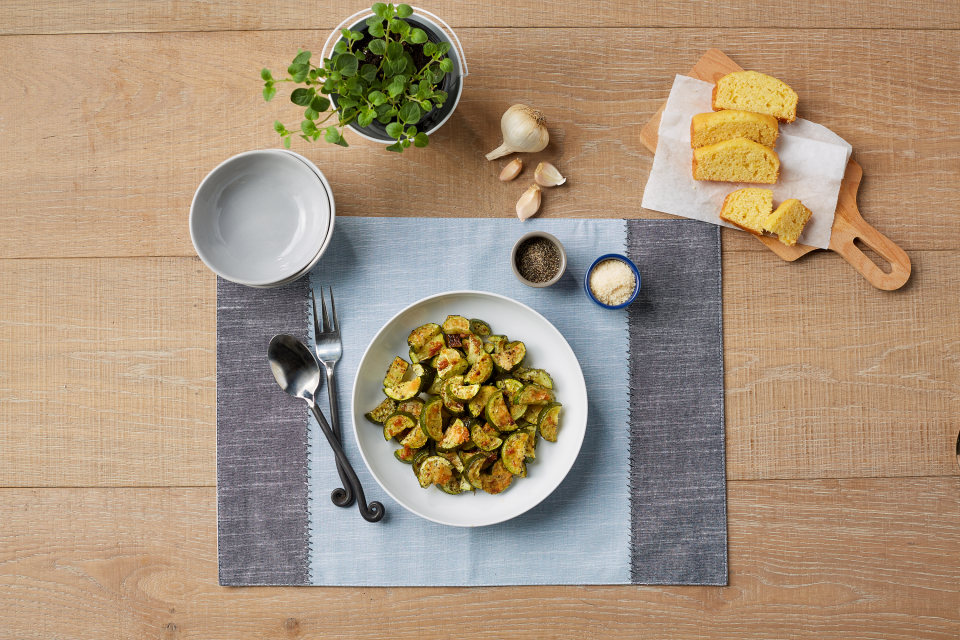 Temperature:
425 degrees
Serving size:
3/4 cup
Prep time:
10 minutes
Cook time:
20 minutes
Total time:
30 minutes
Equipment:

Baking sheet

Parchment paper or non-stick spray

Cutting board

Tongs (optional)

Measuring spoons

Measuring cups

Utensils:

Knife
Non-stick spray
2 small zucchinis
1/4 cup grated Parmesan cheese
2 garlic cloves, minced
1 tablespoon olive or vegetable oil
1 teaspoon oregano
1/2 teaspoon salt (optional)
1/4 teaspoon pepper
Instructions
1. Before you begin, wash your hands, surfaces, utensils and vegetables.
2. Preheat the oven to 425 degrees. Line a baking sheet with parchment paper or spray with non-stick spray.
3. Cut zucchini into thick coins and then in half again to form a half-moon shape.
4. Add zucchini to baking sheet and use your hands or tongs to toss together olive oil, minced garlic, oregano, pepper and salt (if using).
5. Spread the zucchini slices out on the baking sheet in a single layer and sprinkle with Parmesan cheese.
6. Bake for 15 minutes.
7. Switch the oven to broil, and bake for another 4 minutes, or until zucchini wedges are golden brown.
Featured
Ingredients


What goes in Parmesan Zucchini Coins?

Zucchini

Olive Oil

Garlic Cloves
Oregano
Nutritional Information
(Per Serving)
See complete nutrition facts >>
Comments